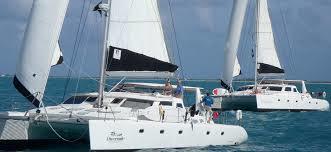 Ever since I was a young girl, I thought sailing meant instant seasickness. I was even prone to getting car sick and air sick, both close cousins to seasickness if ya'll know what I mean. Nausea is nausea no matter how you split the definition. On family driving trips, I and had to beg my father to pull over to the side of the road so I could walk the nausea off, or more likely, toss it off. My mother couldn't understand what was happening to me. I decided at a young age to take a defensive stance and carry a permanent brown bag with me on all car trips. I still keep an eye on the white bag in front of my airplane seat.
I was in a quandary when the invitation came from friends in Austin to come along on a bare boat flotilla and sail around the West Indies islands for a week with Captain Rusty Pete Sailing Adventures. Further details from my friends revealed that all captains who sail the catamarans are certified American Sailing Association (ASA) instructors with sailing experience. Our Leeward Adventure would include five 50-foot catamarans with eight passengers to a boat. We were to sail in flotilla fashion to St. Martin and Sint Maarten (the French and Dutch sides of the island commonly known as St. Martin), the British island of Anquilla, and the French island of St. Barthelemy, commonly known as St. Bart's.
I said yes to this sailing adventure immediately forgetting, of course, my dread of sailing. The last time I was on a sailboat was with an old boyfriend who used me as a deck hand when he felt like cleaning his boat. I actually preferred that job to sailing into the Pacific waters off Marina del Rey. I was miserable at sea.
Of course, it was a chance of a lifetime to sail the West Indies. I had been Curacao several years earlier and it was a fascinating and friendly island with a series of superb sandy beaches. Snorkeling was an astounding adventure. I wanted to do it again.
I signed up and put down a deposit. It was the only way I could commit with uncertainty. But, hey, it was a catamaran! These boots are known for their stability. And today, there are plenty of seasick remedies starting with the patch, the wrist bands, essential ginger oil, ginger candies, ginger ale, saltines and any other food group that makes your tummy feel good. Purchasing a kid's' snorkeling kit confirmed my commitment.
Captain Rusty Pete bills his catamaran adventures as trips of a lifetime. He does not disappoint. All you need is a passport, a swimsuit, and a cheap snorkel kit or, if you prefer, an expensive $70 mask that's worthy of a Cyclops or an alien (the catamaran provides fins) to enjoy the sailing adventure. I was pleased and surprised when the charter included a comfortable air-conditioned cabin with a private bath. But you take care of your own seasickness issues and see to your own needs. And the best part for us novices is that no sailing experience is necessary.
What is necessary, however, is how you define your relationship to the sea – to the vastness and awesomeness of the most powerful element on earth – water. Water covers more square miles on planet earth than does land mass. The energy and force of water is fierce. It is to be respected. I always had an affinity for water and was drawn to it as a child. So, I felt honored to be apart of the sailing adventure and become one with my journey, visiting a part of the world that has been calling out to me for quite some time.
The eight sailing companions on board catamaran #5 blended together as if we already knew one another. Four couples met and fell in instant like. We made our way through each and every day on board with great joy doing a graceful dance that created energy and a beautiful sense of balance. It was serendipitous. Our captain and his wife were welcoming, helpful and supportive.
How fortunate for us all because we were all the chief cooks and bottle washers for breakfast, lunch and two dinners that we prepared on board. I watched with amazement how forces of responsibilities played out in the galley: food preparation, food cleaning, washing and drying dishes and talking about each meal we could make with our provisions. And everyone on board was instantly prepared to take on boat duties when asked, to exercise caution for the captain and volunteers, and to mindfully participate in the total experience. When you put the ego in its proper place, everything runs smoothly.
Not every island is alike. Each island has a history and a cultural personality like no other. These differences make island hopping so unique. And each journey to a destination is also different because sailing is subject to the vagaries of the wind and the tides.
Day One: Our flotilla sailed out of Oyster Pond in St. Martin and headed a little north to the island of Tintamarre. The captain then proceeded down the west coast of St. Martin's to Grand Case Bay. Snorkeling: superb, food amazing, lively bars and a sleep that was epic.
Day Two: We sailed from Marigot to Road Bay on Anguilla, a low island renowned for its scuba diving and restaurants. It has a laid-back Caribbean charm coupled with a history of cotton and tobacco plantations. An excellent museum tells Anguilla's story with pathos and compassion. In one of the many off-lying areas on the island, there is a protected marine reserve where we snorkeled with abandon.
Day Three: We explored Prickly Pear Cays, part of Anguilla's marine park. Its white, sandy beaches were blinding and the colors of the ocean were dazzling. It was quite an adventurous day because the winds were blowing with gusto and our dingy took a pounding as we sailed through the channel to the north side of the island. I managed to reduce seasickness with a patch.
Day Four: We sailed from Anguilla's Crocus Bay to the east around St. Martin's for a quick water stop at Marigot before we headed to one of the most charming and beautiful locales in the northern Leewards – St. Bart's. In fact, our flotilla raced to its destination. We didn't win but we had a lot of fun racing. We anchored at Anse de Colombier at the very tip of the island. Steep hills overlook the blue waters of the bay.
Day Five: The next morning we sailed to Shell Bay and dropped anchor. My posses decided to rent a car and explore the green, hilly island of St. Bart's. We found the most delicious restaurant right on the beach for lunch – a warm seafood salad that was our #1 standout for food on any of the islands.
Day Six: After a delicious breakfast of French toast and apple pancakes on board, we pulled anchor out of Shell Bay in the morning and sailed around a jetty to Gustavia harbor. We took a dingy into the capital for yet another fabulous dining experience. We celebrated our last night together with joy.
Day Seven: We pulled anchor out of Gustavia in the morning and sailed across to Oyster Bay in St. Martin. Truth be told, I could have spent another few days in St. Bart's. The city's flavors and French style are unparalleled. I will miss the dark roasted espresso and not to believe chocolate croissants.
I will also miss the adventure of sailing and communing with the fishes, the pallet of blue, black and turquoise hues that make up the ocean's surface, the green of the hills, the stunning and vivid landscapes, the smells of cooking in the galley, and the sounds of laughter around the aft's communal dining area as we celebrate community and share our life stories. I will miss the bare bone crew helping out the beloved captain with grist and tenacity. If a vacation is a week and seems like a month, it means full immersion in the experience and a memorable celebration of honoring our exquisite planet.
On a positive note, I haven't conquered seasickness, but I do know how to control it and where to sit on the boat to deflect nausea. Life is good at sea.
Joan Moran is a keynote speaker, commanding the stage with her delightful humor, raw energy, and wealth of life experiences. She is an expert on wellness and is passionate about addressing the problems of mental inertia. A yoga instructor and an Argentine tango dancer, Joan is the author of 60, Sex, & Tango, Confessions of a Beatnik Boomer. Her new book, I'm The Boss of Me! Stay Sexy, Strong & Smart at Any Age, is now on Amazon.
Visit her website: www.joanfrancesmoran.com
Follow Joan Moran on Twitter: www.twitter.com/joanfmoran
REAL LIFE. REAL NEWS. REAL VOICES.
Help us tell more of the stories that matter from voices that too often remain unheard.
This post was published on the now-closed HuffPost Contributor platform. Contributors control their own work and posted freely to our site. If you need to flag this entry as abusive,
send us an email
.