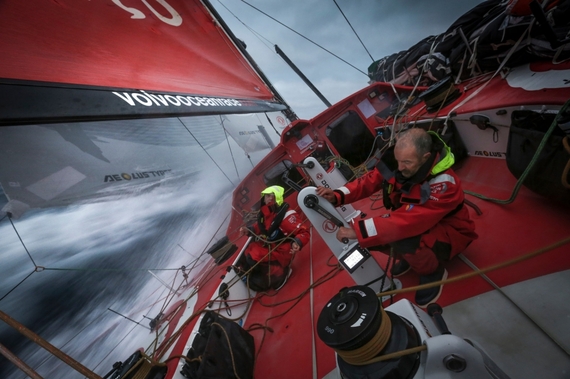 We like to believe that we've tamed the world. Cut it down to our size. But then you try to sail the "Roaring 40s" and you realize how much we're fooling ourselves.
That's where the Volvo Ocean Race currently finds itself and where four boats suffered near wipe-outs in turbulent weather earlier this week.
After waiting out a cyclone, the fleet left New Zealand and headed toward Cape Horn, the southern tip of South America. For centuries, sailors have feared the region below 40-degrees latitude. In this part of the world, the prevailing westerly winds dominate and unlike the Northern Hemisphere, no large land areas block such forces. As a result, the seas often build and build upon themselves.
"Beyond 40 degrees south there is no law," goes an old whaler saying. "Beyond 50 degrees south there is no God."
That's the maritime mayhem the Volvo Race encountered first-hand during a 12-hour period on March 23. In heavy seas and 40-knot winds, three of the six competitors suffered a Chinese "gybe." That's when the mainsail flies across the cockpit unexpectedly, due to a sudden change in wind or a large wave, and the boat ends up on its side. In one instance, it took several hours to sort out the damage and vessel took on 300 liters of water through an air vent.
"We were on deck it was me who was closest to the water," said Francisco Vignale, onboard reporter for Team MAPFRE. "Inside the boat, the situation was not very good, either. The members of the crew who were sleeping were crushed between their bunk and the deck."

Watch the on-board MAPFRE here.
A rookie on the Dongfeng Race Team said it was "like I was on the Titanic when that happened. ... Hopefully, it's not going to happen that often, otherwise I'm not sure if my heart is strong enough."
The racers still have plenty of rough seas ahead before they finish this leg in Itajai, Brazil, in early April. In total, the boats will cover more than 38,000 nautical miles, visiting 11 ports and every continent. The Volvo Ocean Race is scheduled to finish in Gothenburg, Sweden, in late June.
REAL LIFE. REAL NEWS. REAL VOICES.
Help us tell more of the stories that matter from voices that too often remain unheard.