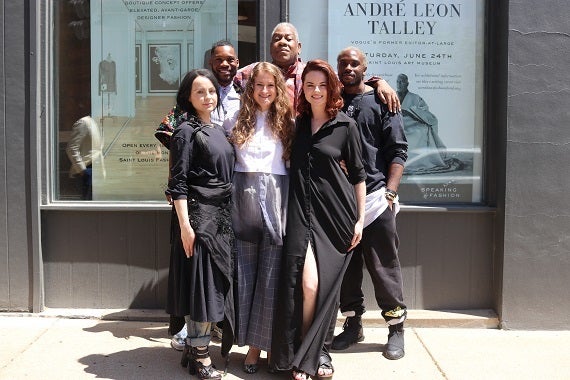 St. Louis is poised to take the fashion world by storm. In the city's heyday, "St. Louis was second only to New York as a center of fashion in the United States …design[ing] and ma[king] the shoes, boots, lingerie, and dresses that helped clothe the nation. " Enter art savant, fashion connoisseur, and philanthropist Susan Sherman. Mrs. Sherman had an idea to "reclaim the city's fashion roots" while revitalizing downtown St. Louis. She shared her vision with friends over dinner two years ago. The idea was ambitious to some, impossible for others. However, Mrs. Sherman handles whispers of impossibility regally. She politely smiles and proceeds to do the impossible. In less than two years, the Saint Louis Fashion Fund raised almost $2 million dollars and purchased a 7,500 square foot studio space for its incubator program allowing designers-in-residence to produce, manufacture, and sell in the attached showroom boutique. This past weekend, fashion icon, living legend, and former editor-at-large of Vogue, André Leon Talley descended upon the city. From an intimate dinner with Mr. Talley attended by art and fashion patrons, to his talk at the St. Louis Art Museum on the Reigning Men exhibit, the city was abuzz with the appearance of fashion royalty. Incubator designers received a virtual master class with Mr. Talley reviewing their collections and offering invaluable wisdom. Mrs. Sherman and the Saint Louis Fashion Fund's debutante appearance in the fashion world is nothing short of stellar!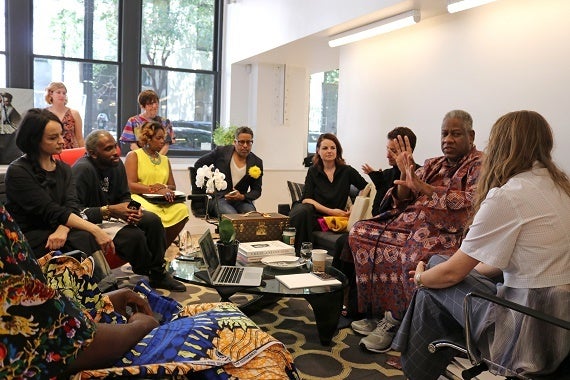 ABOUT THE FASHION INCUBATOR
The Saint Louis Fashion Incubator is a two-year program for emerging designers to take their businesses to the next level. "Designers will have the opportunity to participate in trunk shows, pop-up shops, e-commerce, and market week opportunities in major markets. With introductions to St. Louis-based businesses, manufacturing firms, retailers, tech start-ups, and world-class arts, culture and educational institutions, SLFI designers will become an integral part of the thriving cultural ecosystem in St. Louis. Through partnerships with Washington University's Sam Fox School of Design and Visual Arts and a network of local and national partners, SLFI designers will benefit from two years of intense business, fashion, merchandising, and retail programming, as well as guest speakers, workshops, and panels."
Audra Noyes - Brand: AUDRA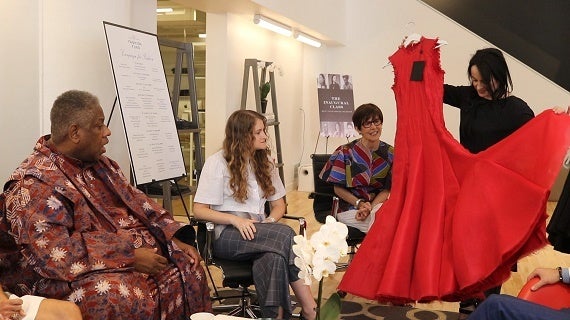 MEETING André Leon Talley
Mr. Talley met designers Saturday morning at the incubator space, complete with showroom, offices, and an upstairs garment manufacturing facility. As is Mr. Talley's talent, he put the designers at ease with his bard skills recalling the pioneering work of models Naomi Sims and Pat Cleveland. Mr. Talley asked what and who inspired each of the designers? Then he reviewed each designer's collection, offering advice unique to their style aesthetic. Mr. Talley loves idiosyncrasy and showed how their different inspirations are what will make their brand stand out.
Agnes said that her grandmother and Polish poetry inspired her. Her grandmother saw her gift early on, but others encouraged her to go for a more stable career in teaching. Agnes later followed her passion arriving in America with only $500. Mr. Talley described her style as "goth romantic." The ethereal nature of the silk contrasted with the rough cut of the shearers added edginess. His favorite piece was Agnes' red silk dress.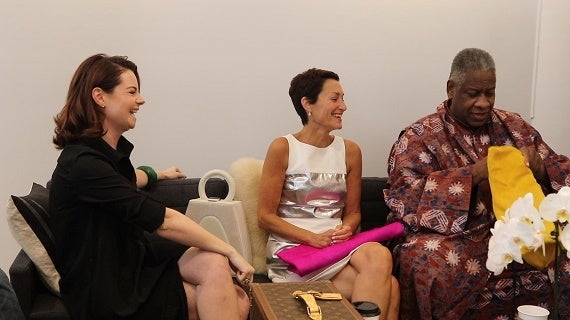 Unlike the other designers who exclusively do womenswear, Allison is a handbag connoisseur. Her background is a marketing specialist. After becoming frustrated unable to find clutches she liked, she made her own. Boutique owners would stop her on the street asking where she purchased it. And the rest is history. Her bags are big, bold, colorful statement pieces. Mr. Talley loved the audaciousness of her colors and oversized bags – fuchsia, canary, and crocodile tail.
Audra was no stranger to Mr. Talley. He was familiar with her past work and a reference for her. He was impressed by her new works after interning with LANVIN in Paris playing with soft and hard. He noticed the meticulous cut and technique. Nothing goes unnoticed by Mr. Talley. From across the room he can spot a detail unnoticeable to the average viewer. At the Fashion Fund dinner the previous evening, by the end of the festivities my curls had fallen. When I arrived Saturday at the incubator, Mr. Talley remarked: "Someone roller set their hair last night." I laughed and replied, "Yes, with the old fashion pink rollers." To which he responded, "In France they are called bigoudis." What is inconspicuous to others, is revealed to Mr. Talley no matter how minor.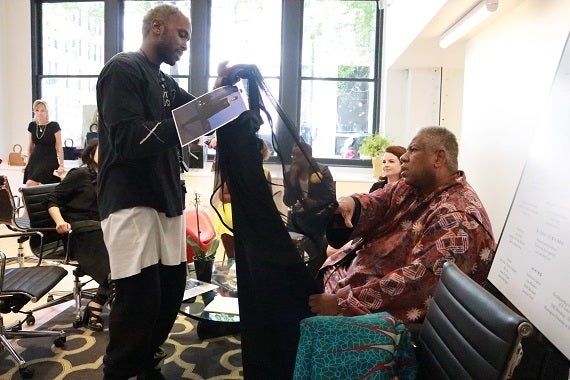 Charles is the enigma of the group. In spite of his stature and interesting journey to design, he is quiet and reserved. His mother was a model and his father a basketball player. Charles modeled and played in the NBA D-League before embarking on design. He has two lines, a ready to wear brand and a luxury brand. Mr. Talley suggested that Charles intern with Rick Owens or OFF WHITE whose aesthetic are similar.
Most readers have seen Reuben's work. Beyoncé wore a Reuben creation for her baby shower. When Mr. Talley asked Reuben to show him his collection, Reuben replied, "I'm more direct to consumer, commercial." Mr. Talley responded, "Do not disrespect yourself with commercial." Mr. Talley loved Reuben's use of African patterns. He said that many of them were unisex similar to the fashion in the Reigning Men exhibit at the St. Louis Art Museum.
Designer Emily was out of the country, but Mr. Talley reviewed her collection as well expressing an interest in a gingham dress.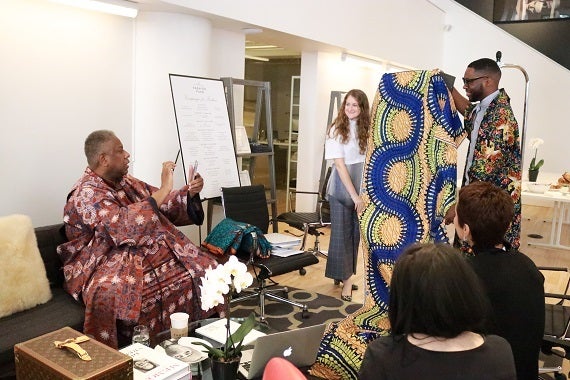 After their individual appraisals, Mr. Talley told the designers, "Ask me anything! Nothing is off limits except my love life." Moments like that make you love Mr. Talley even more. He knows how to bring levity to a stressful situation putting the designers at ease. In the end, he commended the designers and Susan Sherman for making this possible. He suggested that the next course of action should be a fashion show.
As Mr. Talley was speaking, Cameron Silver, founder of DECADES and fashion director for H by Halston and H Halston arrived to review the designers' collection.
Mr. Talley's Advice to Aspiring Designers
1. Confidence is most important. You do not discover your voice. You have a voice. Also, nurture each other.
2. A lesson I learned from Diana Vreelund: Follow through. Get it done. Don't be frivolous. You can be superficial, but you must have substance as well.
3. Try to go to "open calls" at department stores and boutiques.
4. You can still intern to enhance your skill set.
Beyoncé and Rihanna have done a great deal for fashion. Nicki Minaj. I am also inspired by Michelle Obama. I like Nicole Kidman and Cate Blanchett on the red carpet and Wendy Williams. [Mr. Talley noticed that I stopped writing and instructed me.] Yes, Wendy Williams. Write Wendy Williams! How you doing?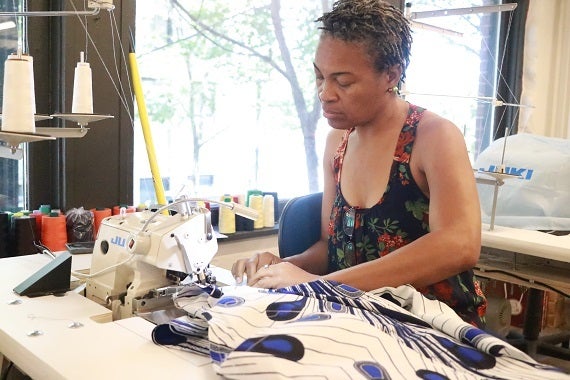 For anyone snubbing the Saint Louis Fashion Fund for daring to make St. Louis a fashion scene, emerging designers are finding success, exposure, and mentorship here. Designers are in a supportive community of art and fashion enthusiasts eager to patronize. Many attendees at the St. Louis Art Museum talk arrived wearing creations from incubator designers. Emerging designers should turn their eyes to the Saint Louis Fashion Incubator to manufacture and market their brand while living in an affordable city with exposure to icons in the fashion industry. Susan Sherman and the Saint Louis Fashion Fund will not be denied!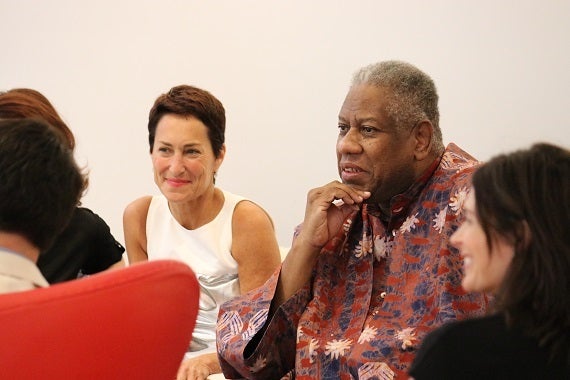 Related
Popular in the Community