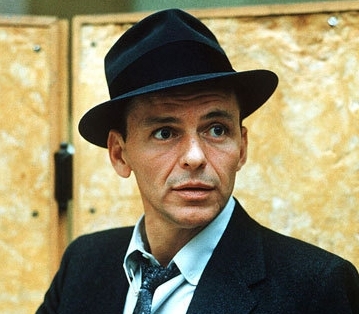 For some years I've harbored a secret hope that one day Frank Sinatra would be made a saint. I know this sounds crazy. But with his 100th birthday coming up on December 12th now's the time to explain why.
In this day and age the very concept of 'saint' is a quaint reminder of a superstitious past. When Paul VI de-sainted Christopher in 1969, travelers were robbed of a talisman they felt worked, as they confined useless St. Christopher medals to languish in desk drawers.
Yet hasn't Pope Francis already canonized 26 saints, Benedict 45 and John Paul II a whopping 110? That's a total of 181 new saints no one knows anything about. The only one I'm familiar with is Kateri Tekakwitha, because as a child I thought it odd to see an Indian maiden in braids, cast in bronze on the doors to St. Patrick's Cathedral.
Driving along the roads in Ireland when I spy churches named for Saint Mel, Mal, Munis and Gobnait, I wonder who they are and how they escaped the Papal axe. The only one I've heard of is Gobnait because she raised bees. And when I read the list of newly canonized saints I don't know them either. That said, I will now plead my somewhat outré case for Frank Sinatra to start his journey up the ladder to Sainthood.
Across the Hudson in Frank's home town of Hoboken, New Jersey, I can see legions of elderly Italian women lighting candles on December 12th imagining their boy swingin' on a star in Heaven, drinking champagne with Ava, Marilyn, Bacall, JFK, Deano, Sammy, even first wife, Nancy "with the laughing face."
"Heaven?" I smell a brewing cauldron of negativity. "Sinatra in Heaven! That boozing philanderer, mob buddy, cradle snatcher. Remember Mia Farrow in her little boy hair cut and girly wedding dress? Mr. Ring-a-ding-ding doesn't deserve to sit on the right hand of God."
That's fair to say. Yet, if one is to believe reports that upon gasping his last, Steve Jobs saw something and ecstatically exclaimed, "Oh wow, oh wow, oh wow!" one can easily imagine Sinatra enjoying a heavenly birthday feast with his old pals.
Sinatra pushed the phrase "once a Catholic..." to the limit by remaining a Catholic in good standing all the while doing it his way. He had the chutzpah, and of course the money, to obtain an annulment from Nancy, mother of his three children, after 22 years of marriage. No reason given. Thus, clearing the slate for his ensuing marriages to Ava Gardner and Mia Farrow. These civil affairs unrecognized by the church cleared the way for his fourth and last marriage to Barbara Marx in a Catholic ceremony. Cheeky boy that Frank, hedging his heavenly bets!
When death approached on May 14th 1998, Sinatra dodged his last bullet by having the Last Rights. Then again so did Oscar Wilde, Buffalo Bill, John Wayne and, it's said, Stalin (the jury's still out on him). If one is to believe Catholic doctrine, Sinatra and this mismatched quartet are all together up in Heaven, notching their belts with St. Augustine, another philandering reprobate.
When I read that Sinatra received Last Rights I was shocked. Not that I sided with the "you got to be kidding" naysayers, even I thought it rich that, at the end, Sinatra held his aces high as his Passport to Heaven was stamped.
A starry funeral at Church of Good Shepherd in Beverly Hills, referred to 'Church of the First Marriage', was the cherry on top of Frank's Welcome to Heaven cake. As we Irish say, "he flew up, 'dry legs in a bag'." The whole shebang as marvelously manipulated as Frank's life was marvelously manipulated. So the question remains: Why do I think Sinatra should become a saint?
You have to make it to Heaven to be made a saint. And a few years ago I stunned a dinner party when I admitted that my great regret is I no longer believe in Heaven. Yet, Sinatra's death touches me and I start wondering maybe he really is up there. Why not? Frank Sinatra fills a gap. There aren't many musical saints. The only one I've come up with is St. Cecilia. Then I start imagining Frank singing away with Cecilia -- virgin Saint that she is -- playing the organ. Is that not a match made in Heaven?
With his pedigree in order it is possible that with a miracle or two under his belt, Frank Sinatra could be beatified. In the guidelines to sainthood Sinatra has passed numbers one and two with flying colors. No. 1: Upon investigation of his life -- even with all that finagling -- the Vatican would grant a 'Nihil Obstat", meaning nothing hinders. No. 2: Further investigation that the candidate lived 'heroic virtues." I'm not sure what that means but I hope music counts.
There's not a person alive who doesn't know who Frank Sinatra is. Sinatra, the man and his music, gleams brighter than the planet Venus because he gave the world the joy of song! That's heroic enough for me. I know this his sounds cuckoo. But Catholic lore with its smells, bells, robes and incense is cuckoo as well.
On a lonely spring night in Castle Gandolfo, whilst fiddling with the radio, Pope Francis of the Progressive Idea might catch Frank singing 'I've got a pocketful of miracles' and think it a splendid idea to grant him sainthood. St. Sinatra! Think upon it. The world would be smiling for years to come.
REAL LIFE. REAL NEWS. REAL VOICES.
Help us tell more of the stories that matter from voices that too often remain unheard.