Updated September 23, 2015 at 11:45 a.m. HST.  
It's been nearly two months since Typhoon Soudelor made a direct hit on Saipan, the most populated island among the Northern Mariana Islands, a U.S. Commonwealth located in Micronesia.
Photographer Dan Lin originally traveled to the island on assignment from the Associated Press and the Pacific Resources for Education and Learning, but after spending more than a week in Saipan embedded with many of the island's now-homeless residents, Lin left with more than just photographs of the typhoon's aftermath.
As Lin watched the community pull together despite their limited resources and the ruins that surrounded them, he made it his personal mission to share their post-storm experiences with the world.
"The story of Saipan's recovery, though seemingly tragic, is actually one of resiliency, endurance and humanity at its best," Lin told HuffPost.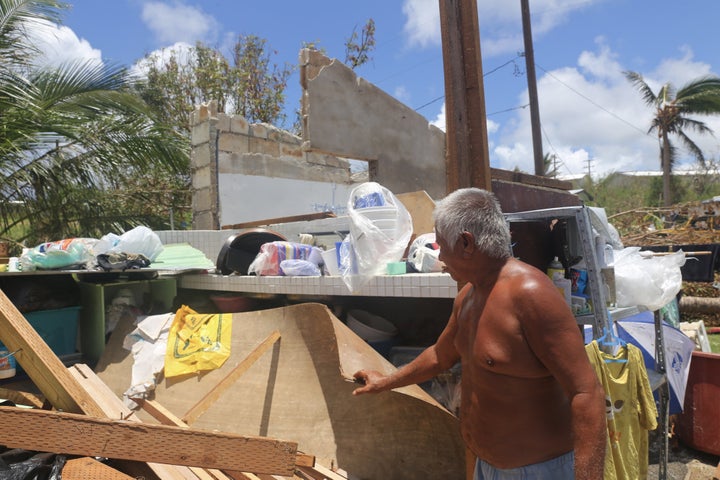 With help from the Federal Emergency Management Agency, AmeriCorps and volunteer groups such as the American Red Cross, "conditions are slowly improving," U.S. Congressman Gregorio Kilili Camacho Sablan told HuffPost.
"But essentially the survivors of the storm, local residents, have to pick themselves up and at the same time help each other," he added. "That is exhausting. Yet people in our community are toughing it out and doing what needs to be done."
Take Jenny Hegland, for instance. 
Weeks later, and with help from more than 300 dedicated volunteers and donors, United 4 Saipan distributed 40,000 gallons of water and 3,000 food and care packages directly to remote villages, according to Hegland. 
"I don't think that people elsewhere understand the magnitude of the suffering here," Hegland told HuffPost.
Which is why Lin has made it his personal mission to share Saipan's story.
He says the most difficult part of photographing the devastation "was trying to stay focused on taking pictures when people are asking for help with basic human needs."
On occasion, he sang with the children in the shelters and cried with adults as they tried to restore their lives.
"There were times when I felt that my role was so trivial in relation to what was needed," Lin told The Huffington Post.
"But then I remembered that there were so many other people doing their part to support recovery efforts -- and that my role was to help tell their story." 
Below, meet the everyday heroes in Saipan who are getting by amidst the chaos with strength and grace.  
This story has been updated to include comments from Congressman Gregorio Kilili Camacho Sablan.
PHOTO GALLERY
8 Amazing Videos of Everyday Folks Turned Unsung Heroes
Calling all HuffPost superfans!
Sign up for membership to become a founding member and help shape HuffPost's next chapter