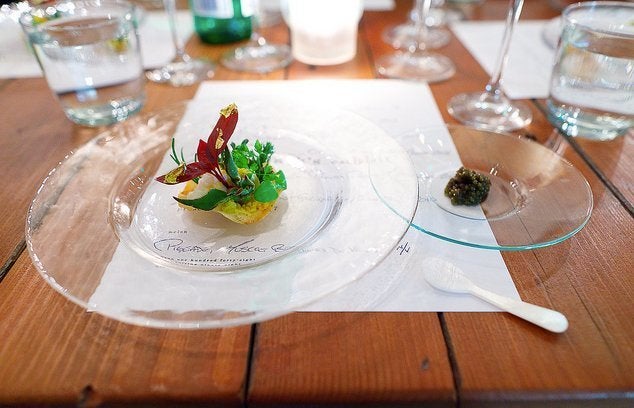 Reservations at San Francisco's best restaurants can be hard to come by: so hard to come by that one might even pay in advance for a seat. And come this April, diners hoping for a meal at Josh Skenes' Saison will have to do just that.
Taking a cue from Chicago restaurant Alinea, the double Michelin-starred Saison will offer seats only through a prepaid reservation system that will include food, optional wine pairings, tax and tip in the price of a "ticket."
According to Skenes, the new system will allow Saison to be endlessly creative in the kitchen without worrying about going broke.
"We really don't follow a for-profit model," explained Skenes to The Huffington Post. "We break even and that's it. So we can't afford to do what we do and have someone not show up."
An all-inclusive dinner ticket will start at $255 per person for an indulgent 16-course tasting menu, and will max out at a whopping $600-a-person 22-course tasting menu with wine pairings, prepared by Skenes himself and served at a private table in the kitchen.
As Skenes explained, it's not exactly an everyday dining experience.
"We source the absolute best ingredients available in the world," he said. "From the fish to the herbs to the salt to the olive oil. Everything. And that goes for the staff as well." Skenes also has an in-house forager and hires farmers to grow crops just for the restaurant.
Under the prepaid system, guest will show up, enjoy dinner and then leave without ever seeing a bill. (The idea of never again haggling over a group dinner bill alone is enough to tantalize our taste buds.) But should you require any modifications to your dinner, you'd better be willing to sacrifice your first born.
"Due to the spontaneous nature of our menu, we cannot make ANY substitutions," wrote Saison in a press release. "If you have dietary restrictions we strongly advise you not to make a reservation." The restaurant does not accommodate vegetarians, and it enforces an absolute, no-tolerance cancellation policy.
Fortunately, in an act of stunning compassion, dinner reservations are transferable.
Will the new system work? Considering the effort required to nab a Saturday night seat, we think so.
But while the new policy speaks to the popularity of Saison, it may also signal a new direction in dining. In New York, Chef David Chang first made headlines for his fierce refusal to make menu adjustments of any kind, including modifications for vegetarians, (no substitutions, no mercy!) and it seems like Skenes is following suit. And, as the Food Channel pointed out, the new trend may not be unique to fine dining.
"People just assume that every restaurant should be for everyone," said Chang to the New York Times. "Instead of trying to make a menu that's for everyone, let's make a menu that works best for what we want to do. The customer is not always right."
Skenes expressed this sentiment more softly.
"We would rather focus on doing one thing and be the best at one thing than offer a million choices," he said to the HuffPost. "You have to get beyond your likes and dislikes. At Saison, it's not about likes and dislikes. It's about enjoying the experience and just letting yourself go."

Related
Popular in the Community