UPDATE: At dawn on Wednesday, Jordan executed Sajida al-Rishawi and another prisoner after ISIS released a video that purportedly showed a captured Jordanian fighter pilot being burned alive in a cage.
In a new video released on Tuesday, the Islamic State group threatened to execute two hostages within 24 hours unless Jordan releases a female failed suicide bomber who's been on death row in the country since 2006.
Tuesday's video appeared to show Japanese reporter Kenji Goto, who has been held by the Islamic State group since the fall. The images were accompanied by audio in which a man who sounded like Goto said he had 24 hours to live unless Jordan released Sajida al-Rishawi. Goto added that the life of Muath al-Kasaesbeh, a Jordanian pilot who was captured by the extremists after his plane crashed in Syria in December, was also in imminent danger.
Al-Rishawi received the death penalty in Jordan in 2006 for her role in al Qaeda attacks on three luxury hotels in the Jordanian capital of Amman in November 2005. The bombings left more than 60 people dead and were some of the deadliest in Jordan's history.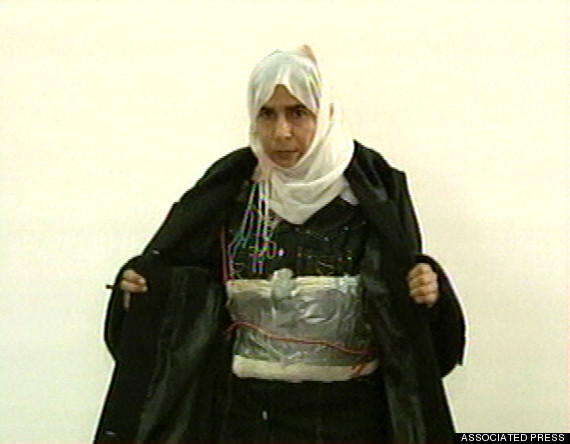 This image made from television shows Iraqi Sajida Mubarek Atrous al-Rishawi opening her jacket and showing an explosive belt on Jordanian state-run television. (AP Photo/Jordanian TV)
Al-Rishawi, originally from the Iraqi city of Ramadi, traveled to Jordan with her husband Ali Hussein al-Shumari in the fall of 2005. On Nov. 9, the couple walked into the ballroom of the Radisson SAS hotel, where a wedding was taking place, each wearing a suicide vest. Al-Shumari blew himself up in one corner of the room. Al-Rishawi's vest didn't explode.
Al-Rishawi was able to flee the hotel in the chaos that ensued after the attack, but was later captured in the safe house she and her husband had rented with two other terrorists. She recounted the details of the attack in a three-minute televised confession aired on Jordanian state television.
Al-Rishawi was sentenced to death for her role in the bombings in 2006, yet Jordan issued a moratorium on the death penalty that same year. That moratorium has recently been lifted.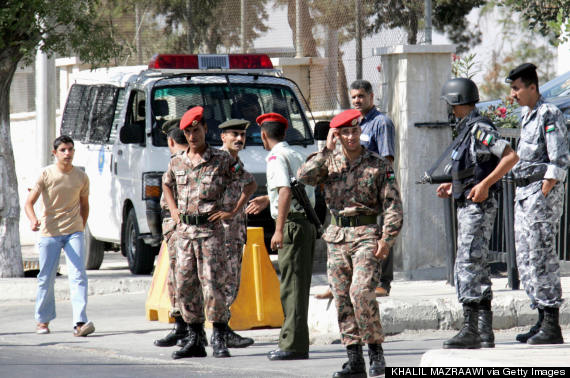 Jordanian soldiers and policemen stand guard outside the courtroom where Sajida Mubarak al-Rishawi was sentenced to death by a Jordanian military court in Amman on Sept. 21, 2006. (KHALIL MAZRAAWI/AFP/Getty Images)
Jordanian investigators told the New York Times in 2005 that al-Rishawi said the deaths of three of her brothers in American operations in Iraq had motivated her to take part in the attack. One of the brothers was reportedly a senior aide to Abu Musab al-Zarqawi, the founder of al Qaeda in Iraq, predecessor of the Islamic State group. Al-Zarqawi claimed responsibility for the Amman attacks.
At her trial in 2006, however, al-Rishawi changed her version of events and claimed she was forced to take part in the assault and never planned to detonate her bomb.
The Associated Press noted that al-Rishawi's release would be a major victory for the Islamic State militants on two fronts:
Securing the release of al-Rishawi would be a major propaganda coup for the Islamic State, following months of battlefield setbacks -- most recently in the northern Syrian town of Kobani where Kurdish fighters on Monday managed to drive out the extremists after months-long fighting and hundreds of U.S.-led coalition airstrikes.

It would also allow the group to reaffirm its links to Al Qaeda in Iraq, which battled U.S. troops and claimed the Jordan attack. The Islamic State group had a brutal falling out with Al Qaeda's central leadership, but still reveres the global terror network's onetime Iraqi affiliate and its leader, Abu Musab al-Zarqawi, who was killed by a U.S. airstrike in 2006.
On Wednesday, Amman appeared willing to consider al-Rishawi's release and a member of Jordan's parliament said the government was engaged in indirect talks with the militants. Jordan's willingness to negotiate with the Islamic State is against the policy of the United States. Both countries are part of the international coalition to fight the Islamic State group.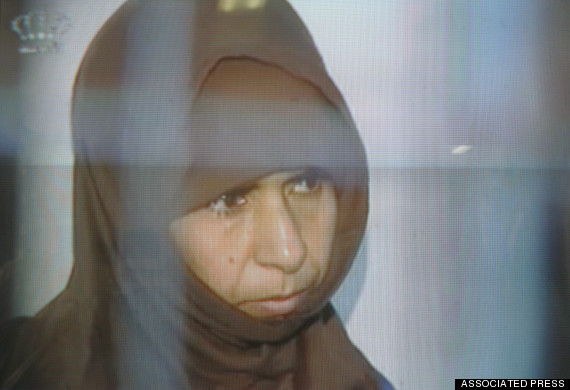 This image made from Jordan television on April 24, 2006, shows Sajida Mubarak al-Rishawi. (AP Photo/Jordan Television)
Calling all HuffPost superfans!
Sign up for membership to become a founding member and help shape HuffPost's next chapter
BEFORE YOU GO
PHOTO GALLERY
Syria War In January