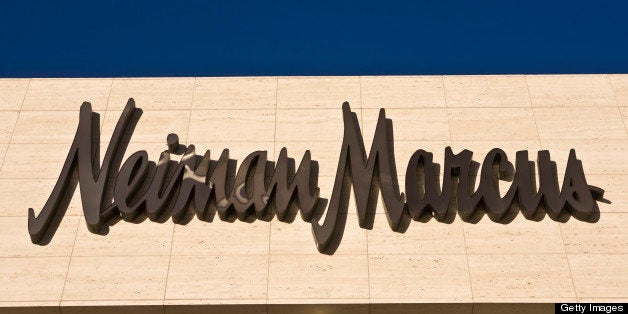 It's unclear whether KKR has approached Saks about a potential investment thus far, and a source told Bloomberg that there's no guarantee that a transaction will occur. But retail experts say such a combination would make sense for both the Saks and Neiman Marcus brands, which are battling their much larger competitor Nordstrom.
The primary reason for a merger would be to stimulate growth, and to allow a combined company to use its newfound size to keep down costs by integrating back-end logistics, said Brian Sozzi, CEO and chief equities strategist of Belus Capital Advisors. "It would create a luxury department store with immediate scale," said Sozzi. "Both of these companies lack large store bases."
Neiman Marcus controls around 40 of its namesake department stores, plus two Bergdorf Goodman stores, while Saks runs 43 Saks Fifth Avenue department stores and 65 OFF 5TH outlet stores. Nordstrom's footprint is much larger than either company alone, with 117 full-line department stores and 127 smaller Nordstrom Rack locations. Together, Saks and Nieman Marcus total $7 billion in annual sales, trailing Nordstrom's $11.8 billion.
As shopping malls continue a period of rapid decline, Nordstrom is winning the race for many of the best remaining store locations. A merger would give Saks and Neiman Marcus more muscle to push back, both with physical stores and and through their e-commerce businesses, according to Sozzi.
"Combining these two companies enlarges the amount of fashionable, high-margin goods available online," he said. "The customer to these stores is very mobile-friendly, usually spending first and asking questions later."
Neiman Marcus is owned by private equity firms TPG and Warburg Pincus and has been working with Credit Suisse to explore a potential initial public offering or sale, according to the Bloomberg report. Some sort of deal with Saks would raise the allure of Neiman Marcus to investors, said Sozzi.
Steven P. Dennis, founder of retail consulting firm SageBerry and a former Neiman Marcus executive, agreed that there is "overcapacity" in the luxury retail space. By merging and controlling two key retail brands, the companies would be able to lower competition, leading to higher margins.
But real estate may still present a problem, according to Dennis. Since the two brands have many overlapping locations in shopping malls across the country, closing the appropriate stores would be "complicated and costly," he said.
Another concern is brand management. Both Saks and Neiman Marcus are old brands that high-income consumers easily recognize; killing off one of the brands in the event of a merger likely isn't an option, said Dennis, even though they're positioned "virtually identically" in terms of merchandise and consumer perception.
"Shutting one down seems crazy, so the challenge would be to reposition one to maximize the market opportunity," he said. "Not an easy task."
Support HuffPost
The Stakes Have Never Been Higher
Related
Before You Go
9 Epic Merger Fails
Popular in the Community