When eating out, we tend to think we're "being good" by ordering an entrée salad instead of a big, juicy burger. But many of those salads have an undeserved health halo, packing in more calories and saturated fat than the poster food for an unhealthy dinner: The Big Mac.
Still even with bacon bits, tortilla chips and calorie-laden dressings abounding on the salad column of the menu, it's not a free pass to give into the temptation of a burger (and a side of fries). Salads, with their increased volume and satisfying crunch, have a higher satiety factor than many other foods, meaning that they tend to fill us up quicker and control appetite throughout the day, says Toby Smithson, R.D., community dietitian and spokesperson for the American Dietetic Association. "It's fine to choose a salad, just watch what you're putting in it," she says. Her tips include:
1. Start with a base of dark, leafy greens, which are packed with vitamins and antioxidants.
2. Choose a salad heavy on plain vegetables. If you omit one of the higher-calorie ingredients, feel free to ask your waiter or waitress to load on more of the vegetables.
3. Be wary of add-ons like bacon, tortilla chips and even beans, which some restaurants prepare with lard (ask your server before ordering). Calorically speaking, regular nuts are better than candied ones and fresh fruit is better than dried.
4. Choose vinaigrettes over creamy dressings, which tend to have more calories and fat. Better yet, order your dressing on the side and do a fork dip: Dip your fork in the dressing before a bite instead of pouring the whole cup out onto your salad. And, "even though olive oil is the better choice, it doesn't mean that you should have the whole bottle," Smithson says. Each teaspoon is 45 calories, so use sparingly.
5. Not all fat is created equal. A bit of fat -- from sources such as avocado or plain nuts -- is healthy. So instead of focusing on the total fat content of a salad, look at saturated fat instead.
For a much-needed reality check, we scoured the nutrition facts of nine of America's favorite chain restaurants (according to this survey from Nation's Restaurant News) to find the salads that break at least one of these rules: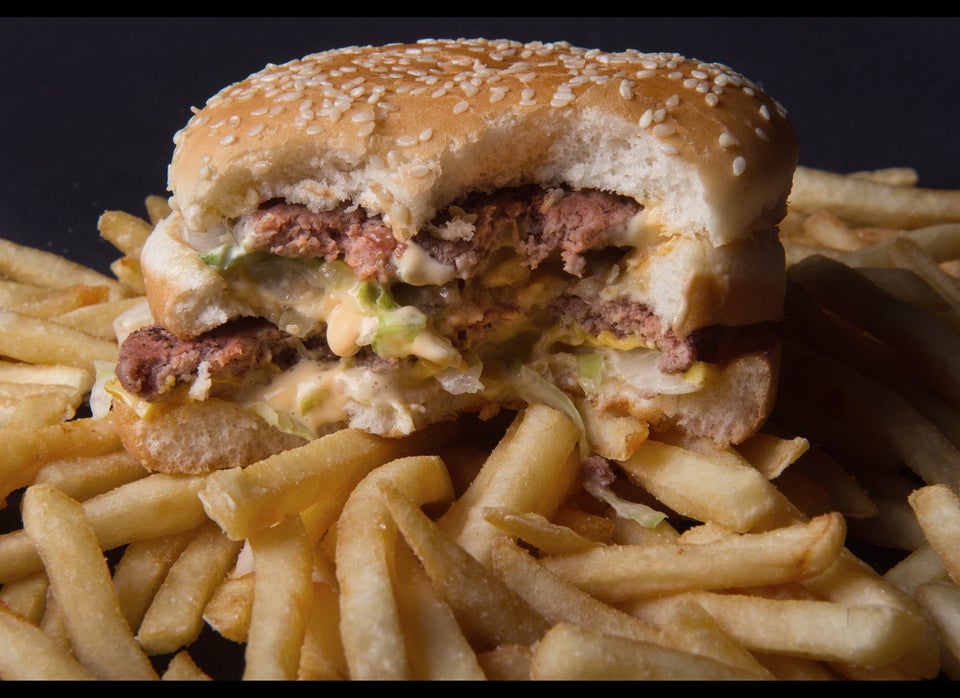 Salads Worse Than A Big Mac
Disappointed to see one of your favorites on this list? You don't have to cut it out completely -- Smithson says the key is portion control. If you research ahead of time and know that your favorite salad packs more than 1500 calories, commit to portioning out half of it at the beginning of the meal to take home for later.
Support HuffPost
A No-B.S. Guide To Life
Related
Popular in the Community