CHICAGO -- When 27-year-old Luke Saunders told his former boss he was turning down a substantial raise and promotion to create a vending machine that would sell exclusively organic, restaurant-quality salads and snacks, he was met with looks of disbelief and confusion.
"They still think I'm nuts," Saunders, the founder of Farmer's Fridge, admitted.
Despite the skepticism, Saunders unveiled the first of what he expects to be many of his unusual kiosks in an otherwise dreary food court in downtown Chicago in late October. And it was an almost immediate hit.
The machine resembles something out of a "Portlandia" sketch. Made from reclaimed wood and surrounded by real plants with a carpet of artificial grass leading up, the kiosk is stocked at 10 a.m. every day with an array of fresh salads and snacks consisting mainly of organic, locally grown produce and assembled at a nearby kitchen just hours before. Whatever is left at the end of each day is donated to a local food pantry.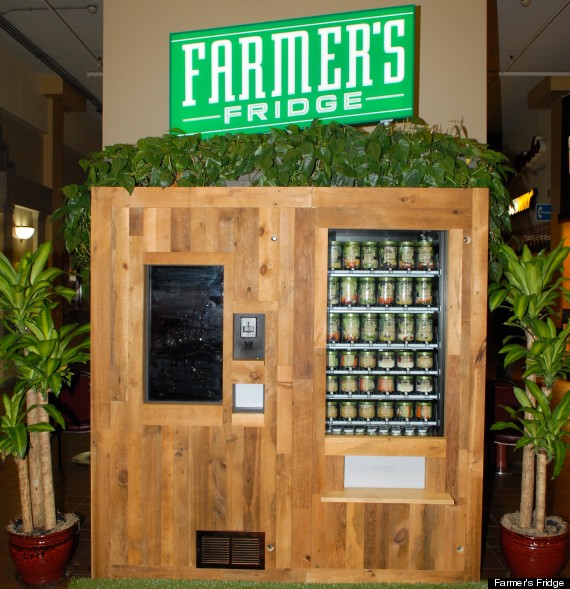 Welcome to paradise, salad lovers.
The idea, Saunders said, came to him because he was traveling often for his former job in the manufacturing industry and noticed that the ubiquitous fast food chains offered few if any healthy options. When his wife accepted a job in Chicago, the East Coast native realized he needed to do something himself. Farmer's Fridge turned out to be it.
"My realization was that I could make fresh food and put it in a vending machine without adding any preservatives or other junk and it would taste good," he said. "We want everything to be in the running for 'the best salad I ever had' or 'the best blank I ever had.' If it's not that good, we're not going to put it in there."
In order to protect the quality of the product, Farmer's Fridge stays away from items that don't lend themselves to staying tasty in a refrigerated vending machine, such as sandwiches. The salads and sides are packed in recyclable plastic jars that allow their components to be stacked in an order specifically intended to keep the salad fresh: greens on top, cheeses and water-retaining fruits on the bottom, nuts in the middle.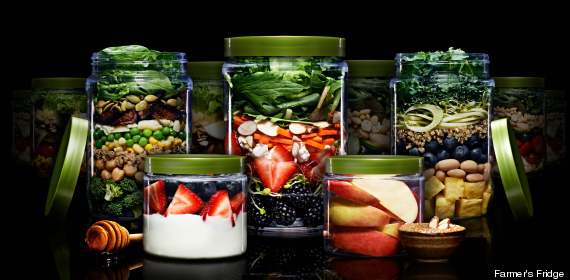 Farmer's Fridge menu items.
The result is a diverse menu that ranges from "The Cheater," a modified classic Cobb salad, to "The Junk Food Eraser," a detox salad stocked with kale, quinoa, sprouts, fennel, blueberries and pineapple with a cider vinegar-lemon dressing on the side. Available separately are proteins -- lemon-pepper chicken, tofu, tuna and salmon -- as well as a handful of sides, including Greek yogurt with berries and sliced vegetables with hummus. The salads start at $8, proteins (except salmon) are $2 and the sides cost $4.25.
With a growing following -- when was the last time you saw a vending machine with a five-star Yelp rating? -- and national press coverage from Fast Company and other outlets, Saunders faces his next problem, one any startup would love to have: how to keep up with the almost overwhelming demand.
Though he said his company is looking at a "very aggressive" launch schedule for February, with a new kiosk going up "every day" from Feb. 13 onward, all of the company's new locations will be in the Chicago area for now.
"We're still blown away by people's feedback," Saunders said. "The biggest fear I had leading up to the day before it opened was, 'Will anyone buy food from a vending machine like this?' But it's working."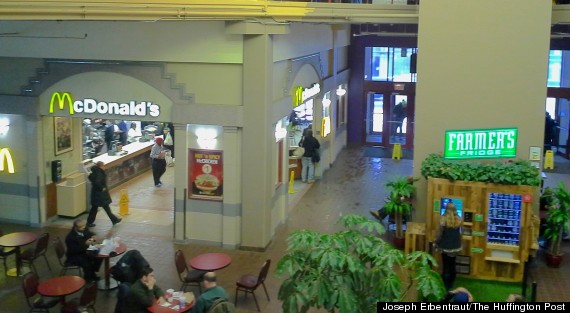 The vending machine is located in the Garvey Food Court, 201 N. Clark St., in downtown Chicago.
Does the food itself live up to the hype, we wondered? On a 1:30 p.m. visit to the kiosk on a recent weekday, it was apparent the concept is resonating in stereotypically meat-obsessed Chicago. About half the salads and many of the sides were already sold out, and the kiosk was out of forks. Saunders later said they had even restocked the machine during the lunch hour earlier that day.
Still, what I sampled from among what was left was sensational. The "Free-Radical Assassin" antioxidant salad was packed with greens, berries, almonds, flaxseed, goat cheese, carrots and a white balsamic vinaigrette. Each ingredient was crisp and fresh, tasting exactly how it should. At 299 calories, the salad more than satisfied a hearty, Midwesterner-sized appetite -- especially when compared to the single cheeseburger with a nearly identical calorie count being sold at the McDonald's next to the kiosk.
I barely had room for the cauliflower "fried rice," which was neither fried nor rice but still offered that comforting, salty, garlic-y flavor of the Chinese takeout staple.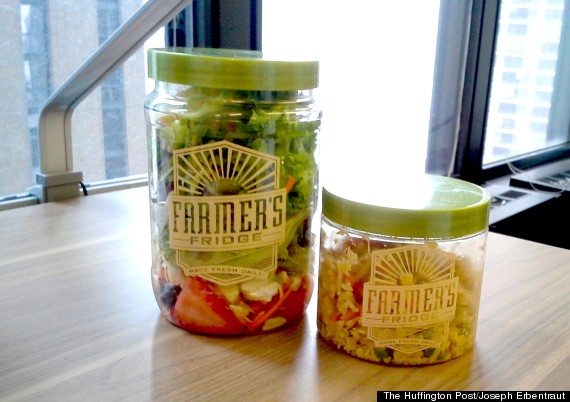 The "Free-Radical Assassin" (left) and the cauliflower rice made for a very filling, tasty lunch on a snowy Chicago day.
Related
Before You Go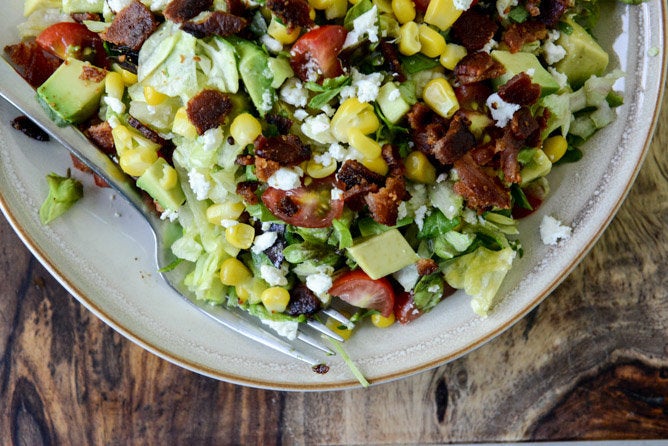 Salad Recipes