Israeli chef Rafi Cohen's new cookbook is devoted entirely to salads - fresh, cooked, fried and baked; cold and hot. Here are three samples from the book: zucchini salad, beet salad and green almond salad.
Zucchini in Wine Vinegar, Basil and Olive Oil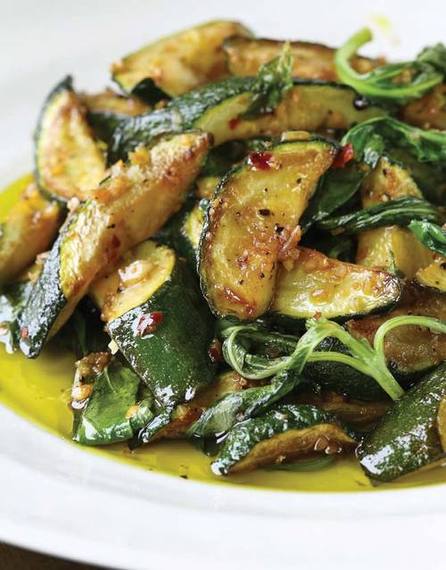 4-6 zucchinis
1/2 cup olive oil
2 cloves of garlic, minced
1 tsp. salt
1/2 tsp. coarsely ground black pepper
Ground dried hot peppers, to taste
1/2 cup red wine vinegar
2 handfuls of basil leaves (preferably purple and green)
Wash zucchini, cut lengthwise and slice diagonally
Heat olive oil in a large saucepan, add zucchini slices and fry for 3 minutes, stirring constantly, until golden.
Add garlic, salt, black pepper and hot peppers and steam for another minute.
Add vinegar, bring to a boil and then simmer until the vinegar is absorbed and almost entirely evaporated.
Remove from heat and cool. Transfer the zucchinis with the remaining liquid into a serving bowl and add basil leaves. Serve at room temperature.
Colorful Beets with Red Onions, Parsley and Cumin Seeds
In Moroccan tradition, beets are peeled and then cooked in water seasoned with sugar, salt and vinegar until they soften and the liquid thickens into a syrup-like consistency. I prefer to bake beets on coarse salt to best bring out their flavor.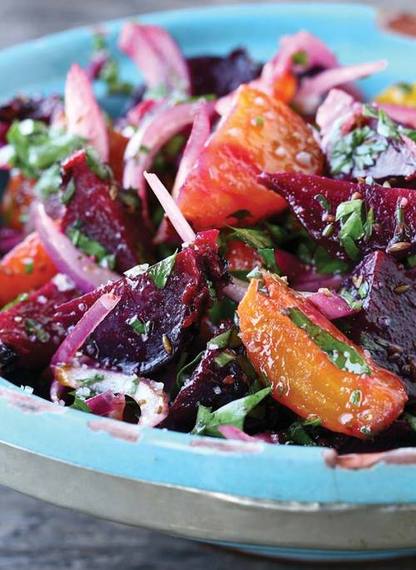 Coarse salt
8 medium beets (preferably in different colors), washed, not peeled
3 red onions, cut in half and thinly sliced
Chopped parsley
1/2 tsp. coarsely ground black pepper
3 Tbsp. olive oil
1/2 tsp. coarsely chopped cumin seeds
Heat oven to 200°.
Spread a 2 cm-thick layer of coarse salt on the bottom of a small pan. Arrange the beets on top of the salt and bake for one hour, until the beets soften.
Remove from oven, cool and peel by hand
Cut each beet into 8 and place in a bowl. Add remaining ingredients, mix and serve.
Green Almond and Coriander Salad
I was 21 years old when I began training with Alain Passard, the Michelin-starred chef from Paris, and I've learned from him ever since, both in the kitchen and as a guest in his dining room. One dish that I remember well included aromatic un-ripened peaches and green almonds. Passard cut the peaches into thin strips, removed the white almonds from their green shells and sliced them thinly, then stir-fried them together in salted butter. Later, I learned that almonds and peaches come from the same family. The flavor of Passard's salad completely differs, of course, from the salad suggested here.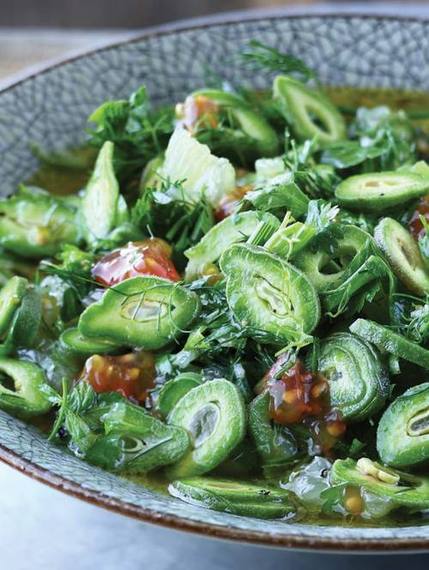 3 cups green almonds, washed well
2 ripe tomatoes
2 handfuls of coriander leaves, rinsed and dried
1/2 thinly sliced hot green pepper
1 clove of garlic, minced
1 small red onion, cut in half and thinly sliced
2 Tbsp. lemon juice
1/2 tsp. coarsely ground black pepper
4 Tbsp. olive oil
1 tsp. salt
Remove the stems from the almonds, cut lengthwise into quarters and place in bowl
Cut tomatoes in half and squeeze into the bowl
Add remaining ingredients and toss well