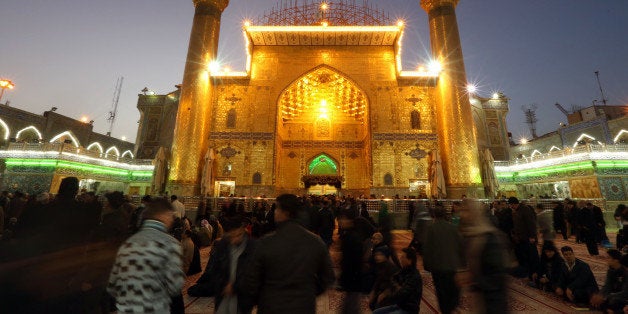 An endless escalator scaled one of the entrances to the Imam Ali shrine in Najaf, Iraq, to the shrine complex itself. Down below, Shia refugees from the Tel Afar region in the far north, near Mosul, were temporarily sheltered. Majed Neisi, my working partner, and I stood around on a late June midday with a young Iraqi film crew on assignment for an Iranian television channel.
The heat, 118 degrees in the shade, seemed to turn everything into an abstraction, removed and unapproachable. Naturally, I thought about American soldiers—the battles that were fought here in the past decade, in 2003, 2004, 2007; I thought about their uniforms and all the gear they had to carry in this furnace. And perhaps one reason that I thought about them is this: Even on my Iranian passport it says that I am a resident of the United States. Place of issue: Washington, D.C. This is just another typical dual frame of reference, of course. Nothing new about it. Yet in a time of war sometimes you long for more clarity and a definite sense of belonging somewhere.
Calling all HuffPost superfans!
Sign up for membership to become a founding member and help shape HuffPost's next chapter