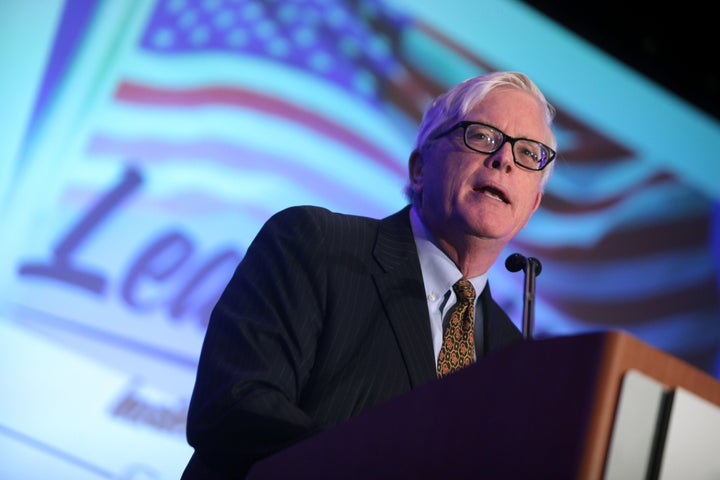 NEW YORK – As millions of Americans watch 16 Republican presidential candidates battle it out next week on CNN, executives at Salem Media Group hope many will be listening, too.
Salem, the network's conservative media partner for the second Republican debate, plans on airing the much-anticipated sequel live across its 31 news talk radio stations, with the company's broader coverage including journalists from Salem-owned websites like Townhall and HotAir reporting from the Reagan Library, site of the Sept. 16 event.
"We're kind of looking at this like a Super Bowl," Salem Radio Network Senior Vice President Phil Boyce told The Huffington Post.
And as with a Super Bowl, there will be several hours of pre-game, halftime and post-game coverage.
Much of the focus on Salem's plans has centered around radio host Hugh Hewitt asking candidates some questions at the CNN-produced debate, along with moderator Jake Tapper and correspondent Dana Bash. But he'll be playing a significant role on the radio side, too.
Hewitt and Townhall political editor Guy Benson will co-host Salem's pre-debate radio coverage beginning at 5 p.m. Hewitt will stop by during part of the intermission between CNN's second-tier (6 p.m.) and first-tier (8 p.m.) debates. The pair will reunite for a post-debate show airing until midnight, live from the spin room.
Though a conservative and Christian radio juggernaut, the 43-year-old public company still flies somewhat under the radar. Salem isn't a household name, like Fox News, even as the company reaches millions through its 100-plus radio stations and websites like Townhall, RedState and HotAir. Executives see partnering with CNN for the Reagan Library debate — as well as a Republican debate in Las Vegas in December and one in Florida in March — as a way to boost the company's visibility.
"I think Salem is becoming a real player in this space," Boyce said. "This debate will just elevate that. No question."
Mother Jones took a deep look at Salem a decade ago, charting the company's rise since CEO Edward Atsinger and his brother-in-law, chairman Stuart Epperson, bought their first radio station in Bakersfield, California. The young evangelicals steadily grew their business by scooping up radio stations across the country, emerging decades later as one of the most powerful players in Christian radio and conservative talk.
Atsinger and Epperson have also established themselves as players in the conservative movement through donations to causes and candidates. Atsinger raised more than $100,000 for George W. Bush's 2004 re-election bid, backed John McCain's campaign four years later, and was a co-chairman of Rick Perry's California finance committee for his 2012 race. Atsinger hosted a luncheon fundraiser in March 2014 for Senate Majority Leader Mitch McConnell, which was headlined by Hewitt and Dennis Prager, another popular Salem host.
Epperson himself twice ran unsuccessfully for Congress in the mid 1980s and has donated to conservative groups. In 2005, Time magazine named Epperson one of America's 25 most influential evangelicals.
As Salem built a stable of leading conservative talkers — such as Hewitt, Prager, Bill Bennett, Mike Gallagher and Michael Medved — the company expanded into right-leaning news and commentary online through the 2006 purchase of Townhall. Salem bought HotAir three years later and scooped up social media-geared conservative site Twitchy in 2013.
Last year, Salem extended its reach by purchasing Eagle Publishing, which includes RedState, Human Events, and book publisher Regnery, home to authors such as Ann Coulter, Dinesh D'Souza, Michelle Malkin, David Limbaugh and Ed Klein. Given its increasingly diversified portfolio, the company rebranded itself from Salem Communications Corporation to Salem Media Group.
The 2016 debates provide Salem with an opportunity to showcase its talent for a national audience and comes after Salem unsuccessfully tried to host a debate two election cycles past. The Republican National Committee took control of the 2016 schedule and mandated that networks producing debates — with the exception of Fox News — needed a conservative media partner in the mix.
Boyce said CNN approached them about partnering, and plans for the debates came together in coordination with the RNC. Salem selected Hewitt, who has been grilling Republican candidates all year on foreign policy and national security, to represent the company as a panelist for the first CNN debate.
Meanwhile, Gallagher will host a watch party at Hillsdale College, a small Michigan school recently dubbed the "conservative Harvard," and Townhall's Katie Pavlich and HotAir's Mary Katharine Ham will be on the ground at the Reagan Library.
Jonathan Garthwaite, vice president and general manager of Townhall Media, said in an email to HuffPost that "the rest of the newsrooms for Townhall, HotAir, RedState and Twitchy will be slicing and dicing the evening's events in their unique styles."
"You can count on Twitchy to know the pulse of social media as the debate unfolds, RedState to hold the candidates' feet to the conservative fire and HotAir to dig beyond the surface of candidate sound bites with great analysis and commentary," he wrote.
Yet one high-profile Salem employee, RedState editor Erick Erickson, won't be part of the action. He'll be 2,200 miles away in Atlanta hosting a syndicated post-debate show for Cox Media Group, a Salem rival that produces Erickson's daily two-hour program.
Erickson told HuffPost that no one at Salem had asked him to be part of its debate coverage.
The Atlantic's Molly Ball later confirmed the news, suggesting an announcement on Erickson's departure would out by mid-August. And yet Erickson has remained editor, continuing to write regularly for the site.
Erickson, who sees a future for himself in radio (and is currently working in radio for a Salem competitor), told HuffPost he spoke to Salem in June about "beginning some exit strategy." The company, he said, convinced him to stay "through the end of the year at least."