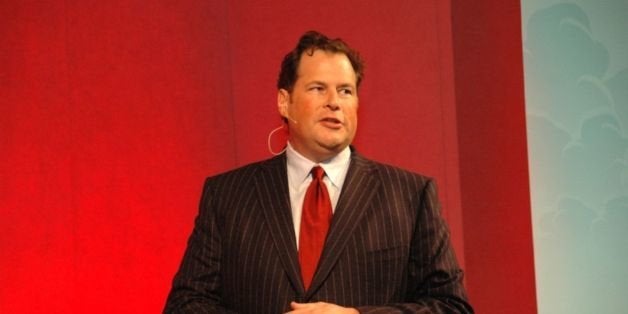 Salesforce.com CEO Marc Benioff canceled the company's events in Indiana after Gov. Mike Pence signed a law on Thursday that could protect business owners who refuse to serve LGBT couples.
"Today we are canceling all programs that require our customers/employees to travel to Indiana to face discrimination," Benioff tweeted.
That followed a tweet from Benioff on Wednesday, saying that the San Francisco-based cloud-computing company would reduce its investment in Indiana as a result of "outrage" over the bill, known as the Religious Freedom Restoration Act. The law will let individuals and corporations use their religious beliefs as a defense if they are sued for denying service to LGBT customers.
Benioff did not immediately return requests for further comment.
Benioff, along with top executives from six other tech companies in Indiana, had sent a letter last week to Pence, urging him to veto the bill.
"We firmly believe in the separation of church and state as provisioned in the First Amendment to the Constitution of the United States," the letter reads. "The RFRA clearly blurs that line and opens the door to blatant discrimination."
The National Collegiate Athletic Association also expressed concern over the law and reiterated its pursuit of "an inclusive environment," NCAA president Mark Emmert said in a statement.
"Moving forward, we intend to closely examine the implications of this bill and how it might affect future events as well as our workforce," Emmert said.
Pence defended freedom of religion in a statement announcing his signing of the bill on Thursday. "This bill is not about discrimination, and if I thought it legalized discrimination in any way in Indiana, I would have vetoed it," Pence said.
Related
Popular in the Community