WASHINGTON -- Health care has long been stuck in the past when it comes to customer service, making it hard for patients and their doctors to communicate and share information. One prominent technology company aims to change that.
Salesforce.com, the San Francisco-based firm that specializes in cloud-based customer relations systems for a variety of other industries, is rolling out a new product for big hospitals and medical practices that emphasizes patients' access to their health information and to their medical providers.
Salesforce Health Cloud pulls data from hospitals' and doctors' offices' electronic medical systems, connected medical devices like blood glucose meters used by diabetics, and even wearable fitness trackers into an interface that evokes familiar services like Facebook and Slack. An internal messaging system allows medical providers to communicate and share information, and lets patients and their family members join or initiate those conversations.
"We're so spoiled by everything else in the outside world that we come to health care and we're like, 'Ugh, this is terrible.' But that just means it's going to change," said Joshua Newman, a physician who is chief medical officer and general manager of Salesforce Healthcare and Life Sciences. "Every single other industry is moving to this."
Salesforce is trying to be the company that solves some of health care's most annoying problems and makes it act more like the rest of the economy, where customers have access to their own information and can engage with service providers in real time.
But it's merely the latest entrant into the field of health information technology, which has flourished but failed to achieve its promise of making health care match the level of service consumers expect from other sectors.
If Salesforce's approach is successful, however, it could significantly change the way medical providers and patients relate. Using the system, doctors, nurses and other caregivers will be able to view lists of patients, their medical conditions and their health data, and to communicate about patients' needs. The patient, in turn, can view their health records, ask questions, fill out questionnaires about upcoming visits, and set up reminders for appointments and prescription refills.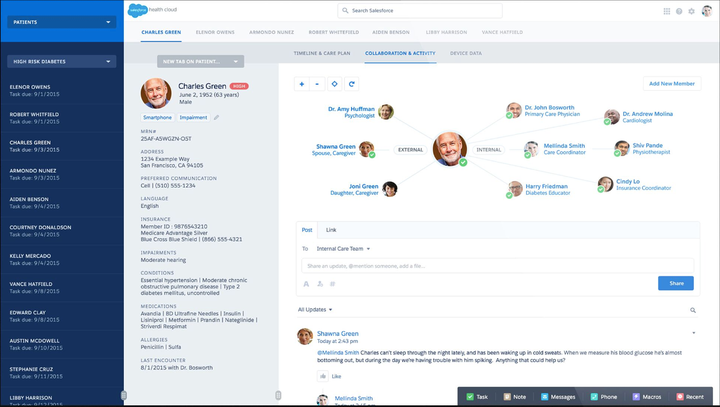 For health care providers, better coordination among a patient's doctors, nurses and other practitioners could make delivering medical care more efficient and effective, promoting collaboration, reducing duplicative tests and treatments, and making it easier for caregivers to track their patients' health.
For patients, the idea is to make it easier to participate in their medical care by allowing greater engagement with their own health information and with their providers, including those who aren't Salesforce customers but are granted access to the system by the subscriber.
Hospitals and other medical providers have rushed to install electronic medical records systems made by companies like GE Healthcare, Cerner and Epic since the 2009 economic stimulus law that earmarked billions of dollars for the acquisition of so-called EMRs, and created bonuses and penalties in Medicare payments linked to greater use of information technology in health care.
But those systems are more suited to the needs of physicians and administrators than those of patients, Newman said. "EMR really focuses on the back office of health care: medicines, labs, procedures, notes -- the things you get paid for," he said. "We built these systems for not-health-care. We built these systems for regular customers dealing with regular businesses."
Calling all HuffPost superfans!
Sign up for membership to become a founding member and help shape HuffPost's next chapter