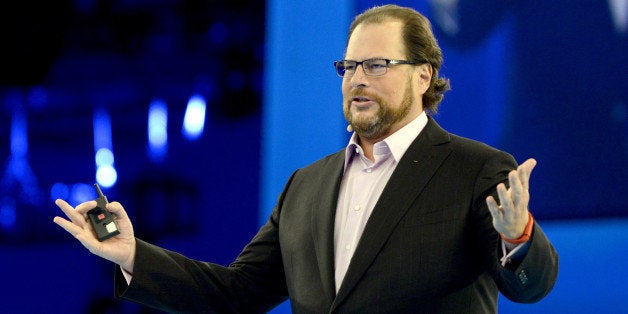 Salesforce is stepping up its opposition to Indiana's controversial religious-freedom law.
The cloud computing company said Wednesday it is helping employees who are uncomfortable with the law, which allows business owners to discriminate against LGBT people, transfer out of the state.
"I just got an email on the way to the studio from another employee who said, 'Look, I don't feel comfortable living in this state any more, you have to move me out,'" CEO Marc Benioff, who helped lead a corporate boycott against Indiana last week, told CNN's Poppy Harlow. "I gave him a $50,000 relocation package and said, 'Great, you're clear to go.'"
Salesforce confirmed that it has helped several workers arrange plans to leave Indiana.
"Our employees in Indy started a grassroots effort that led us to take a stand against this law," Scott McCorkle, chief executive of the company's Indianapolis-based marketing cloud division, said in a statement to The Huffington Post on Thursday. "As a result of this law, a few employees have asked to relocate and we supported those requests. This is not unusual for Salesforce."
Indiana's Religious Freedom Restoration Act, which Gov. Mike Pence signed into law last week, has faced vociferous criticism from business leaders, particularly in the tech industry. On Wednesday, dozens of top Silicon Valley executives signed a joint statement urging lawmakers to include lesbian, gay, bisexual and transgender people in non-discrimination legislation -- a move advocates called "historic." Even Walmart, which has a history of donating to conservative political candidates who have opposed LGBT rights, successfully lobbied the governor in its home state of Arkansas to block a similar bill.
The pressure appears to be working in Indiana, too. In a televised press conference on Thursday morning, Indiana Republicans said they plan to submit additions to its law clearly stating that no one will "be able to discriminate against anyone at any time."
Still, the legislators said they would not yet amend anti-discriminatory civil rights laws to include LGBT people as a protected class.
Salesforce has a sizable presence in Indiana. In 2013, Salesforce acquired the Indianapolis-based marketing software firm ExactTarget for $2.5 billion. Benioff told CNN the company could not afford to shutter all of its operations in Indiana.
Still, Benioff vowed to cut back on his company's investments in Indiana unless the "brutal" law is repealed or altered.
"This is a really important point -- that, you know, CEOs have a lot of power and control on investment in states, and we want to invest in states where there is equality," Benioff told CNN.
This story has been updated with a statement from Salesforce.
Related
Popular in the Community