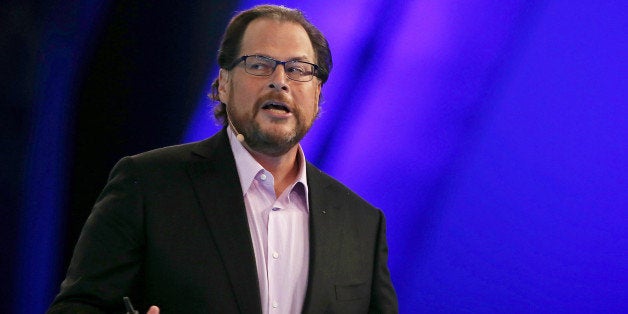 Equal pay for equal work isn't typically a mantra you hear from the chief executive of a multibillion-dollar company. Yet Salesforce CEO Marc Benioff is taking the radical step of reviewing employee salaries to ensure men and women are paid fairly.
Benioff told The Huffington Post that he is methodically examining the pay of all 16,000 employees at his cloud-based software company to ensure pay equality. So far, Benioff said, he's given some women raises. "I expect to be giving a lot more," he said. He anticipates that the process will take a couple of years.
"My job is to make sure that women are treated 100 percent equally at Salesforce in pay, opportunity and advancement," he said. Though he doesn't know what the pay gap between men and women is at Salesforce right now, "when I'm done there will be no gap."
A lot of companies talk about what they're doing for women, but few address the pay imbalance between the sexes so directly or comprehensively. Open conversation about salary is actively frowned upon in most workplaces. Keeping workers in the dark allows for wide differences in pay.
"Pay is the third rail," Benioff said.
Nationwide, there's a stubborn gulf between what men and women earn. In 2013, a woman working full time earned about 77 percent of what a man earned, according to census data.
The wage gap persists for even the most elite workers. Ten years after finishing Harvard Business School, male graduates earn above $400,000 a year while female graduates stay at around $250,000, according to data from the American Economic Journal: Applied Economics, cited by The New York Times in 2013.
Economists give a mix of reasons for the difference -- women may gravitate to lower-paying industries or trade pay for flexible hours. Sex discrimination also plays a role. And crucially, women may not negotiate for higher wages. If a worker doesn't negotiate for higher pay in her first job, low wages could dog her for a lifetime.
The interim CEO of Reddit, Ellen Pao, recently made headlines for trying to fix the pay gap at her company by banning negotiation during the hiring and recruiting process. "If you want more equity, we'll let you swap a little bit of your cash salary for equity, but we aren't going to reward people who are better negotiators with more compensation," she told the Wall Street Journal. (Pao also was in the news for losing her sex discrimination lawsuit against Silicon Valley venture capital firm Kleiner Perkins.)
It's not clear if Pao's method will be effective. The competition for talent in tech is so fierce right now, as New York Magazine's Daily Intel points out, it seems difficult to imagine that the best candidates will be OK not being able to negotiate their price.
Others, including Facebook Chief Operating Officer Sheryl Sandberg and comedian Sarah Silverman, are beating the drum for women to become better negotiators.
"Sandberg has done a great job encouraging women," Benioff said, referring to her now-classic corporate feminist tome Lean In and her outspoken advocacy for women in the workforce. Sandberg has encouraged women to push themselves forward and take a seat at the table.
But women can't do this alone, said Benioff. There are also things a company can do.
Salesforce's pay initiative is part of a wider company program called Women's Surge, which Benioff put in place in 2013 after he began to wake up to the fact that there weren't enough women at his 16-year-old company.
Benioff would look around at meetings that were made up of mostly men and think, "This isn't right," he said. Overall, women made up just 29 percent of employees at Salesforce as of June 2014, according to company data.
As part of the Women's Surge initiative, Benioff is trying to make sure that women make up at least 30 percent of the attendees at any meeting, from large-scale management meetings with 500 to 1,000 attendees to product reviews with just 10 to 20 executives.
Salesforce also deliberately ensures women are well-represented at its conferences, including its annual Dreamforce event -- a major tech industry confab. The company also has a women's group called FemmeForce that does mentoring, nonprofit work and more.
Benioff mentioned that he recently replaced a male speaker with a promising woman executive at a conference. He knew she would be a better speaker and typically wouldn't get the opportunity due to her lack of seniority.
When it comes to hiring and promotion, Salesforce has also made women a priority. "Not a single one of my execs hires or promotes without evaluating every woman candidate," he said. Benioff said the practice has led to more promotions for women -- and more women hires in recent years.
Still, his company has a ways to go. As of June 2014, men made up 85 percent of the leadership team at Salesforce.
Given the overall dearth of women in the tech sector as a whole, however, women at Salesforce say the company is a sharp contrast to previous jobs. "I've worked with more women at Salesforce than I've worked with in my entire career," Chief Marketing Officer Lynn Vojvodich told HuffPost.
Like most women in tech, Vojvodich has spent her career surrounded by men. Before joining Salesforce in 2013, she held a coveted partnership at venture capital firm Andreessen Horowitz. Early on, she worked as an engineer in the construction industry, donning a hard hat and safety glasses. "I was the only woman in a room with 50, 60 people." she said.
The Gender Pay Gap, State by State

Support HuffPost
The Stakes Have Never Been Higher
Related
Popular in the Community