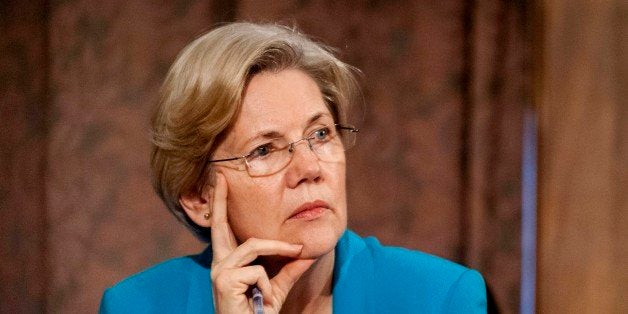 Sallie Mae, the nation's largest student loan company, quietly removed from its latest quarterly report any reference to a cheap government-backed credit line it's been enjoying since 2010, following withering criticism from a top Democratic lawmaker.
The company's use of the credit facility from the Federal Home Loan Bank of Des Moines sparked attacks over the summer from lawmakers such as Sen. Elizabeth Warren (D-Mass.), who denounced Sallie Mae's use of a taxpayer-subsidized line of credit that enabled it to borrow at below-market rates without passing on those benefits to student borrowers.
Sallie Mae did not disclose in its quarterly report, released Oct. 28, the fact that it was still using the facility -- something it has done in all of its previous quarterly and annual filings dating back to early 2010, when it first secured use of the credit line. But according to a separate Oct. 29 slide presentation meant for investors, Sallie Mae was borrowing some $2 billion from the taxpayer-backed facility as of Sept. 30.
Patricia Nash Christel, a spokeswoman for Sallie Mae, declined to comment.
Some analysts who cover the company on behalf of investors said they didn't view the lack of disclosure as "material," a term used to describe news or events that could influence investors' decisions or the value of the company's securities.
The line of credit has helped the education-focused lender buck broader banking industry trends by keeping its borrowing costs low while reaping increasing returns on its securities and loans to customers. Sallie Mae's net interest margin, a closely-watched gauge of bank profitability that measures the difference between what a company pays to borrow and what it earns on loans and securities, is at its highest level since 2003. The banking industry as a whole has experienced a drop in net interest margin over the same period.
Richard Swanson, the president and chief executive of the Federal Home Loan Bank of Des Moines, is set to testify Tuesday before the Senate Banking Committee. Warren is likely to question him on Sallie Mae's arrangement.
Still, Sallie Mae remains an Education Department favorite thanks to its ability to collect on defaulted taxpayer-backed student debt and the relatively low delinquency rates on government-backed loans it services for the agency.
As the federal government's role in financing higher education grows -- it currently backs more than 80 percent of the $1.2 trillion in outstanding student debt -- Sallie Mae executives are counting on the company's ability to continue to win Education Department contracts as it seeks to expand and increase its revenues. The company is also looking to split itself in two, with one unit focusing on private student loans and the other on federal student loans.
Congressional scrutiny from high-profile lawmakers such as Warren could threaten those ambitions. Though the company's share price has risen more than 42 percent over the past year through Monday, some analysts are worried about negative attention by officials and legislators casting a pall over Sallie Mae's strategy and future share price.
Warren has noted the "enormous benefits the government has provided Sallie Mae," such as the Federal Home Loan Bank facility, that have enabled the company to borrow at "astonishingly low interest rates." The federal government, Warren said recently, has "helped Sallie Mae maintain its profitability."
The spotlight on the company's reliance on the Federal Home Loan Bank for cheap financing began in early May, when the CFPB said in a report on student loan affordability that Sallie Mae's use of cash from the government-sponsored enterprise was "worth noting."
The next month, Warren sent letters to John Remondi, Sallie Mae's chief executive, and Edward DeMarco, the acting director of the Federal Housing Finance Agency, demanding to know why Sallie Mae was able to access cheap taxpayer-subsidized credit. DeMarco's agency regulates the Federal Home Loan Bank system.
To Warren, the arrangement seemed unjust. Congress created the Federal Home Loan Bank system during the Great Depression to support home mortgage lending, but Sallie Mae was using the taxpayer-subsidized facility to support its holdings of education loans.
Worse, according to Warren, the Federal Home Loan Bank may have been undermining its mission by subsidizing Sallie Mae's origination of high-interest private student loans, which according to research cited by Warren can act as a barrier for Americans trying to buy their first home.
"It is deeply worrisome that the Federal Home Loan Banks may be undermining their mission by extending billions of dollars in cheap credit to private student lenders," Warren said.
In a June 25 letter to Warren, Sallie Mae claimed that the FHFA allowed for the arrangement after Congress became concerned in 2008 that education lenders faced difficulties originating new student loans. Martha Holler, a company representative, has previously said there was "no connection" between the Federal Home Loan Bank facility and the company's funding of private student loans.
Since gaining access to the Federal Home Loan Bank facility, Sallie Mae's borrowings have steadily risen. At the end of 2010, the company had tapped the credit line for $900 million for what it described as "short term" borrowing. By the end of last year, the amount of short-term borrowings from the facility had more than doubled to $2.1 billion.
The company was able to borrow as much as $8.5 billion from the Federal Home Loan Bank as of Dec. 31, according to Sallie Mae's annual report.
The company's borrowings have increased this year, too, but in a shift Sallie Mae was tapping the credit line for longer periods of time. Long-term borrowing tends to be more expensive than short-term borrowing.
Of the $2.3 billion Sallie Mae was borrowing from the Federal Home Loan Bank as of June 30, slightly more than half was defined as "long term" borrowing.
Through the first six months of this year, Sallie Mae was paying 0.28 percent interest on average to borrow from the Federal Home Loan Bank, making it the company's cheapest source of funds outside of debt tied to derivatives.
Calling all HuffPost superfans!
Sign up for membership to become a founding member and help shape HuffPost's next chapter
BEFORE YOU GO
PHOTO GALLERY
Elizabeth Warren