Federal investigators discovered evidence showing Sallie Mae cheated active-duty military service members on their federal student loans at least two months before the Department of Education told the company it planned to renew its lucrative contract to collect loan payments.
The evidence led officials to preliminarily conclude as early as August that Sallie Mae had allegedly violated the Servicemembers Civil Relief Act in servicing some federal student loans, according to people familiar with the probe. The law requires companies to reduce interest rates on student loans to no more than 6 percent upon request by service members called to active duty.
The revelation that some federal officials believed Sallie Mae violated the service members law by failing to allow active-duty soldiers to use critical protections for their federal student loans has prompted outrage among a bipartisan group of federal lawmakers. Student advocates are trying to use the findings to force the department to suspend ties with the company.
The timing of the discovery, not previously reported, raises new questions about the Education Department's October decision to reward Sallie Mae with a potential five-year extension of its existing contract to collect payments on federal student loans. The company's contract with the Education Department, which expires in June, requires it to comply at all times with all relevant federal laws in its pursuit of borrowers' monthly payments on their federal student loans.
In August, the department said Sallie Mae confirmed that an ongoing government investigation into allegations the company deprived active-duty soldiers their consumer rights did not affect federal student loans. In November, the department said it was "not aware of any issues that would prevent us from exercising this extension."
People familiar with the service member probe cautioned that while federal investigators by August had a firm grasp on the extent of the alleged wrongdoing regarding Sallie Mae's servicing of private student loans, the probe was ongoing. Investigators from the Department of Justice and the Federal Deposit Insurance Corp. were looking at Sallie Mae's practices at the time.
It's unclear whether investigators' findings reached the upper echelons of the Education Department before department officials decided to inform Sallie Mae of their intent to extend the company's contract. Dorie Nolt, Education spokeswoman, refused to answer questions.
"I'm not in a position to comment on a potential investigation," Nolt said in a statement. "The Department and Secretary [Arne] Duncan believe it is extremely important that servicers are held to high standards, and of the more than 40 million borrowers with outstanding student loan debt, the vast majority have not expressed any concerns about servicers."
John Remondi, Sallie Mae chief executive, told investors and analysts on April 17 that the company is "100 percent committed to providing the full benefits and responsive service to those who serve our country in the armed forces."
"However," Remondi continued, "what on its face is a simple statute is in practice very, very complex to apply." The company, which is trying to settle the probe, declined further comment. The Department of Justice, which is leading the investigation, also declined to comment. Sallie Mae has not been publicly accused of any wrongdoing in connection with the investigation.
Sallie Mae, the nation's largest handler of student debt, has been criticized by federal lawmakers, student advocates, state colleges and teachers' unions for its servicing of education loans. The Education Department has been under pressure from those same groups for its supervision of Sallie Mae.
The timing of the alleged violations of the service members law threatens to further shame an Education Department already facing harsh criticism for its lack of oversight of student loan companies it pays to interact with borrowers.
The department said in December that it had declined to levy fines on Sallie Mae, despite previously secret determinations over the past 10 years alleging the company had harmed borrowers and incorrectly billed the department. Sen. Elizabeth Warren (D-Mass.) has said that the Education Department risks becoming a "lapdog."
"If the department knew one of its contractors was violating federal law, then knowingly renewed a five-year contract worth hundreds of millions of dollars, it shows that the Education Department is spending more time bumping elbows with industry players than protecting borrowers, helping students or helping soldiers," said Chris Hicks, an organizer who leads the Debt-Free Future campaign for Jobs With Justice, a Washington-based nonprofit that is among organizations that have called on Duncan to suspend the department's contract with Sallie Mae.
Sallie Mae disclosed in August that it was under investigation for how it treated service members, but didn't specify whether the probe targeted private loans, federal student loans, or both. Chris Greene, an Education Department spokesman, said then that the probe didn't affect federal student loans.
The Huffington Post reported April 16 that federal investigators had discovered evidence alleging federal student loans were affected.
"These accounts, if true, of Sallie Mae violating the critical protections of our men and women in uniform are very disturbing," said Sen. Tom Harkin (D-Iowa), who as chairman of the Senate Health, Education, Labor and Pensions committee oversees the Education Department. "As we proceed with our hearings on the reauthorization of the Higher Education Act, protecting the rights of military families and holding servicers like Sallie Mae accountable will be a priority."
A spokeswoman for Sen. Lamar Alexander (R-Tenn.), the top Republican on the committee, said he is following the investigation closely. Sen. Sherrod Brown (D-Ohio) said service members "shouldn't have to worry about predatory banking practices," adding that the Education Department "must take action to ensure that our active duty servicemembers are treated fairly."
"Sallie Mae makes millions of dollars on federal contracts despite its pattern of breaking the rules and hurting borrowers. This isn't right," Warren said. "We need to protect our service members and other young people trying to get a fair shot -- the federal government should be cracking down on companies that break the rules, not rewarding them with additional contracts."
With student debt totaling more than $1.2 trillion, federal policymakers and regulators have become increasingly alarmed by practices employed by servicers such as Sallie Mae. Making it harder for borrowers to pay their debts risks hurting future U.S. economic growth as over-indebted borrowers delay home and auto purchases, limit other forms of borrowing and reduce consumption.
Last week, the Treasury Department said that Sarah Bloom Raskin, deputy treasury secretary, will focus on student debt on Tuesday in her first policy speech as the department's second-ranking official.
But as policymakers and regulators from the Treasury Department, Federal Reserve and Consumer Financial Protection Bureau worry over student debt and consider measures to limit its negative impact on the U.S. economy, they face an Education Department that appears reluctant to challenge the companies it pays to interact with borrowers, collect their payments and counsel them on the best repayment plans for their budgets.
James Runcie, who as chief operating officer for the Office of Federal Student Aid oversees the federal government's student lending program, explained the department's thinking during a Senate hearing in March.
At the hearing, Warren asked Runcie why the department had decided to extend its contract with Sallie Mae. The company, in addition to facing the servicemembers probe, also is battling investigations by the FDIC, the consumer agency and a gaggle of state attorneys general over its allegedly faulty lending and servicing practices.
"We know that there are problems with Sallie Mae," Warren said, "and the actions you are taking and the oversight that you are exercising has obviously not been enough to correct the problem. And I'm very concerned about re-upping a multi-million dollar contract with Sallie Mae when Sallie Mae has demonstrated time and time again that it's not following the rules."
In his response, Runcie said that the department decided to extend Sallie Mae's contract as part of its decision to extend the contracts of all four of its major servicers. The Education Department hadn't found a "wholesale" violation by Sallie Mae of its contract, which could lead to a contract termination, he said.
Also factoring into the department's decision, Runcie said, was the potential "dislocation" borrowers would face if the department had to transfer loans from its servicers to a new batch of companies.
That prompted Harkin to quickly interject. "It sounds like your answer, Mr. Runcie, was that they're too big to fail."
Before You Go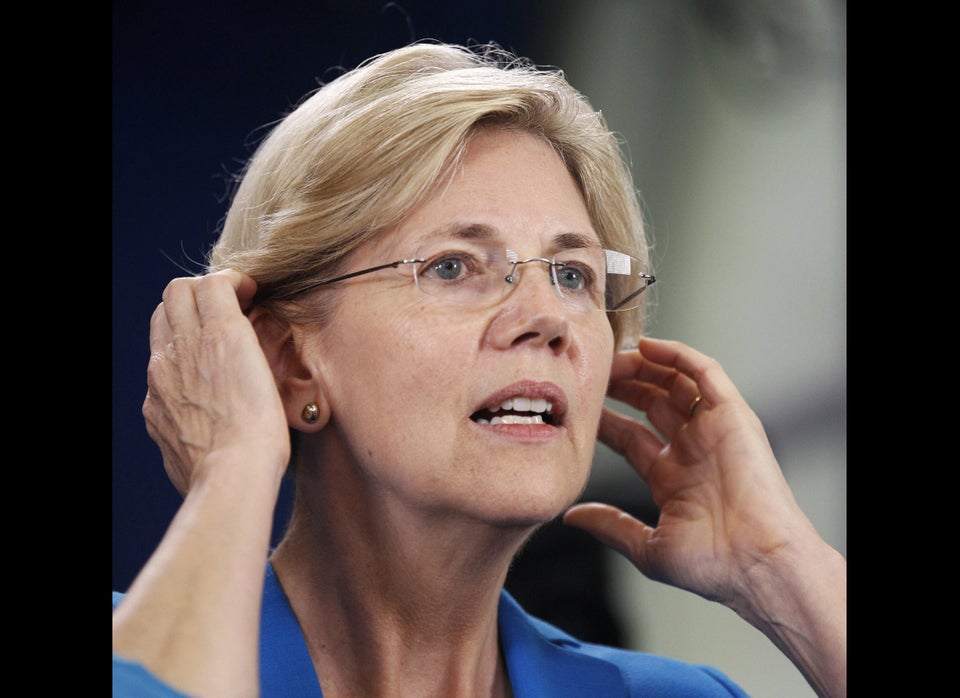 Elizabeth Warren
Popular in the Community