Sallie Mae, the nation's largest servicer of federal student loans, is failing to enroll many of its distressed borrowers into one of the Obama administration's main initiatives for alleviating high student debt.
Documents obtained by The Huffington Post and estimates provided by the White House separately suggest that Sallie Mae, or SLM Corp., has enrolled relatively few borrowers into the Income-Based Repayment program. Sallie Mae dominates the now-discontinued Federal Family Education Loan Program, owning between 37 and 40 percent of the outstanding FFELP debt held by the private sector. But its share of FFELP borrowers who are enrolled in IBR is about half that, or 15 to 18 percent.
Officials have cautioned that the government figures cited by HuffPost are just rough estimates, but so far, they are the only available indicator of how Sallie Mae utilizes the loan relief program.
Outstanding federal student debt has nearly doubled since 2007 to $1 trillion, government data show, while the average borrower with federal student loans now carries more than $26,000 in debt -- a 42.7 percent increase since 2007. The IBR program has emerged as President Barack Obama's signature tool to address this burgeoning crisis.
In May, Obama warned that this debt load "doesn't just hold back our young graduates. It holds back our entire middle class." He added that student loan payments "can last for years, even decades, which means young people are putting off buying their first car or their first house -- the things that grow our economy and create new jobs."
The White House and other federal policymakers have heralded the IBR program as a potential antidote to the risk of student-debt-fueled economic malaise. The program caps monthly payments on federal student loans relative to borrowers' incomes and gives some debtors the opportunity to have their remaining loans forgiven after years of steady payments.
"It is concerning that Sallie Mae has such a disproportionately low number of borrowers utilizing the Income-Based Repayment program," said Persis Yu, a staff attorney at the National Consumer Law Center. "Unfortunately, we do not have a lot of data about Sallie Mae or other servicers' performance."
In an emailed statement, Martha Holler, Sallie Mae spokeswoman, criticized HuffPost's figures, arguing that the "conclusion is misguided." But despite several requests for data that could alleviate the alleged error, the company refused to provide any additional information.
Sallie Mae's poor performance could ultimately weigh on the overall success of IBR. The program has struggled, enrolling less than an estimated 2 million borrowers despite millions of eligible borrowers. Student advocates argue that the government has failed to adequately inform Americans about the program and that the Education Department, which administers the program, relies too much on loan servicers to help borrowers take advantage of its benefits.
Sallie Mae's numerous contracts with the agency are already under threat due to other issues with its servicing of federal student loans. For example, last week the Education Department announced that, as a result of its annual study on student loan servicing, Sallie Mae next year would be allotted the fewest new federal loans of the agency's four major servicers. The low allotment reflects the company's last-place score.
In addition, Sallie Mae faces an enforcement action from the Federal Deposit Insurance Corp. for allegedly violating laws banning "unfair or deceptive" practices and discriminatory lending, according to the firm's securities filings. It also anticipates sanctions for violating the Servicemembers Civil Relief Act, a federal law intended to ease certain financial pressures on active-duty members of the armed forces.
This past Wednesday, the publicly traded company received a veiled threat from Rohit Chopra, the top student loan official at the Consumer Financial Protection Bureau. In the context of a discussion about Sallie Mae, Chopra said that investors in financial institutions "should know that repeated violations of the law can have serious repercussions for the financial institutions they invest in, especially for those institutions who depend on federal and state licensures and contracts."
Sallie Mae is the Education Department's largest corporate contractor. It has been awarded more than $300 million in federal contracts since 2009, federal data show. Its contract to service federal student loans expires next year, and although renewal of the contract is expected, the Education Department is facing pressure to reduce its reliance on Sallie Mae. The company's relative lack of success in enrolling FFELP borrowers into IBR is now prompting additional questions from federal officials, advocates and higher education policy experts.
FFELP, a bank-based program that allowed lenders to profit off student loans backed by the government, was ended in 2010 as part of legislation that enacted Obama's health care law. All new federal student loans are now made under the Direct Loan program, which cut off banks from government-subsidized profits altogether. But about 21.2 million people continue to carry $429.5 billion in FFELP debt, for an average of nearly $20,260 per borrower. If they default on those loans, taxpayers pick up the tab, rather than the private-sector owners of the loans.
Of Sallie Mae's $107.5 billion in FFELP loans, just 60 percent, or $64.8 billion, are current. The rest are delinquent or in temporary forbearance programs, or the borrowers are still in school.
By dollar volume, the company's share of all FFELP loans held by the private sector is nearly 37 percent, according to the most recent Education Department data available. By loan count, Sallie Mae has close to 40 percent of privately held FFELP loans, according to the Education Department and data the company provided to Congress. Both figures exclude loans owned by the agency, loans in default and loans carried by borrowers whom the agency defines as being in "total and permanent disability."
Yet only about 140,000 borrowers who carry FFELP loans owned by Sallie Mae are enrolled in the IBR debt relief program, according to an Aug. 1 letter from John Remondi, Sallie Mae president and chief executive, to Sen. Sherrod Brown (D-Ohio). The letter was obtained by HuffPost.
That number represents just 15 percent of the roughly 900,000 overall FFELP borrowers who are benefiting from reduced payments under IBR, according to White House estimates. An internal Education Department document obtained by HuffPost reveals that as of January, an estimated 776,000 borrowers whose FFELP loans were owned by the private sector were enrolled in IBR -- making Sallie Mae's share of that subset of FFELP borrowers getting help roughly 18 percent.
The department confirmed the document's authenticity but cautioned that the estimate could be unreliable, even though at one point it represented the department's best estimate in measuring the FFELP portfolio.
It's unclear why Sallie Mae would be such a laggard in enrolling struggling borrowers into IBR. It's possible that reduced monthly payments under IBR could bite into the company's revenues or hurt holders of FFELP loans that Sallie Mae has securitized and sold to investors.
In a July conference call with investors and analysts, Remondi hinted that it costs too much for the company to move a borrower into IBR. "It's very expensive work, for example, to enroll a borrower into something like an Income-Based Repayment program," he said, before noting that the company was nonetheless helping borrowers get into the program.
Although Remondi's remarks were centered on struggling borrowers in the Direct Loan program, such cost concerns would seemingly also apply to enrolling FFELP borrowers into IBR.
"Borrowers should have a right to expect that their federal loan servicer will work with them to get the best option available. This highlights the need for more information about servicers that are supposed to be helping out federal student loan borrowers," said Yu, the National Consumer Law Center lawyer.
Jason Delisle, who directs the New America Foundation's federal education budget project, said there "could be a perfectly legitimate explanation" for Sallie Mae's relative shortcomings or, he speculated, the company may not be aggressive in enrolling borrowers into IBR or may not be informing enough borrowers about the initiative. The company's performance in servicing FFELP loans likely is a legacy of a time when lenders, such as Sallie Mae, virtually controlled the FFELP with little government oversight, he added.
"Thank God the FFEL program is gone," Delisle said.
But Sallie Mae officials insist that the company seeks actively to help students. "We help our customers identify the least costly, fastest option to repay loans, including IBR for those eligible. We educate customers about IBR, and anyone eligible who applies receives it," said Holler, the Sallie Mae spokeswoman. "Our federal loans have lower delinquencies and significantly lower defaults than the industry average, evidence that our customers succeed in their chosen repayment plan."
Holler said that the company owns only FFELP loans made before July 2008 and that a significant portion of them are consolidated loans in which borrowers chose to combine all their debts into a single loan so they could lock in a lower interest rate and achieve lower monthly payments. "Loans originated before 2008 are more seasoned and would have a lower IBR enrollment rate as a result," she said.
Student advocates point out, however, that these circumstances would apply to all loan servicers, not just Sallie Mae, and thus it is unclear why Sallie Mae would be disproportionately affected.
Due to a change in the law driven by the financial crisis, the Education Department itself purchased nearly all new FFELP loans made after mid-2008 until the end of the program. Sallie Mae recorded gains of $284 million in 2009 and $321 million in 2010 off such sales, the CFPB has said, citing the company's securities filings. The company has defended those profits, arguing the sales allowed students to access loans at a time of turmoil in financial markets.
Furthermore, Holler said the company had worked with the Education Department to streamline the process for students wishing to apply for IBR, which has "dramatically simplified the IBR application process and helped more federal student loan customers qualify." She said the number of Sallie Mae's FFELP borrowers using IBR has increased by 75 percent over the last 18 months, to more than 140,000.
Still, Sallie Mae's low figures underscore the difficulties the Obama administration faces in trying to boost IBR enrollment.
Over the past year, but especially in a spate of speeches last month, Obama has repeatedly noted that too few eligible borrowers are enrolling in the initiative -- a "problem" and source of embarrassment for the Education Department. The president said he would move to reduce the agency's dependence on loan servicers. Recently, the CFPB has also tried to increase public awareness of IBR, a sign that perhaps the rest of the government is unhappy with the Education Department's efforts.
"This plan can be an effective tool for helping individuals to manage their debt, especially during challenging economic times," Obama wrote in a June 2012 memo to then-Treasury Secretary Tim Geithner and Education Secretary Arne Duncan.
Median weekly wages for bachelor's degree holders have fallen 4.8 percent over the last 10 years, according to inflation-adjusted annual data from the Bureau of Labor Statistics. Weekly paychecks for all college-degree holders over the age of 25 are down by 3 percent. Last year, Chopra told the Senate Banking Committee that the so-called college wage premium, or the difference between wages for those with a college degree and those without, has increased in recent years only because earnings of non-degree holders have been falling, rather than a college degree "becoming more valuable."
Researchers at the Federal Reserve Bank of New York have reported that, for the first time in at least 10 years, younger workers with student debt are less likely than their unburdened peers to have mortgages or car loans. Some economic experts see this troubling statistic as a sign that debt burdens are inhibiting consumption and investment.
Government agencies including the CFPB, Federal Reserve and Treasury Department have all said that the current level of student debt risks holding back the economy and curtailing future growth.
"The whole student loan problem is a problem that should be of deep concern to this body," Richard Cordray, the CFPB director, told the Senate Banking Committee in April. "These are young people that we should care a great deal about. It's holding them back, and it's making them unable to rise and succeed and become leaders in our society."
See relevant documents below:
Before You Go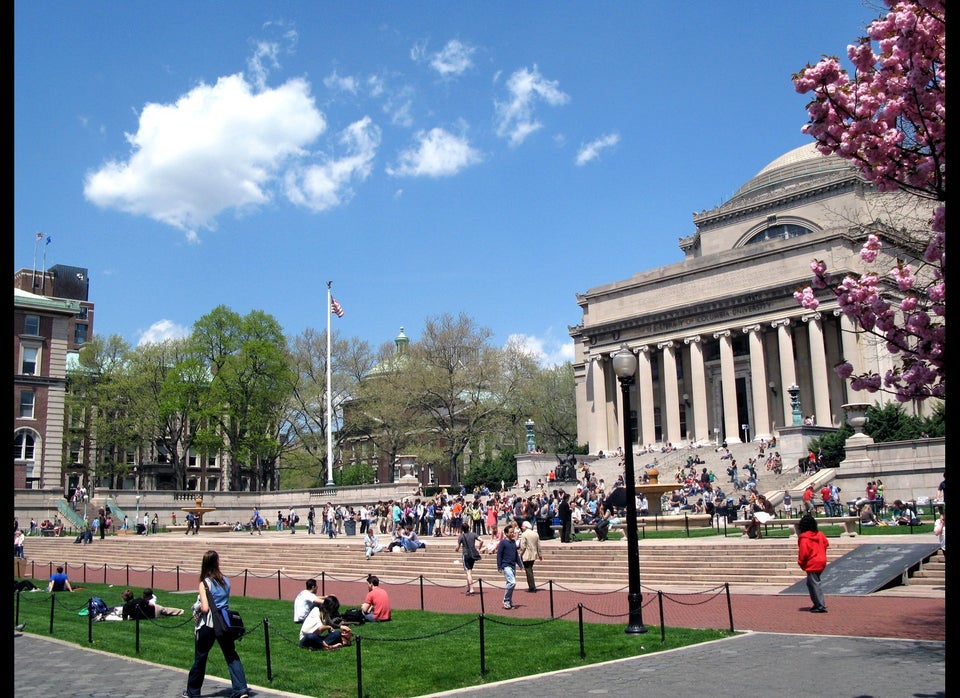 The 10 Most Expensive Colleges
Popular in the Community