For most incoming freshmen, moving into college dorms is a crazed, but exciting few days.
But for Sally Gardiner-Smith, the experience lasted a long and reflective nine months. The 19-year-old sailed from her home in Woolwich, Maine, down the Eastern seaboard to the Bahamas, up the Gulf of Mexico and, finally, to Eckerd College in St. Petersburg, Florida.
Gardiner-Smith has never lived away from home before, but she travelled a total of 3,000 miles to move into her freshman dorm with only her dog, Elli, by her side, .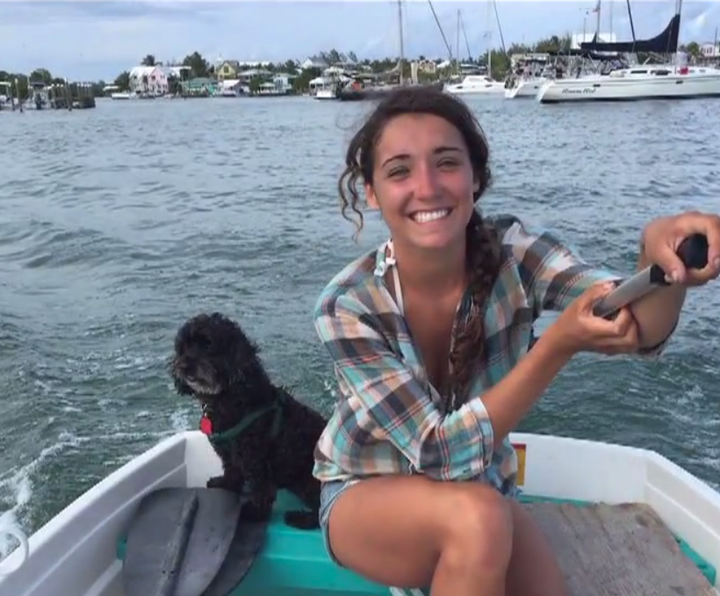 "I knew I wanted to take a gap year and calm down and regroup before college," Gardiner-Smith told ABC News. "And I knew I loved sailing." 
So, after graduating high school in 2014, Gardiner-Smith bought a 29-foot sailboat named The Athena and plotted an epic voyage that she'd embark on alone. On October 1, 2014, the experienced sailer set out.
The nine-month voyage pushed Gardiner-Smith's limits both physically and emotionally. While she met up with friends and family at different ports along the way, the time at sea could be isolating; she went four or five days at a time without speaking to another human. 
One of her most challenging obstacles came only a week into her trip. While The Athena was docked in Boston, Elli was hit by a truck. Her hind leg had to be amputated and she was sent back to Maine to recover, before rejoining Gardiner-Smith three weeks later. Without her first mate on board, Gardiner-Smith feared it would be "dreadfully lonely," but found inspiration in Elli's resiliency. 
"I am good with the dorm because it's like the same size as the boat," she told ABC News. The challenge of living so close to other people, however, has been a change of pace given the solitude she experienced on the boat.
Although she doesn't know what she wants to major in yet, Gardiner-Smith says her gap year sailing alone prepared her for whatever college throws at her.
PHOTO GALLERY
College Advice From Snapchatters (Follow HuffPost On Snapchat!)
Calling all HuffPost superfans!
Sign up for membership to become a founding member and help shape HuffPost's next chapter