Warning: This post contains images of (embroidered) boobs and buts, and thus may not be suitable for work.

Say farewell to all your preconceived notions about the beloved craft technique that is embroidery. The medium formerly associated with your lovely grandmother and sweet old neighbor has undergone a renaissance of sorts as young feminist artists conjure new ways to subvert the medium's history of domesticity to tackle today's most pertinent debates. Nowadays, there's no subject matter too provocative to squeeze inside a wooden hoop.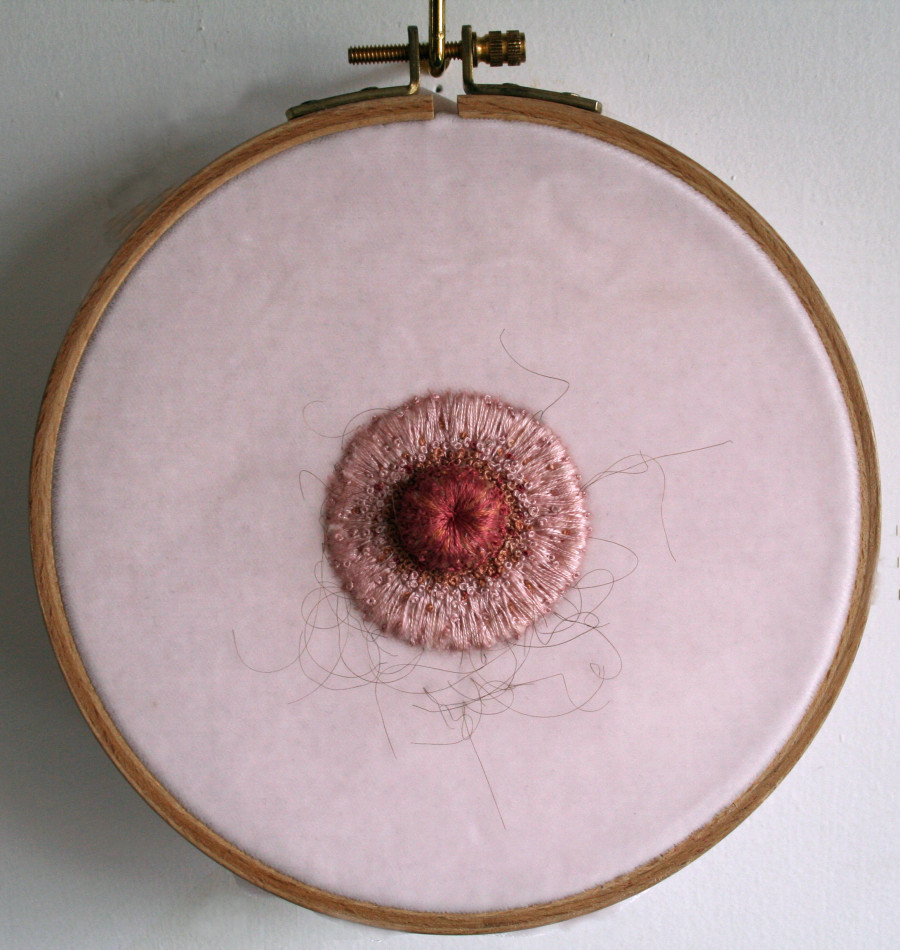 Penelope - velvet, embroidery silk, human hair - h 15 cm x w 15cm
Case in point: Sally Hewett, a stitcher and embroiderer who is interested in the social and political histories of the media, as well as their integration into the craft domain. She's also interested in bodies. Real bodies. Real bodies with hairs, stretch marks, cellulite, wrinkles and whatever else is all too often airbrushed away in mainstream pop culture. Hewett combines these varied interests into a series of body-centric embroideries depicting boobs and butts as they actually appear on human beings.
Basically, Hewett proves that toying with bodily imperfections can yield art that's pretty close to perfect.
"At a time during my art education, when I was particularly lost and wondering what on Earth I thought I was doing, I dug out some embroidery hoops which had belonged to my Grandmother and started embroidering -- mainly as a way to just stop thinking about 'ART,'" Hewett explained to The Huffington Post. "I think it started with the center of a flower –- a small clump of French knots -– which suddenly became a nipple in front of my eyes. The hoop circling the nipple suggested a breast. That was the moment: the traditional craft of embroidery and stitch with all it's connotations, combined with body imagery -- that delicious discord. And my life-long interest in bodies –- real bodies with all their particularities and peculiarities -- meant that I had lots of material to call upon, from hairy nipples to stretch marks to cellulite."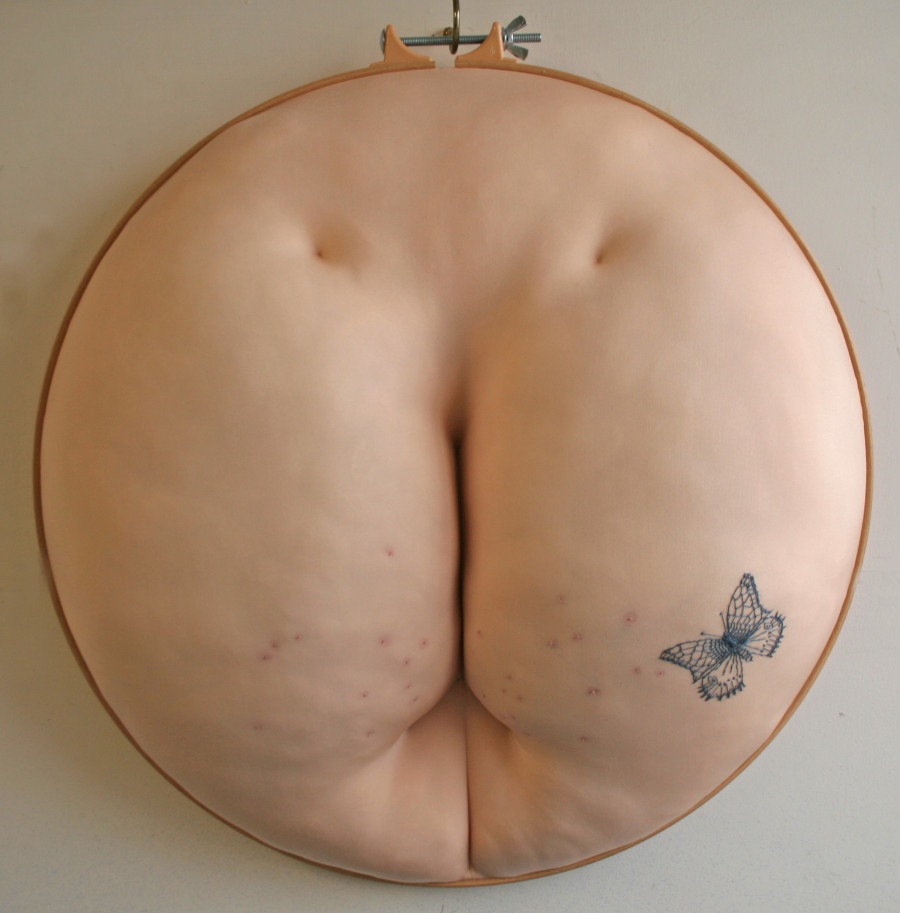 Sisters under the skin, 1 Camberwell Beauty - Lycra, embroidery silk, padding, quilting hoop - h 48cm x w 48cm x d 20cm
Hewett's body positive stitchings playfully depict feminine parts that, despite being stitched, are more realistic than most of the portrayals of feminine bodies we encounter in day to day life. One embroidery of a zoomed-in nipple features a light helping of areola fur while another, "Sisters under the skin," renders a woman's booty complete with the little red butt bumps most ladies know all too well. From back dimples to cellulite, the images playfully capture the particularities that, for some reason or other, have been deemed undesirable by mainstream thought. Through carefully stitching the natural elements in all their unacknowledged beauty, Hewett reveals the humble glory of these bodily realities.
"The combination of embroidery and body imagery was one which seemed rich with possibility but it took me some time to really see what I was doing by putting them together," Hewett continued. "In an age seemingly obsessed with bodily perfection and at a time when it's possible through plastic surgery, fillers, Botox and other alarming procedures, to radically alter and standardize the appearance of one's body, what interests me is why some bodily characteristics are seen as ugly and others beautiful or desirable. I'm sure some breast implants are more attractive than others, but those I have seen seem to be both recognizable as being implants and to have a particular shape which no real breast ever has. It seems a very strange idea that a breast which is like no breast that has ever grown on woman is considered beautiful and desirable.
"I'm not trying to put forward an anti-body-enhancement message but I'd like my work to question what makes us see some bodies and some bodily characteristics as beautiful and some as ugly or even disgusting. One of the responses to my work which delights me most is when people find it both thought provoking and funny. Lots of people (mainly women) who come to my exhibitions laugh out loud. I love that."
See Hewett's deliciously realistic body stitchings below and let us know your thoughts in the comments.
Calling all HuffPost superfans!
Sign up for membership to become a founding member and help shape HuffPost's next chapter
BEFORE YOU GO