WASHINGTON ― Sally Yates, the federal career prosecutor who served as acting attorney general for the first 10 days of Donald Trump's presidency, told a Senate subcommittee on Monday that she warned a top Trump administration official that appointee Michael Flynn was "compromised" and "could essentially be blackmailed" by the Russians.
Yates in late January called White House Counsel Don McGahn and told him she needed to talk to him in person about a sensitive matter, she testified to the Senate Judiciary Subcommittee on Crime and Terrorism. She said she met with McGahn at the White House on Jan. 26 and Jan. 27, and told him that Flynn had provided information to Vice President Mike Pence that the Justice Department "knew to be untrue." Yates declined to characterize Flynn's conduct.
Her testimony echoed a Washington Post report in February that described Yates' warning to McGahn that Flynn had discussed U.S. sanctions with Russian ambassador Sergey Kislyak in December. Yates met with McGahn after Pence had made inaccurate statements on national television, assuring the public that Flynn had not discussed U.S. sanctions against Russia with Kislyak.
"We felt like the vice president and others were entitled to know that the information they were conveying to the American people wasn't true," Yates said. "We were concerned that the American people had been misled about underlying conduct and what Gen. Flynn had done."
Perhaps more importantly, the Justice Department suspected Moscow was watching the situation unfold and could use it to an advantage. "The Russians also knew about what Gen. Flynn had done, and the Russians also knew that Gen. Flynn had misled the vice president and others," and created a situation "where the national security adviser could essentially be blackmailed" by the Russians, Yates testified.
"To state the obvious, you don't want your national security adviser compromised with the Russians," Yates continued.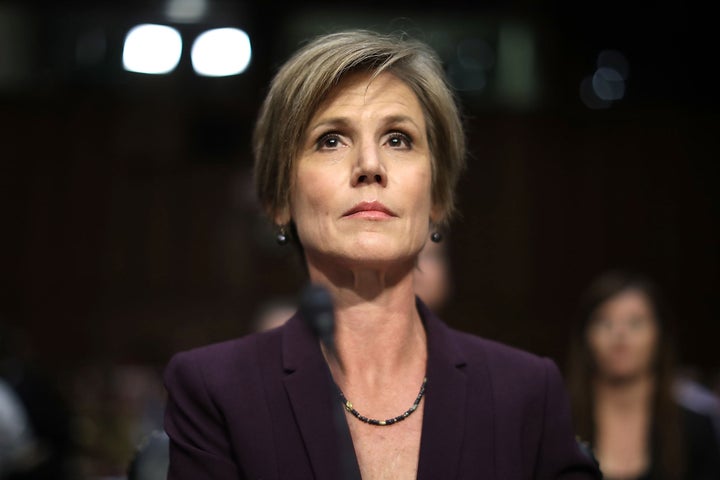 Yates declined to say how the Justice Department knew about Flynn's "conduct." U.S. intelligence officials regularly surveil the communications of foreign officials.
McGahn, in his second meeting with Yates, raised four questions, she said:
He asked why the Justice Department was concerned with one White House official giving misleading information to another.
He asked whether it was likely the Justice Department would pursue a criminal case against Flynn.
He asked if "taking action" against Flynn would interfere with the FBI's ongoing investigation.
He asked to view the underlying evidence against Flynn.
Yates told McGahn that because Flynn had already been interviewed by the FBI, "taking action" would not complicate the investigation, she testified.
On Jan. 30, three days after the second meeting, Yates told McGahn it would be possible for him to view the evidence against Flynn. She was fired later that day for refusing to defend Trump's first travel ban, which targeted seven Muslim-majority countries.
Yates' January warnings to the White House do not appear to have prompted any immediate reaction. It wasn't until after The Washington Post reported weeks later that Flynn discussed sanctions with Kislyak that Flynn was forced to resign.
Yates testified Monday alongside former Director of National Intelligence James Clapper. The pair agreed in March to give public testimony before the House Intelligence Committee ― another congressional panel investigating Russia's interference in the 2016 elections.
But days before the two officials were scheduled to appear, Rep. Devin Nunes (R-Calif.), then chairman of the committee, abruptly canceled the hearing. The ranking Democrat on the committee, Adam Schiff (D-Calif.) accused Nunes at the time of attempting to "choke off public info."
Nunes, who gathered classified information from the White House and then presented it in a way that appeared to be an attempt to justify Trump's unfounded claim that he was wiretapped by former President Barack Obama, has since recused himself from the committee's Russia investigation.
After Nunes canceled the hearing, The Washington Post obtained letters showing that Trump's Justice Department attempted to block Yates from testifying. The Justice Department told Yates she was forbidden from publicly discussing Flynn's departure or his communication with the Russian ambassador because those topics were covered by attorney-client privilege or the presidential communication privilege, The Washington Post reported.
Yates' attorney argued that the Trump administration was taking an overly broad interpretation of "client confidences" and that White House public statements about Flynn waived the presidential communication privilege.
The hearing on Monday was the first time Yates has spoken publicly about her role in the Flynn saga.
Yates, who was deputy attorney general during the Obama administration, was acting attorney general when she was fired 10 days into the Trump administration. At the time of her firing, White House press secretary Sean Spicer issued an extraordinary statement, saying Yates had "betrayed the Department of Justice" and was "weak on borders and very weak on immigration."
Yates was unceremoniously escorted from Justice Department headquarters and replaced by Acting Attorney General Dana Boente, until Attorney General Jeff Sessions was confirmed a little more than a week later.
Yates' firing quickly catapulted the former deputy attorney general into a viral hero as an "icon of the resistance" to the Trump administration.
As liberals eagerly awaited her testimony on Monday, Trump launched an attack on Yates, suggesting on Twitter that someone ask her under oath how "classified information got into the newspapers" after she informed the White House counsel about the concerns about Flynn.
Yates has not granted interviews since her firing, but she got a standing ovation when she appeared in the audience at an event featuring former Attorney General Eric Holder in Atlanta in February.
This is a developing story and will be updated.
Popular in the Community