There aren't a lot of women in power, especially in Washington, and especially not right now. So, when an intelligent, straightforward, strong woman is spotted out in the wild ― i.e., before a nearly all-male Senate subcommittee ― it's a moment to behold.
On Monday, Sally Yates was that woman and it was her moment. The former acting attorney general was unflappable while speaking for more than three hours before the Senate Judiciary Subcommittee on Crime and Terrorism about Russian interference in the election.
She spoke simply, without any of the ingratiating smiles or laughs that women sometimes put on when faced with that many hostile male faces.
Her testimony provided much-needed nourishment for those of us starved for the sight of powerful women on the public stage and thrilled to see one facing down the kind of arrogant mansplainers that are part of our everyday lives.
"Sally Yates handles condescending men so well you'd almost think she'd been doing it her whole life," author Liane Maeby tweeted, echoing the feelings of a whole lot of women (and men) heartened to see a poised professional woman stand up to so many powerful men.
In Trump's America, women are hungrier than ever for female role models beyond the polished perfection of entertainers like Beyonce or the corporate gloss of Facebook executive Sheryl Sandberg.
There certainly aren't any in the White House. There, the most visible female is Ivanka Trump, a "#womanwhoworks" who insists her father is a feminist ― despite the pileup of evidence to the contrary.
Kellyanne Conway, once one of the most recognizable faces of the administration, seems to have settled into a more diminished role, ceding projects to Jared Kushner, Trump's son-in-law.
So when a strong woman emerges from the other side, she goes viral. In February, Sen. Elizabeth Warren (D-Mass.) "persisted." The next month Rep. Maxine Waters (D-Calif.) pushed back against now-former Fox host Bill O'Reilly. "I'm a strong black woman and I cannot be intimidated," she said.
Yates, however, is not a politician. She is a career prosecutor with a long resume of public service. In 2010, President Barack Obama appointed her to become the first female U.S. attorney in Atlanta.
She is the kind of professional woman many of us encounter every day, but so rarely see in public life. Fifty-percent of middle managers in the U.S. are female, and many of us have relationships with competent career women.
Yates isn't out there pushing a book about female empowerment or telling her personal story or selling us her brand of feminism. She is just doing her job. We don't get to see that enough.
"When women and minorities see themselves represented at the highest levels, it does not confirm for us that we are capable of producing that level of work. It confirms that the world is ready to acknowledge us for it." Reena Esmail, an Indian-American composer, said in a swooning Facebook status Monday about Yates.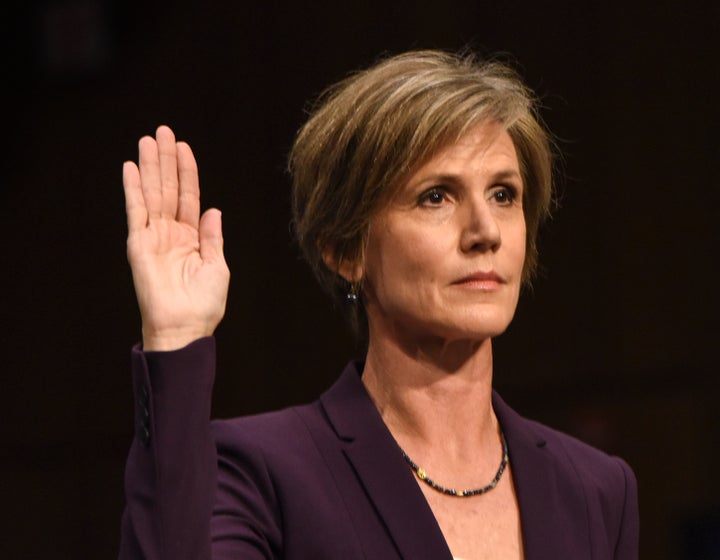 We spend a lot of time paying attention to high-profile women known for their acting chops, their musical talent or simply their beauty. Even Michelle Obama, a strong woman beloved by so many, is known because she's someone's wife.
Politics is still a largely male sphere. There are only 21 female senators, and just 19 percent of seats in the House of Representatives are held by women. There are 13 men currently writing a health care law that will apply to, of course, the nation's women.
While it's not altogether remarkable to see a man show up in front of a Senate panel, seeing a woman is more of a singularity. So it's no surprise Yates was everywhere on Monday.
Sen. Ted Cruz (R-Texas) quoted a statute at her. Yates quoted the law back to him, patiently explaining why her reasoning trumped his.
Sen. John Cornyn accused Yates of choosing not to enforce Trump's executive order banning Muslims and refugees from the country because she didn't like the policy. "I just wanted to say that," Cornyn said, just getting a dig in and clearly planning on moving on.
Yates didn't let that go by.
"Let me make one thing clear: It was not purely as a policy matter," she said cooly. Yates then turned Cornyn's comment back on him. She recalled how during her confirmation hearing for deputy attorney general, Republican senators had asked her what she would do if the president asked her to do something unlawful or unconstitutional.
"I looked at [the ban], I made a determination that I believed that it was unlawful. And I also thought that it was inconsistent with the principles of the Department of Justice and I said no. And that's what I promised you I would do, and that's what I did," Yates said, giving a firm shake of her head.
She recounted how she had approached White House Counsel Don McGahn to tell him National Security Adviser Michael Flynn was lying about his interactions with the Russian ambassador.
"We wanted to tell the White House as quickly as possible," Yates said. "To state the obvious: You don't want your national security adviser compromised with the Russians."
Popular in the Community