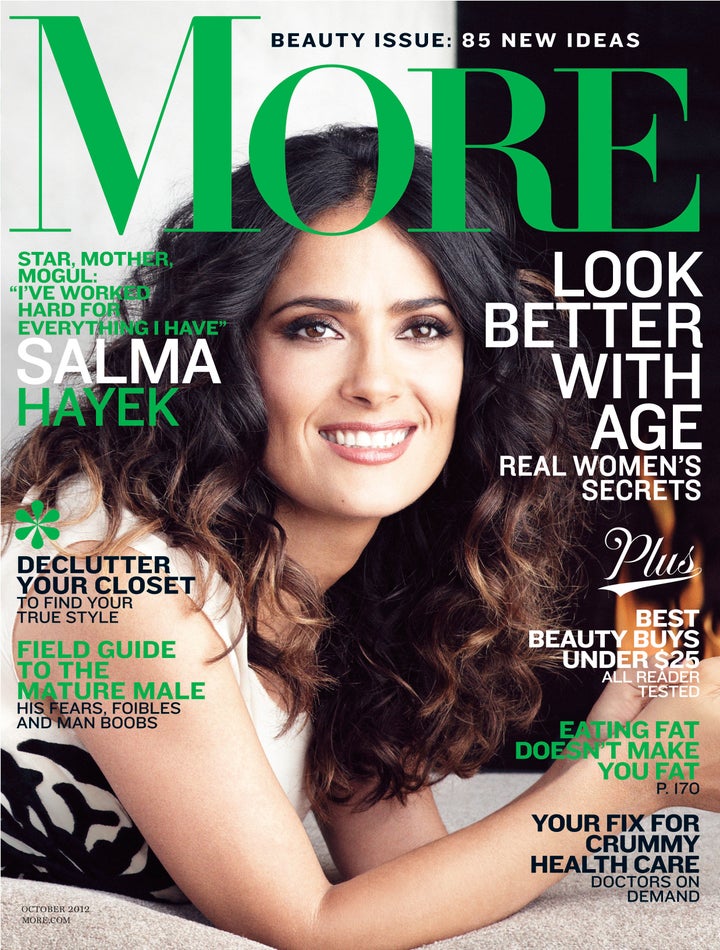 Salma Hayek is one of the sexiest women in the world, so there's no doubt she knows how to keep her romance with husband Francois-Henri Pinault alive. Truth is, she's a fan of sexting!
The 46-year-old actress reveals intimate details about her marriage, her 5-year-old daughter, Valentina, and her career in the October issue of More magazine, which hits newsstands Tuesday. Hayek dishes on her weight woes, as well as her steamy relationship with 50-year-old Pinault, whom she calls her "master of decision making."
So when Hayek is away, she'll still play, but it's always with her man -- who's the French CEO of the luxury-brands firm PPR, whose labels include Gucci and Balenciaga.
"Of course, I can show you a text that would surprise you," Hayek admitted in the candid interview. "I can show you a thousand things. But I'm not going to."
But being intimate with her husband isn't the only thing on her mind these days. Aside from picking and choosing the right roles for her acting career, Hayek puts a lot of focus on maintaining a healthy lifestyle and staying in shape, although she admits it's hard.
"I'm not a skinny girl," she says. "I push it. I'm at the limit of chubbiness at all times, but I'm happy at all times"…Everybody has a weakness," she adds. "Mine is food. If you love food and you love red wine and they put you in France, you're in a good place and you're in a bad place at the same time. You have to weigh yourself every day, and you have to have an alarm number. When you get to that number, you have to start putting it in reverse," Hayek admits, adding, "I don't have stamina in exercise…but I have it in life."
"I really enjoy having somebody that I can be weak with. If I'm insecure or afraid, I can talk about it, and he'll give me strength and courage," Hayek tells More of Pinault. "I noticed in the past, a lot of guys who like strong women, they really freak out if you're not strong 24/7. Or they complain about you being strong, then the moment you're not strong, they're like, 'Oh, no, no, no.' With us, there's no power struggle. I don't mind doing things for him because he does so much for me, and he feels the same way."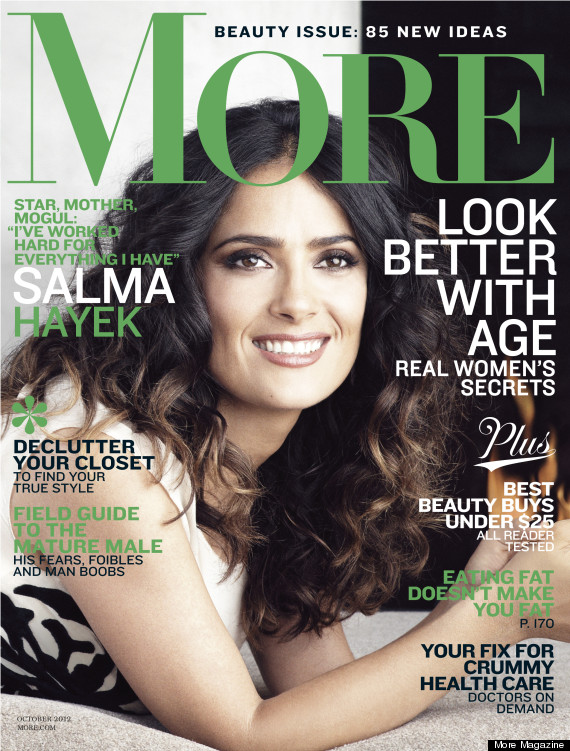 REAL LIFE. REAL NEWS. REAL VOICES.
Help us tell more of the stories that matter from voices that too often remain unheard.
BEFORE YOU GO
PHOTO GALLERY
Celebrity Twitter TMI