Salma Hayek treats Donald Trump the same way the wizarding world did with Lord Voldemort: as He Who Must Not Be Named.
"I'm aware that he would say anything to attract attention and create publicity around him," the actress, who is Mexican, said. "So, if something generates publicity I would never be surprised about anything he does. I'd be surprised if he did something courageous and meaningful that nobody found out about. This was not courageous and meaningful."
The one good thing to come of this, Hayek said, is that Trump's words pulled back the curtain on the bigoted underbelly of America.
"What is interesting about it is that thanks to that [and] all the things that he said -- I don't repeat and I don't say his name because I don't want to give him extra publicity -- but beyond him," she said, before continuing, "this concept of America being a place where there is no discrimination, and it's not racist anymore, and we had the Civil War and the good people won, I think it's beginning to show that discrimination and racism in this country is a bigger problem than we accept it is. At least he brought a light into a real problem."
Hayek is not the only Latina celebrity to speak out against Trump. America Ferrera blogged about Trump earlier this month, thanking him for energizing the Latino community to go out and vote against him in the upcoming election.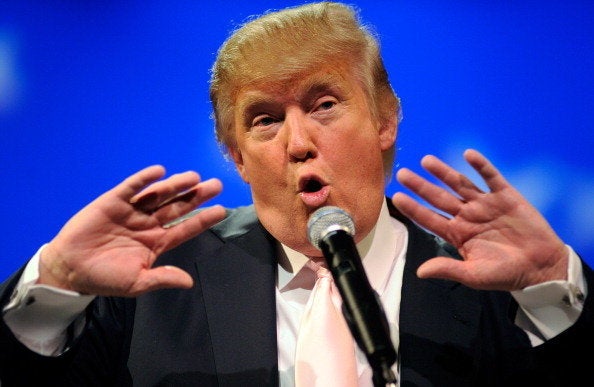 The Faces of Donald Trump
To subscribe to our HuffPost Entertainment WhatsApp account:
1. Download WhatsApp on your phone.
2. Save this number, 347-334-1794, in your phone's contacts.
3. Text "POP" to that number via your WhatsApp account.
You can unsubscribe at any time by texting "STOP" to the same number.
Popular in the Community