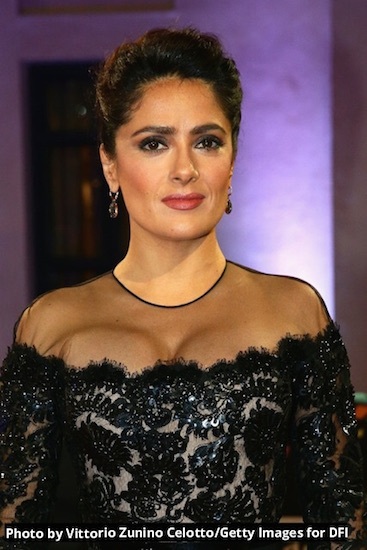 When a Hollywood superstar strives to help heal the world, just a little, I'm impressed. But when a movie star does it over and over again, uses her influence to create projects that help bridge the divide and help us understand "the other" we're so often afraid of, I can't help but call her a heroine.
Salma Hayek, in all her beauty, charm, savoir-faire and vivacity, is my heroine.
I met her in Doha last December and face to face, Hayek glows with a certain energy that comes from self assuredness. She wore a burgundy number to the interview, but her stylishness came as no surprise, as the wife of Kering chairman François-Henri Pinault. Having her pick of Saint Laurent, Bottega Veneta, Balenciaga and Gucci, among their labels, it can't be too difficult for Hayek to get dressed in the morning. That said, the thing that stood out about her choice of dress was how perfectly comfortable she looked in it, and in the process, how at ease she put everyone who came in contact with her beauty. Few women possess that quality. Even fewer in the public spotlight.
In her latest incarnation, as producer and voice star of Kahlil Gibran's The Prophet -- an animated version of that Lebanese bestselling masterpiece of human understanding -- Hayek once again channels her spirit of creative resistance she tapped into with Frida, a film she also helped produce. In fact, during a particularly funny interlude of our interview, she burst out about the similarities by reenacting the scene of how she must have looked pitching each project.
Starting with Frida, "imagine to say to Hollywood, where every movie about artists had failed at the time, "I want to do a movie, about two Mexicans," already they were like ahhhhhhhh, "communists," more ahhhhhhhs, "period piece," forget it! They are two artists. And it's a love story about a fat man and a hairy crippled woman with a mustache. I mean it's impossible to get that made. Oh, biopic, I forgot to say!!!! Biopic." Throwing her arms up to make her point. Then moving on to Kahlil Gibran's The Prophet, "and then now imagine when I go and say, "I want to make a movie, it's about a philosophy book, but it's poetry, but the author is Lebanese -- Middle Eastern!" So this Middle Eastern guy is gonna tell us how to live by his philosophy?! "And by the way, I want to make it in animation!" With nine different directors." She turned serious by adding, "they have been projects that were practically impossible to make. Both of them."
Hayek does that a lot, mix serious subject matters up with her own brand of humor. One minute she's acting out the pitch thing for Frida and her latest project, the next she's pointing out her own emotional investment in Kahlil Girbran's The Prophet, "I saw the book on the table on the side of the bed of my grandfather, then recently rediscovered it and it was as if he was teaching me, even though he was gone, through the book."
But lets go back to "practically impossible," an idea which doesn't seem to mean much to this wonder woman of creativity. Hayek's willpower may come from her background, "I'm 50 percent Lebanese, but I'm 75 percent Arab; from my mother's side we are Spanish, but from my grandfather's side we're Moors," she disclosed. Or maybe she draws her strength from her down-to-earth approach to being a celebrity, adding, "going to the supermarket without being noticed is not really what true freedom is..."
Her answer prompted the perfect question about one of my favorite parts of the film, the segment titled "On Freedom", a haunting visual interpretation of Gibran's ambivalent poem on this concept we hold so dear, particularly here in the West.
What is freedom to Salma Hayek? She didn't miss a beat with her reply, "Freedom is to have instincts and to have the courage to follow them through." She continued with her thought, "when you hear so many things twenty-four/seven that are trying to tell you who you are, where you are, what you are supposed to do; to find the space to stop it and just hear your own voice...That's freedom -- that silence."
Approaching the colossal project of translating a philosophical book beloved the world over into something that could appeal to movie audiences, particularly kids, wasn't without fear for Hayek. But her solution wasn't to try and please everyone, which is a doubtful goal we as women impose on ourselves often -- rather to understand that the film could, "become controversial, but controversial without being disrespectful." And also understand that within it, "one line would appeal to each different person, as with the book." After all, Hayek admitted that the film could not take "a linear approach, the story itself is not cinematic," which fits perfectly a project about, "finding your won voice, in different ways." The end result, made up of nine segments in total, animated by nine different artists, which include Bill Plympton, Joann Sfar, Joan C. Gratz and Dubai's own Mohammed Saeed Harib, fulfill the viewer's soul. They definitely fulfilled this viewer's soul.
With Roger Allers of The Lion King fame at the helm, Hayek admitted that, "he sort of brought out the best in all of us." When Sfar was told he was doing the segment titled "On Marriage", Hayek recalled, "he said "is this a joke?" I just got divorced! And I said exactly, show me what you've learned. He did a beautiful job with the tango." Kahlil Gibran's The Prophet, the film, was in Hayek's words "the world coming together to try and make this one film!"
The actress came on board once the rights had already been secured, by Steve Hanson. Hayek explained, "nobody is talking about this but Kahlil left the rights of his work to his hometown, the whole village." She elaborated, "there's a committee and I think there's eighty people in the committee and they cannot get kicked out. If somebody dies then their children or somebody else can take their place... So talking to them -- they were lovely and thanks to them we're here -- but it's a lot of people to convince. " Yet Hanson managed, once again, a "practically impossible" feat, to quote Hayek, "maybe because of his stamina? He was the only one who was persistent enough," even though he "had never done a movie in his life and it took him eight years to get the rights."
We ended by talking about Hayek's seven year-old daughter, Valentina Paloma. More specifically, which segment she reacted to the strongest. It turned out to be "On Children", animated by Nina Paley, a colorful sensory overload accompanied by a goosebumps-inducing song by Damien Rice. Hayek admitted her daughter at first, "was confused, she said "am I not your child? Are we not, really?" It was fascinating because it really started the dialogue. I said "no no you are! You are my child, but you're also your own person and as painful as it is for me to understand that -- and this is really for the parents to understand -- you have to discover who you are, as an entire universe, and individual, one day." Hayek then joked, "but for the next eighteen years you do as I say, follow my rules!" Once again, turning the blue pensive tones into bright passionate reds, with typical Salma Hayek flair.
Kahlil Gibran's The Prophet opens in US theaters on August 7th. Check out the film's website for all info and venues.
Top image by Vittorio Zunino Celotto/Getty Images, courtesy of Doha Film Institute, used with permission.
Calling all HuffPost superfans!
Sign up for membership to become a founding member and help shape HuffPost's next chapter