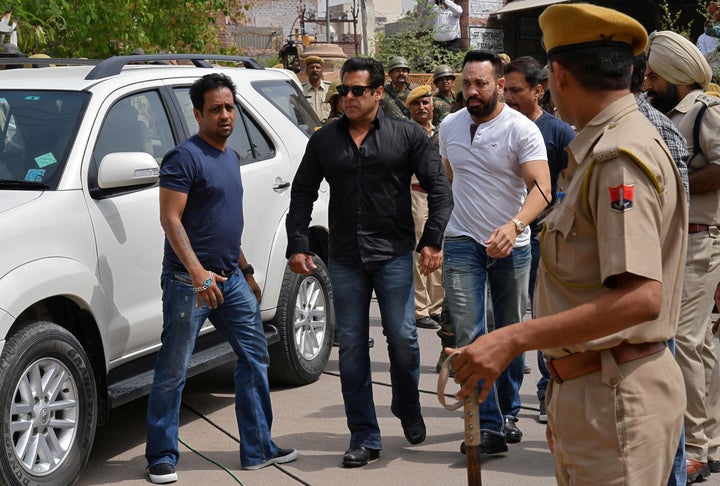 Bollywood superstar Salman Khan was sentenced Thursday to five years in prison for poaching a protected species of Indian antelope — marking a dramatic development in a highly publicized case that has spanned almost 20 years.
Khan, among the most recognizable Bollywood film stars and one of the world's highest-paid actors, was first arrested in 1998 after he was accused of illegally hunting two blackbucks while filming in Jodhpur, Rajasthan. He was convicted of the crime and sentenced to a five-year jail term in 2006. A high court suspended his sentence a week later and eventually acquitted the actor of all charges.
In 2016, however, the Rajasthan government appealed the acquittal. The case then languished in court again until March, when the most recent trial began.
Khan, who has denied the poaching allegations, spent a night in Jodhpur Central Jail on Thursday, reported Inda's NDTV. Khan's attorney said the high court would be hearing the 52-year-old actor's bail request on Friday morning.
Khan would be appealing the decision, the attorney added, noting that the verdict had come as a "surprise."
Vikram Singh, a police officer at the Jodhpur jail, told NDTV that Khan had been provided with "four blankets" and would be sleeping on the floor during his time at the prison.
Indian media outlets shared photographs of Khan being booked into the jail.
Khan, described as one of Bollywood's most notorious "bad boys," is no stranger to legal troubles.
In 2015, he was sentenced to five years in prison for killing a homeless man and injuring four other people in a hit-and-run accident in Mumbai. He was immediately granted bail and served no time behind bars before a high court threw out all charges a few months later, citing a lack of evidence. At the time, the acquittal raised questions about whether celebrities like Khan were being treated preferentially by the Indian justice system.
Despite this indecorous record, however, Khan's popularity and film career have only continued to blossom over the years. Forbes estimated that Khan made $37 million in 2017, making him the ninth-highest paid actor in the world and the second-highest paid actor in India (Bollywood's Shah Rukh Khan was ranked eighth on the Forbes list).
Observers have even suggested that Khan's "bad boy" reputation has boosted fans' adulation of him.
"Khan's bad boy image has sustained him from the beginning of his career," Anna Vetticad, an Indian film industry journalist, told The Guardian this week. "The frequent reports of drunken misbehavior in public, indiscipline at work and girlfriend abuse, along with the hit-and-run and poaching cases that finally landed him in court, have contributed greatly to fan enthusiasm for him."
To his fans, Khan "is a golden-hearted man-child whose charitable trust is reason enough to forgive him for what they consider mere human failings," she added.
In a scathing commentary on Thursday, HuffPost India's Bollywood editor Ankur Pathak suggested that Khan's recent sentence would similarly have no negative effect on the actor's career.
"A conviction and a spell in prison are unlikely to make the slightest dent in Brand Salman," Pathak wrote. "Tragically, the controversies that put Khan on the wrong side of the law have a seemingly opposite effect on the hundreds of thousands of [his] fans, who determinedly stand by the superstar despite his misdemeanors."
Indeed, as news of Khan's recent sentencing made international headlines, the hashtags #WeLoveYouSalmanKhan and #IStandBySalman began trending on India's social media platforms as fans called for the actor's prompt release from prison.
A bevy of Bollywood celebrities also expressed their support for the actor. Director Anil Sharma said he was "disturbed" by Khan's sentencing and said he would be "praying" for his quick release. Actress Mawra Hocane said a "great human being" was being wrongly punished, while actor Anup Soni said Khan was "surely paying the price for being [a] celebrity."
Popular in the Community