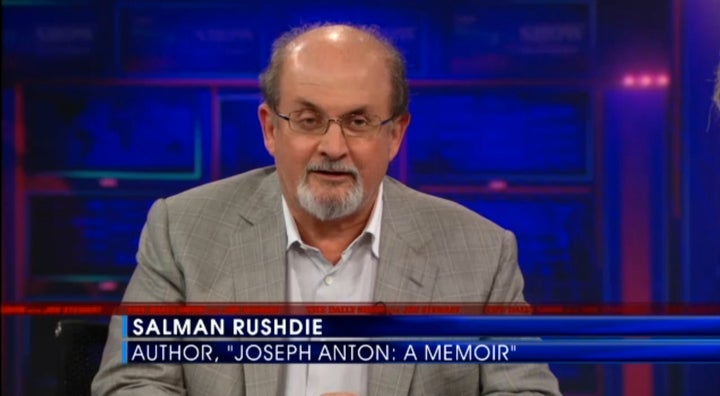 Last night Salman Rushdie was on The Daily Show with Jon Stewart to talk about his new memoir "Joseph Anton," the fatwa against him, and the goings on in the Middle East.
Jon Stewart opens the interview by asking Rushdie to describe the day (it was Valentine's Day) that he found out the leader of another nation wanted him killed because of a book he had written.
After Rushdie got the phone call to inform him of this fatwa against him, he laughingly notes that he "ran downstairs and, kind of ridiculously, locked the front door, you know, as if, so then it was okay."
He also addresses writing his memoir in the third person. Rushdie says, "Well, it sort of was another person...I feel now like that was happening to somebody else."
He continues, "I wrote the book like a novel because I felt that somehow my life turned into a sort of spy novel."
Jon Stewart asks if Rushdie feels like what's going on currently in the world feels like a movie franchise that Rushdie is happy he's no longer starring in, and Rushdie says yes, "except it's got an a**hole in the central role" (he's referring to the creator of "Innocence of Muslims").
Though Rushdie is a very serious literary novelist, he holds his own with Jon Stewart and proves that he's actually kind of a funny guy.
Watch the full video below.
Related
Popular in the Community