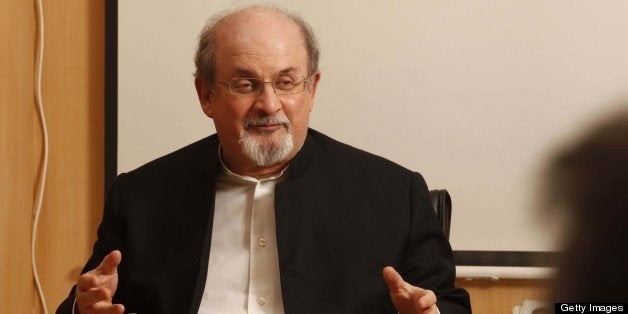 "The enemy for the fanatic is pleasure, which makes it extremely important to continue to indulge in pleasure. Dance madly. That is how you get rid of terrorism."
That was advice novelist Salman Rushdie shared with an estimated crowd of 1,000 people at Macky Auditorium on Wednesday night.
Rushdie's lecture, titled "Public Event, Private Lives: Literature and Politics in the Modern World," marked his first visit to the University of Colorado campus since 2005. He covered topics including freedom of expression, religion, East-West relations, politics and the role of the novel in modern life.
He talked about "this strange business of what it is to be a writer is this increasingly insane world in which we live, in which surrealism, it seems, is the new realism."
He said in the heyday of the novel, which he defined as the 19th century, novels such as Harriet Beecher Stowe's "Uncle Tom's Cabin" served to bring information directly to readers that they might not otherwise have known, such as the barbarism of the American slave system.
The Western world's modern 24-hour news cycle, Rushdie said -- using the example of the Boston Marathon bombings -- does not always lead to better information, but the novel's role has evolved.
"It seems to me, therefore, that when I come back to the way in which the novel, the way in which literature approaches the subject of what the world is, that it still has a great deal to tell us," he said. "It brings us depth. It brings us, to put it simply, the lived experience of the world. You turn on the news and you see explosions. But if you want to actually understand the world from which that comes, where you find that is still in the world of books."
Rushdie's 1988 book "The Satanic Verses," inspired in part by the life of the Muslim prophet Muhammad, was seen as blasphemous by some conservative Muslims and prompted the former spiritual leader of Iran to condemn Rushdie to death.
He joked about the threat now, noting that the Ayatollah Khomeini is dead while he remains alive, but he noted that dictators always fear writers.
"An attack upon our ability to tell stories is not just censorship -- it is a crime against our nature as human beings," Rushdie said.
Rushdie also discussed the way large-scale public events have increasingly come to define human existence, when throughout literary history a person's character had defined his or her fate. He said it is imperative that the novel continue to focus on the human scale of the world and our experiences, as it gives a much better outlet for expression of the plurality and often conflicting definition of a person, as opposed to the narrow "identity politics" that dominate the daily news cycle.
When one aspiring writer asked Rushdie for advice in the question-and-answer portion of program, he quickly replied: "Don't do it."
Of course, if having a steady job doesn't satisfy, "Then, poor bastard, you're probably a writer," he said.
His lecture was organized by CU's student-run Distinguished Speakers Board. ___
(c)2013 the Daily Camera (Boulder, Colo.)
Distributed by MCT Information Services
REAL LIFE. REAL NEWS. REAL VOICES.
Help us tell more of the stories that matter from voices that too often remain unheard.