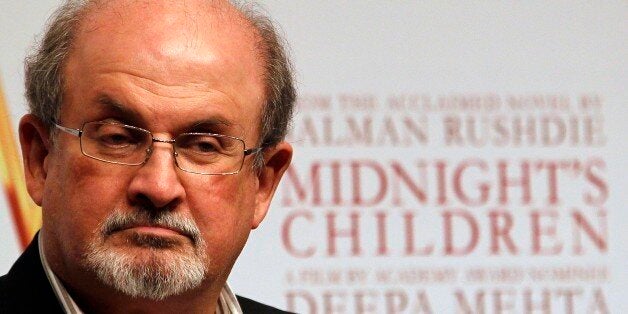 With so many digital ratings systems organizing our modern lives, it was only a matter of time before someone as prominent as Salman Rushdie confused Netflix's recommendation algorithm with Goodreads' public book ratings. On Sunday, Rushdie's starred reviews of several classic books went viral -- including a few shockingly unflattering ones. Harper Lee's To Kill a Mockingbird, for example, received only three stars, while Kingsley Amis' Lucky Jim got just one.
Apparently Rushdie felt no need to leave the one-star rating in reserve for total duds.
"I thought these rankings were a private thing designed to tell the site what sort of book to recommend to me, or not recommend," he reportedly explained when Goodreads users questioned his blunt ratings. Understandable, given Netflix and Pandora's use of similar algorithms to select well-crafted playlists for each individual user.
This confusion was also, very likely, relevant to his ratings strategy: We may give five stars to a cheesy rom-com on Netflix hoping to see more of the same, while realizing that it's hardly the finest film on offer; or two stars to a drama that proved too slow-moving and dark for our tastes despite excellent overall quality.
That Rushdie's not-always-glowing rankings have actually attracted media attention seems absurd, and he agrees. "Really? That's sort of ridiculous," he tweeted in response to an Independent journalist's query stating she was writing about his Goodreads account.
The newsworthiness of such honest opinions speaks to a problem in the literary world: the tyranny of politeness.
.@SerinaSandhu1 really? That's sort of ridiculous. I was just fooling around experimenting with the site. Pls don't take them seriously.

— Salman Rushdie (@SalmanRushdie) April 4, 2015
Fans of the scathing literary takedown have found dwindling supplies in recent years. As Laura Miller recently wrote, after a harsh Tournament of Books review by Magnetic Fields frontman Stephin Merritt received massive backlash, the literary in-crowd has become a conciliatory, collegial crew. Authors review the books of fellow scribblers they'll see at Brooklyn parties or writing retreats, or the novels of their best friends' newest flings. The social circles are too intertwined for most writers to risk snipping away at their network with sharp-edged critiques.
Besides, we all know art is hard. What reviewer wants to crush the spirit of a writer who sweated over a book for months, even years, with a harsh evaluation?
Yet many reacted with applause and even glee at the reports of Rushdie's merciless ratings of classics. In the Independent, Katy Guest playfully cheered on his bravery at admitting to his unpopular literary tastes. Readers thirst for those moments of unvarnished opinion, not the ones cloaked in qualifiers and forced half-compliments.
Rushdie's honesty, albeit accidental, feels deeply refreshing not just because frankness always is, but because public flattery and mutual back-scratching undermine the entire artistic community. When books are held up as exemplars of literary achievement because of the author's personal connections to other writers, editors and reviewers, books from less-connected talents risk being crowded out. Even worse, the entire culture's understanding of and appreciation for the revolutionary and the truly exquisite art suffers. Honest and rigorous criticism finds value in the new, profound, even the seemingly inaccessible, introducing the greatest literature to a broader audience. But good criticism should also deflate the polished but empty, separating the timeless from the flashes in the pan.
Authors have been critiquing and even insulting each other's work for generations, and aside from gracing us with some jaw-dropping zingers, they've helped us evaluate what the aims of literature should be, and what standards we should uphold. Not all of their brutal critiques have been validated by general consensus, but they've added to and advanced the critical conversation around even the most universally beloved texts.
Of course, as Rushdie's own highly arguable ratings support, there's no accounting for personal taste. Even a well-established masterpiece may not work for you, and whether you're a controversial figure in the literary world like Rushdie, an established genius like Virginia Woolf, or any reader, there's nothing wrong with that at all. We shouldn't be afraid to admit it.
Related
Popular in the Community