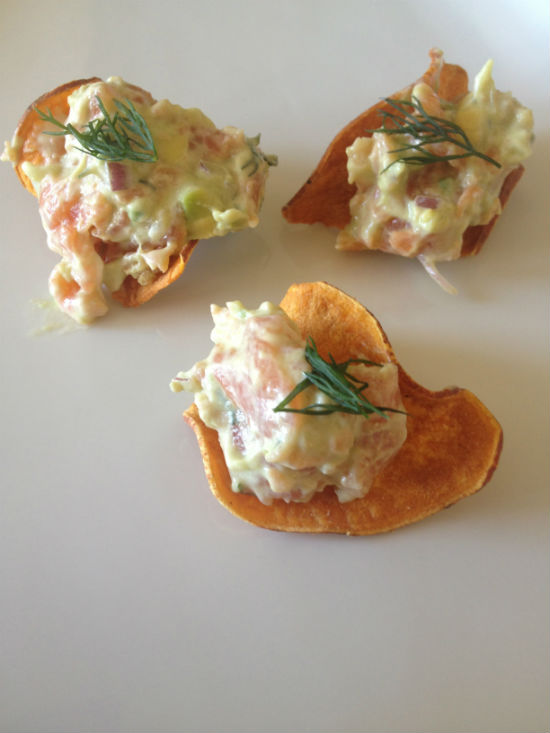 Hooray! Salmon season is in full swing which means that your local grocer or fishmonger may have a good deal on California King Salmon. Here's a recipe that I came up with a few weeks ago having fallen into some fresh salmon that looked just too delicious to walk by. And a nice change from tuna tartare which I make so very often.
1 lb boneless skinless salmon filet
Juice of half a lemon
Grated lemon zest of half a lemon
1/4 cup of chopped red onion
1 avocado chopped
1/4 cup sesame oil
1 teaspoon chopped fresh dill
1 teaspoon chopped chives
1/4 cup of creme fraiche or sour cream
salt and pepper
Feeds 10 as an appetizer
Active time: 10 mins
Total time: 30 mins
Cube the salmon into 1/8 pieces. Make sure your knife is super sharp as that'll make this process far easier and swifter.
Combine the salmon gently with the remainder of the ingredients.
Add salt and pepper as needed.
Chill the salmon mixture for 20 minutes or so before serving.
I find that guests tend to be a little hesitant to scoop fish tartare out of a bowl onto chips so it's best to do the hard work for your friends in advance.
Serve the salmon on sweet potato chips. If you're wallowing in a little spare time, you can fry some wontons in vegetable oil, and then serve the salmon tartare on those. Just delicious!