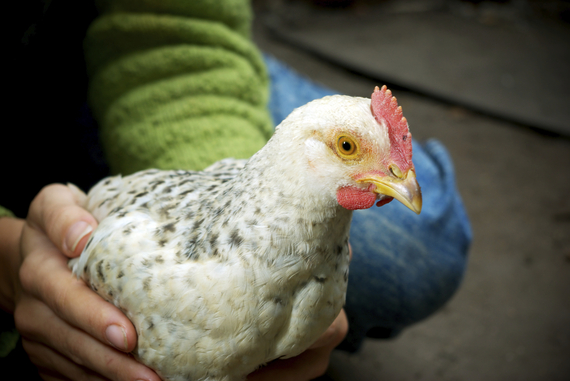 Some people simply can't resist letting their pets sleep with them. But curling up with cats and dogs is one thing. Cuddling with chickens? That's a whole diferent one.
According to the Centers for Disease Control and Prevention, salmonella is on the rise in America because backyard chicken owners are being too affectionate with their cute little egg-makers, snuggling and even kissing their birds. In fact, more than 180 people in the U.S. have been diagnosed with salmonella this year due to their intimacy with their chickens. Thirty-three of them required hospitalization.
The CDC issued a warning to chicken lovers of America to take it easy with their live poultry lotharios insisting that they only be kept outdoors. If humans do touch chickens, they should immediately wash their hands afterward.
But the CDC, unfortunately, is speaking to deaf ears. Naturally there are people who are still willing to risk salmonella in order to cuddle with their favorite cluck buddies.
Lynette Mattke, who lives outside Washington, D.C., told NPR that she loves cuddling with her six hens, especially one named Caledonia.
"She loves to stick her head under my arm," Mattke said. "Our friends who come to visit [the chickens] are always so surprised at how soft they are. Because I guess people think about their beaks and their feet, which aren't soft. But their feathers are just so smooth and soft."
Will Caledonia come visit you in the hospital room too?