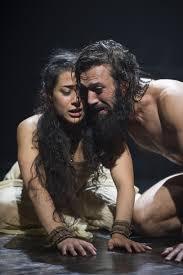 In hindsight, there were actually some advantages in growing up in the Bible Belt.
One of them was Sunday School where I gained an appreciation of the Good Book's most notorious women: Bathsheba, Jezebel, and perhaps the precursor of all femme fatales, Salome, or the nameless stepdaughter of a powerful ruler who gets John the Baptist's head on a platter, after performing a strip tease for the lascivious Herod.
Her story has always perplexed me, thanks to the famous Strauss opera and the Oscar Wilde play on which it was based.
But her story was never really her story.
She has always been an invention of sorts, a myth created by men, perhaps more interested in her sexual allure and titillating dance than her humanity.
I had the pleasure of seeing a new take on "Salome" at the Shakespeare Theatre Company here in Washington, a fitting start to their Women's Voices Theater Festival.
Director Yael Farber has adapted the Wilde play into a first person narrative, finally giving Salome her own voice.
"Wilde tells us it had to do with sex, that Salome desired to kiss John the Baptist's mouth. The scriptures tell us it was vengeance, which her mother Herodias sought against Herod, " Farber explains.
"Women are still playing the vengeful harpy, in Hollywood, in everyday life. I could not be less interested in telling that story."
The first voice we hear is of an aging Salome looking back on that famous night, when John the Baptist died, setting off a political firestorm, as revolutionaries, as John was, were of more use to the establishment in prison.
Salome is taken prisoner and interrogated about her role in John's death, but we see her resolute, brazen, even as her captors taunt and abuse her.
In flashbacks, Salome becomes fascinated with John, not so much as an object of desire, but as a fellow prisoner of Herod. One is left with the impression that the two identify with each other, both courageous, but falling weak under Herod's oppression.
She resists her stepfather's sexual overtures, rather than manipulate them, in contrast to previous interpretations.
"I want to create the possibility that this woman, living under an occupying regime, came to a deep understanding of her selfhood, one that allowed her to drive forward a political agenda."
We do see Salome naked, in a sensual scene is which her body is washed and clothed in slow motion by handmaidens, but the story's innate sensuality was never a problem for Farber.
"I don't want to shy away from the great danger of the feminine, from the notion of powerful sensuality attendant in this story. Women are dangerous. That's the beautiful thing about us."

"Salome" runs through November 8.
REAL LIFE. REAL NEWS. REAL VOICES.
Help us tell more of the stories that matter from voices that too often remain unheard.