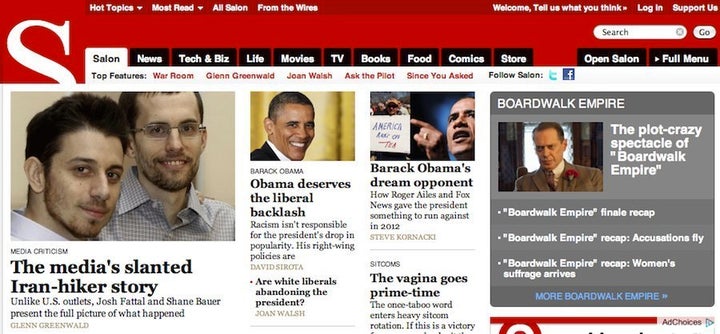 NEW YORK -- David Talbot has seen Salon go through several iterations since founding the site in 1995. He was Salon's editor-in-chief for a decade and served a couple of stints as CEO. In July, Talbot returned as interim CEO -- a position he's now decided to keep indefinitely as Salon relaunches with a populist mission.
"Salon is initiating a call for an American spring," Talbot said, "a national conversation to profoundly renew this country in the same spirit as people in Europe in the streets and throughout the Arab World."
In an interview with The Huffington Post, Talbot said he wants Salon to be a populist voice that can "help initiate a conversation about what the country needs to do." He said he plans on putting more resources into reporting around the country, likening Salon's mission in covering the Great Recession to writers and photographers during the Great Depression. He said Salon will also increase original video and plans to have "a series of public events around the country to engage a broad selection of Americans in this conversation."
That all sounds good. But given that Salon is operating at about a $1.5 million annual loss, has laid off staffers in recent years, and was being shopped around in early 2011 due to long-term financial struggles, it's surprising the company can beef up its editorial presence right now.
Talbot said Salon's primary investors are making some "incremental reinvestments" in the company. It's not a huge amount, he said, but enough for some new hires. Salon has just hired Jezebel's Irin Carmon as well as former Washington Post reporter Jefferson Morley, who will restart the site's D.C. bureau.
Salon is also taking another stab at a membership program. It's not easy to get people to pay for a free site, but in past years, Talbot said Salon took in half of its revenue, about $4 million, through its 100,000 Salon Premium subscribers. That group has dwindled over the years, with Talbot putting the current membership at around 10,000.
On Tuesday, Salon is rebranding its membership program as Salon Core. For $45, Talbot said Salon Core members will receive more than $75 worth of benefits, such as music downloads and subscriptions to magazines like Rolling Stone and Food & Wine. Members also get to take part in online editorial discussions and live events.
In addition to the site relaunch, Salon is partnering with Alternet and Brave New Films on an investigative fund, and is forging relationships with other sites, such as GlobalPost. Although Salon is open to partnerships, the site is no longer interested in finding a buyer, Talbot said.
In November 2010, ex-CEO Richard Gingras -- who decamped for Google in July -- suggested to the Wall Street Journal that Salon was open to a merger or acquisition. There were reports several months later that Salon was in talks to be sold to Newser, a news aggregation site founded by Michael Wolff. However, those talks reportedly broke down in February and it looks unlikely that any will pick up with other would-be suitors.
"I didn't come back to Salon, the company I founded, to sell it off to someone," Talbot said.
RELATED: Salon's Glenn Greenwald
Popular in the Community