The salon has long been celebrated as a gathering place for individuals to engage in lively discourse and expand their knowledge in the arts, pop culture, and current events with an aim toward education and amusement. Rising in popularity in 16th century France, the first salon of note took place in Paris' Hôtel de Rambouillet in the shadow of the Louvre. Hosted by the Roman-born Catherine de Vivonne, this salon established rules of etiquette that have been likened to codes of Italian chivalry.
The Boulan on Miami's South Beach has rules of etiquette more closely resembling those established by Keith Richards, but when New York's Think Properties, a lifestyle and concierge based real estate development firm, teamed up with DK Johnston of San Francisco's Arts Fund earlier this year, the corner of 21st and Collins Avenue got undeniably more interesting. "At the intersection of culture and cool is where you find the high arts," says Johnston, "I strive daily to be a competent steward within this genre. That entails identifying and cultivating talent, delivering economic prosperity for both patron and creator, and memorializing these moments of surrender for posterity."
Arts Fund at Boulan South Beach, image courtesy of Arts Fund

21st and Collins is a corner not unfamiliar with cool seeing as it's hosted Thierry Guetta's, a.k.a. Mr. Brainwash, Art Basel Miami Beach exhibition for past two years earning Guetta over $5 million in sales from an otherwise crowded art market. This year however things may be different, decidedly more calm, and collected at Boulan with Johnston's introduction of a new permanent art immersion experience for the Boulan, its guests and owners, alongside Guetta's nothing if not frenzied market place on the building's ground level.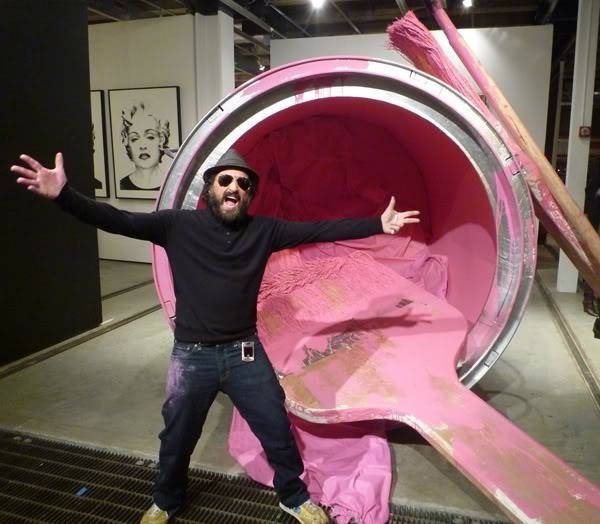 Thierry Guetta, a.k.a. Mr. Brainwash, at Boulan South Beach during Art Basel Miami Beach, image courtesy of Michael Cuffe/Warholian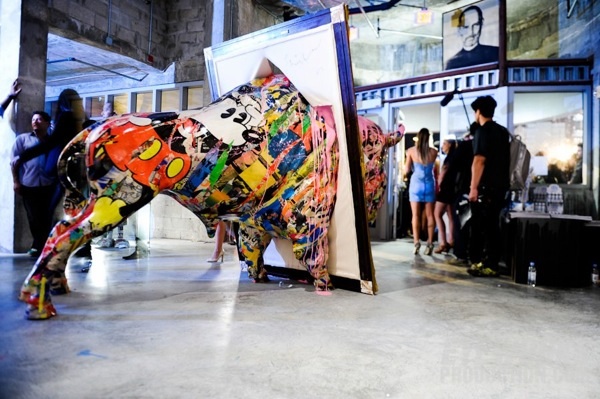 Mr. Brainwash exhibit at Boulan South Beach during Art Basel Miami Beach, image courtesy of Michael Cuffe/Warholian

While the business of art in Miami during Basel is often frenzied, and is most certainly crowded, it is by no means exhaustive and Johnston is filling in the gaps from where he sits in the Boulan's chic penthouse floor. For Johnston, and Arts Fund, the art business is a year-round venture, and the fair circuit that rolls through town a conduit for providing a common ground where collectors and patrons can get up close and personal with the artists first, and a place for making deals and cementing relationships second.
Working with leading talent from around the globe Johnston and his Arts Fund partners have been able to add water to mid-career creatives and help take their marketing, business, and financials to the next level. The touch of Johnston's gentle hand on the business of art means growth, quickly. His touch also brings reach, as in a jump in audience and distribution by several orders of magnitude.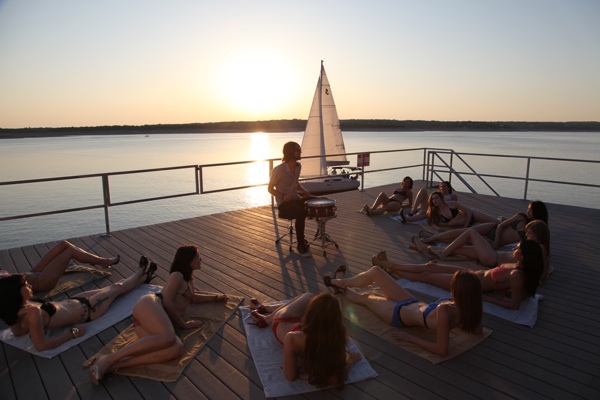 Music video production (Arts Fund/Resonance Interactive), image courtesy of Arts Fund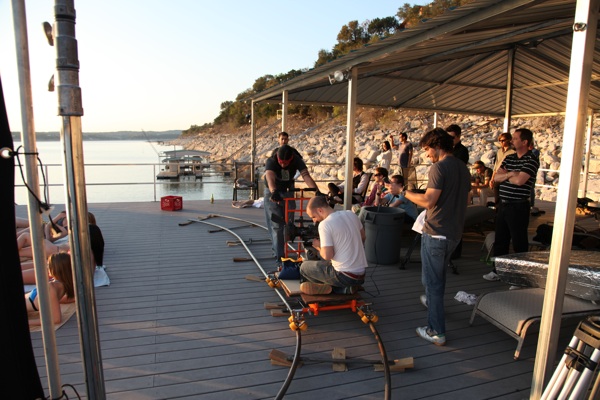 Music video production (Arts Fund/Resonance Interactive), image courtesy of Arts Fund

Monetizing this distribution proves tricky for this Fund the way it has for others in the space but Term of Art, the highly successful agency in the portfolio has been connecting leading global brands with the arts across disciplines. The innovative Tiësto / Heiniken campaign and lauded Red Bull Curates platform for emerging urban artists catapulted Term of Art from the crowd of social media agencies to the go-to boutique for big brands. "Through an extraordinary use of digital media and just plain good taste, DK Johnson has introduced us to a group of young artists who might otherwise have remained beyond our reach, and in doing so has invented a new paradigm for the art market," says Gary Hoenig, general manager and editorial director of ESPN Publishing of the joint venture Johnston recently brokered with the sports media company.
Since his arrival in Miami Beach earlier this year, Johnston has been expanding his network and developing lasting relationships with the who's-who of the town's bustling arts scene with the intention of parlaying these relationships into valuable partnerships for the individuals he's investing in. Says Judy Holm, vice chair of the Arts and Culture Council at the Miami Beach Chamber of Commerce, "DK captures the essence of the art scene in Miami--he is a complex mix of wonderful attributes: cool, sophisticated, edgy, laid back and passionate about the future of this metropolitan area as a burgeoning international mecca for art."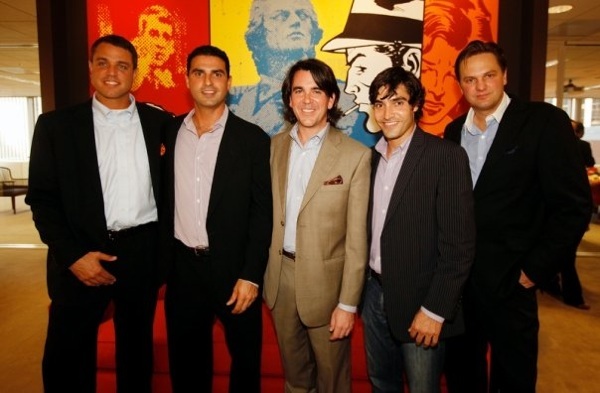 From left: Lee Root, David "LEBO" LeBatard, DK Johnston, Adam Hootnick, and Bill Franchey at Arts Fund offices in San Francisco, image courtesy of Arts Fund

Specifically what the the Miami-born DK Johnston does, is run a venture fund that invests in content and its connection to the audience through the Arts Fund, the company he founded in 2007. With Arts Fund, Johnston is redefining the art business, because he is not only fostering the talents of mid-career artists, photographers, filmmakers, and musicians, but he is also connecting them to the public and cultivating strategic brand partnerships in a way that's never been done before. Take for example, his successful partnership with Blue Microphones, Gibson Guitars, and AOL at SXSW which allowed top international recording artists to collaborate in intimate acoustic sessions. "Charismatic, Extraordinary, Passionate and Genuine," are some of the words that Tyler Barth, a VP at Blue Microphones uses to describe Johnston. "DK is as good as it gets in business and as a friend," he continues, "he's always working hard and smart with a very promising payoff in the end both financially and self-fulfilling. Its been a great pleasure of mine to have had the experience of working with him and I look forward to our next deal."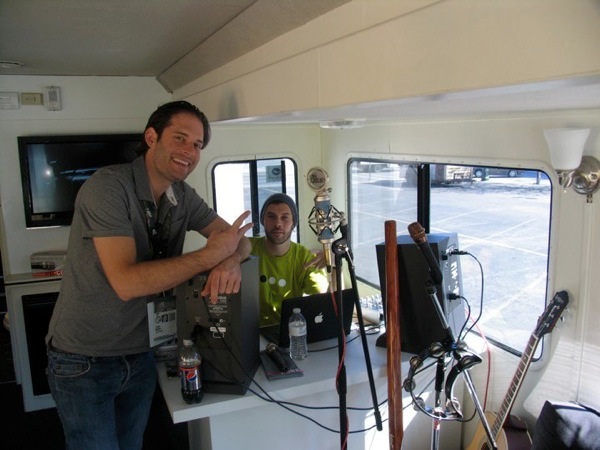 Tyler Barth (Blue Microphones) and Ryan Walker (Imagine Dragons) aboard the Arts Fund/AOL mobile studio at SXSW, image courtesy of Arts Fund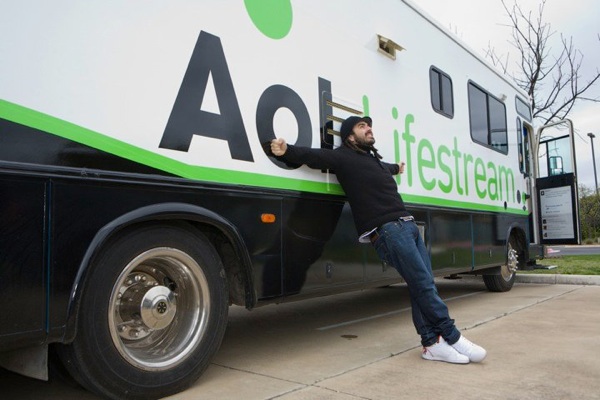 Iván Sevillano Pérez from Latin rock band Huecco after a session in the Arts Fund/AOL mobile studio at SXSW, image courtesy of Arts Fund

Johnston was also the brains behind the the introduction of the Art Talks at Google's San Francisco headquarters debuting with Miami's own David "LEBO" LeBatard, and also later also facilitated a deal for LEBO to create a 100-foot mural on San Francisco's historic Hotel des Arts, making Miami's much loved civic-minded artist a nationally recognized player in the arts from coast to coast. On the opportunity to show work in the Boulan's hallways, LEBO recently said, "I really appreciate the Boulan's level of sophistication while keeping the laid back spirit of the beach equally present. It's a place I'm really proud to direct people towards that are interested in viewing my work, but also a place where I enjoy spending time."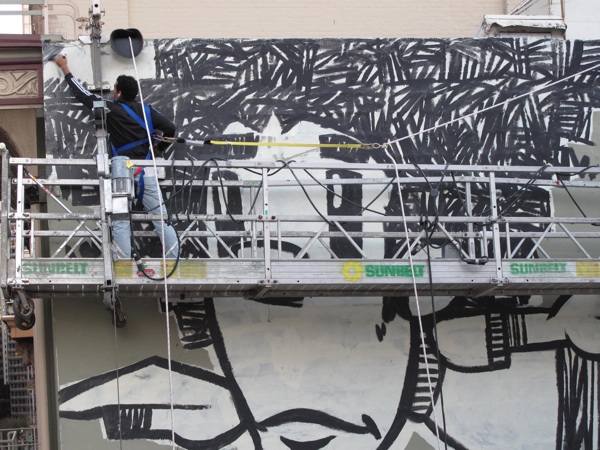 Artist LEBO paints 100-foot mural on San Francisco's historic Hotel des Arts, image courtesy of Arts Fund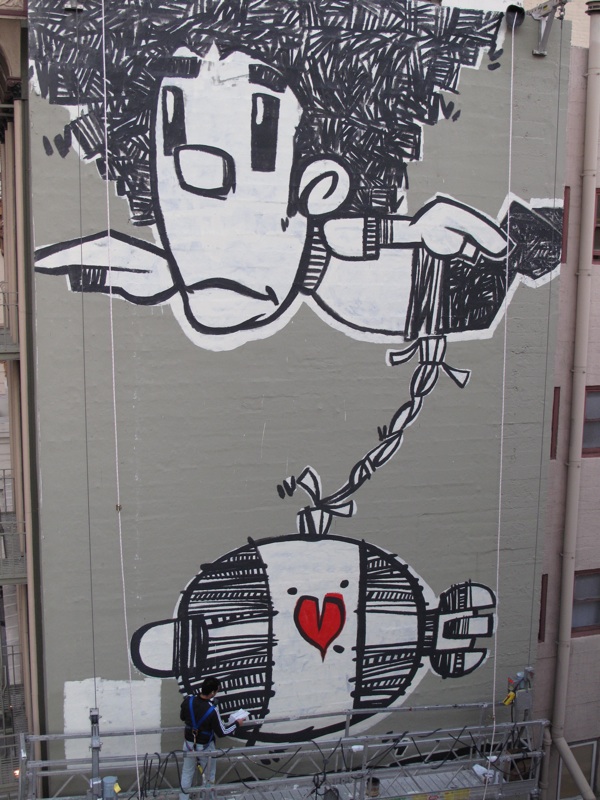 Artist LEBO paints 100-foot mural on San Francisco's historic Hotel des Arts, image courtesy of Arts Fund

Johnston also executive produced the award-winning documentary "The Second Assassination of JFK," with Robert Christian Malmberg, a photographer most noted for his ground-breaking Collodion series. Johnston is grooming Malmberg and the others in his portfolio for greatness, saying intently, "I will leave a mark that has little to do with coin and everything to do with humanity. I will stay the course and bring the arts and arts patronage back in vogue. I will clear the path but the artists still must create."
And because Arts Fund produces branded content in-house, Johnston has the unique ability to take their creations and build brand equity from the ground up, so to speak, for his music, art, film, and social entrepreneurs. His hands on approach combines the savvy of a creative agency, the connections of a PR firm and the focused expertise of a contemporary art dealer. For the artists under Johnston's tutelage and the brands he partners them with, it's a win-win. Robert Scott, CTO at Earthlink and one of the acclaimed photographers in Johnston's portfolio, thinks he understands the Johnston's recipe for success, enthusiastically explaining "DK not only has an eye for emerging talent, but he is opening new doors for art to find new audiences. His vision extends beyond the gallery and I find that exciting-art needs to breathe to survive and thrive."
Take his successful venture into the publishing industry with the Parisian street art icon, Blek le Rat in 2011. It was Johnston's idea to create a 30-year anniversary retrospective on the artist with Art Publishing, Ltd., an Arts Fund company specializing in literary objects d'art, in conjunction with the production of a documentary film on le Rat's historic significant contribution--hailed by those in the scene as the "Godfather" of street art--to the most wide-spread movement in art history.
"I met DK at Art Basel in Miami in 2010," says le Rat, "I was introduced to him but didn't really know who he was. Nevertheless, we connected great and started talking arts and life. In one hour we had decided to do a book and a movie together. One says first impressions can be wrong but I am glad I followed my instinct." Le Rat's book went on to become an international success, with sales all over the world and the deluxe edition including original artwork selling upon its arrival on the market.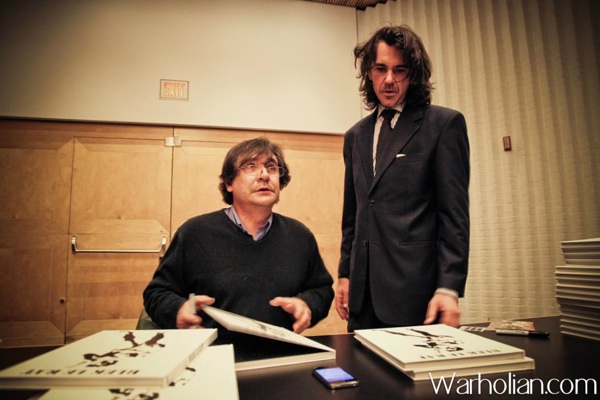 Blek le Rat and DK Johnston at book signing event at the SFMOMA, image courtesy of Michael Cuffe/Warholian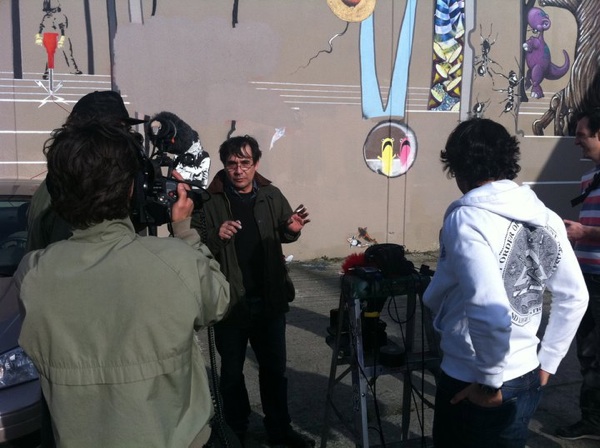 Filming the Blek le Rat documentary, image courtesy of Arts Fund

Johnston continues, "It is a delicate dance for the three of us to attempt together, but when patron, dealer, and artist find their symbiosis the three part harmony is as compelling as the sirens of Greek mythology were to ancient sailors."
When Think Properties operators of Boulan hoped for an arts partner it is easy to imagine that they never envisioned DK Johnston but in a strange twist of fate that is exactly who they got: The Miami native accepted the partnership as the perfect excuse to return home and help his home town further cement its global art credentials. "Think Properties' brand equity is established by the quality of our product, so when we thought of an ideal arts partner for the Boulan South Beach we sought someone with global reach, established industry credentials, and presence in our key markets," says Hunter Gellin, CMO of Think Properties. "The Arts Fund and DK Johnston are delivering consistent and sustained value to our Boulan property and we look forward to the future of our partnership."
Taking the lessons learned at the hands (and feet) of some of his generations greatest creators, patrons, and dealers, Johnston is back on home turf and getting down to business and doing what he does best--bolstering his portfolio of clients and better serving a gap in the market: Access. Allowing the artist and the patron to meet on a common ground and be a part of the artistic process from the onset is just one area where Johnston is taking a radical departure from the traditional. Lifting the curtain may seem like a bold move, but that where this business man excels and feels most comfortable--taking calculated risks that potentially have great pay-offs.

For players in the arts, Johnston is a must connect. His refined taste and unwavering commitment to the arts, and more importantly the artists as individuals, is upholding the tradition of the salon a continent away from its lofty European beginnings. Art Basel Miami Beach will be happening in a few short weeks and when pressed about his plans for Boulan Johnston replies, "While we'll present symposiums and artists receptions, the bespoke experience of art buying has little to do with celebrity appearances and sponsored liquor and instead has everything to with curation, relationships, and environment," all of which appears at Boulan with Johnston's Arts Fund in spades.
Related
Popular in the Community