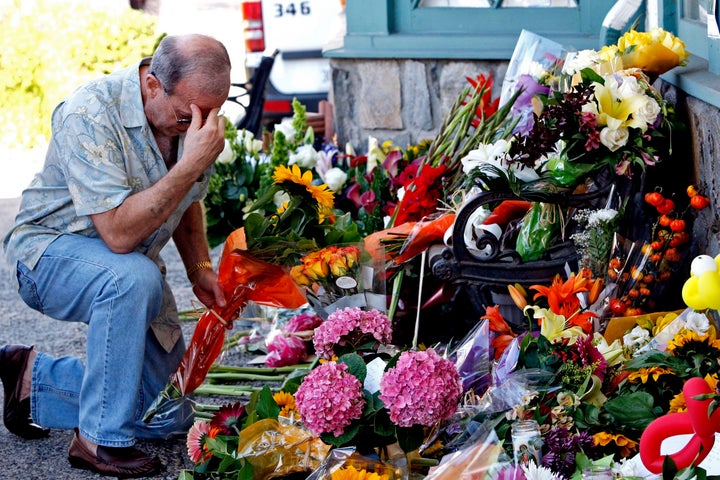 I'm writing this post on a Saturday afternoon as I sit under a dryer in a hair salon.
If you've spent as much time as I have in a salon, you know it can be a comforting and validating place. You walk in looking like a hausfrau, you emerge a queen. You spill all your life's troubles to the people around you, especially your stylist, and take some time to catch up on cheesy tabloid magazines.
But today, I'm not at my usual salon. The one I've been going to for the past several years, where I've spent many an hour getting my brunette, and more than a few pesky stubborn gray hairs, transformed to blonde.
My salon -- Salon Meritage -- was a sunny, cheerful, busy place, but it's no more. At least for now.
On October 12, 2011, the worst massacre in Orange County's history occurred there -- just a few doors from where I sit now. Eight people were killed, one wounded. The killer was the ex-husband of a long-time stylist, one of the victims.
It's practically empty inside Salon Meritage. If you peek through the windows, it looks sterile and hardly resembles the salon I knew.
Outside, it's become a makeshift memorial -- place where expressions of love are trying to, at least in the physical sense, cover up the unspeakable and hateful act that occurred here. Instead of getting their hair done, people now come to pay their respects or to cry, pray, drop off flowers, candles, hand-written notes, cards, photos and other memorabilia. Even my three-year-old son and his autistic classmates participated by making a heart sign with white painted handprints.
This tragedy hit close to home in more ways than one. I live in Old Town Seal Beach, less than two blocks away, and if I look out my kitchen window, I can see the corner of the shopping center where the salon is located.
When I first got that call Wednesday afternoon, it took me a while to grasp what was happening. There was a shooting and people were killed at my hair salon? It didn't make sense. This sort of thing doesn't happen in Seal Beach, our little Mayberry by the Sea. When I joke about how utterly boring this town is, I say it with a sense of pride. Sure, bikes get stolen here. My older son has had two bikes stolen in two years, but massacres?
In the minutes that followed that first call, I debated with myself whether I should call Irma, my stylist. What if she doesn't answer? What if she does? What does one say to someone whose workplace was just shot up, co-workers and clients were killed and it's all over the news? When I finally did call her, it was too late. Her voice mail was already full.
On the day of the shooting, I was in Newport Beach, about 15 miles south. Normally I would have been home working or hunched over my laptop at Bogart's, my favorite coffee shop that sits across the Seal Beach Pier.
Irma later told me that just minutes before the shooting, she did what she usually does: she left to get a smoothie on Main Street, a couple of blocks away.
She never made it back to the salon that day, however. As she was getting out of her car, Gordon, another stylist, was coming out of his hiding place -- the tiny employee bathroom. From inside the salon he spotted her in the parking lot and bolted out of the door yelling at her to stop. When he got to her, he grabbed her face and kept repeating, "Everyone is dead, everyone is dead." Naturally, she was disbelieving.
I look over at Irma. She's attending to another client while I sit in a chair a few stations away, processing. She's her usual chatty, smiling, animated self and it's reassuring to simply stare at her because, to put it bluntly, she's still alive.
This wonderful single mom of two adult sons will most likely live to be a grandmother and for that, I'm so grateful, as her sons are, too. From looking at her, you would never be able to tell that just a few weeks ago she may have very well escaped death by mere minutes, or even seconds.
Like so many others in this community, the shooting affected me deeply and I'm still having a hard time reconciling what happened. I'm haunted by it. I still see the faces of those killed in my mind. I can still see the sunny salon, bustling with clients and laughter.
As I look around, I notice how different this salon is, how unfamiliar. In some ways, I'm a creature of comfort and I'm keenly aware of how there's no cake stand with Oreos or cookies inside. A black and white portrait of Irma and her sons that usually sits on the ledge of her station is missing. Of the eight people that were killed that day, five of them were Salon Meritage hair stylists.
It's not the same. It will never be the same.
At some point, the surviving hair stylists want to end up working together in one salon. They are like a family. They've all been together for at least a decade. There is talk of completely renovating Salon Meritage but much of that depends on the owner. She lost her husband, also a hair stylist, on that horrific day. She has much to contend with.
For the five hours that I am there, the talk in the shop centers on the shooting, its aftermath, how the victims' families are doing. People stop by with flowers, bottles of wine, cupcakes for the two Salon Meritage stylists working there.
I tell Irma and Carla, also a Salon Meritage employee, that we should pitch "Extreme Makeover" about perhaps renovating the salon. I could write a letter and have everyone sign it. Wouldn't that be the best thing ever? I'm already excitedly envisioning the celebration that happens at the end of the show with the entire community in attendance. They smile and nod their heads. They like the idea.
Carla's customer, Helen, doesn't say anything.
A half-hour later, Helen's hair is neatly cut and styled. I'm under the dryer baking my hair. On her way out of the salon, she stops in front of me, rests on her cane for a moment and tells me "write that letter." And then she walks away.

Donations are being accepted at the Salon Meritage Memorial Fund. Click here.

REAL LIFE. REAL NEWS. REAL VOICES.
Help us tell more of the stories that matter from voices that too often remain unheard.