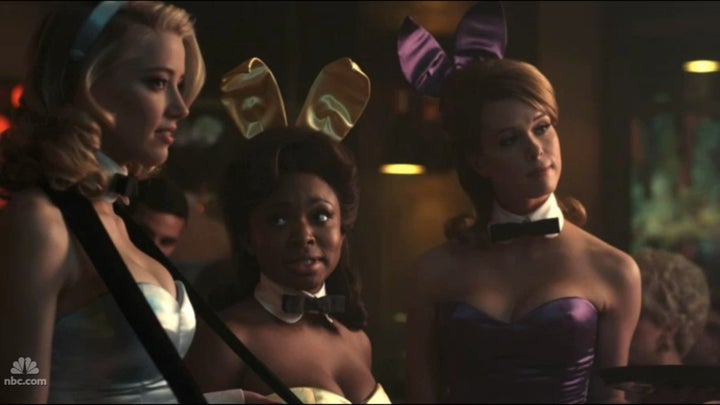 Looks like the Windy City is a little too racy for the City of the Saints.
Salt Lake City's NBC affiliate, KSL, has announced that it will not air the network's new show, "The Playboy Club." Set in 1960s Chicago, the show dives into the world of the original Playboy Club and the first Playboy bunnies.
The show isn't expected to be especially lewd, instead focusing more on the grittier criminal side of the world, set against the backdrop of the shifting social mores of the '60s.
But the title alone was too much for the station, it seems. "The Playboy brand is known internationally," Mark Willes, President and CEO of KSL's parent company Deseret Media Companies said in a press statement. "Everyone is clear what it stands for. We want to be sure everyone is clear what the KSL brand stands for, which is completely inconsistent with the Playboy brand."
Deseret Media "is a for-profit arm of The Church of Jesus Christ of Latter-day Saints," it says on its website, which may well explain some of the squeamishness around the new show.
I can say without hesitation that every episode of "Law & Order: SVU" is more "adult" than the pilot of "The Playboy Club." And KSL has aired almost 300 episodes of that show. ...

The obvious message KSL is sending is - we don't care if a show is adult as long as it doesn't have the word "Playboy" in the title. And if this one had been called, "The Gentleman's Club" and didn't have the bunny ears and tails, it would be airing on Ch. 5 this fall.

As NBC Chicago points out, the station also refused to air some earlier NBC offerings, like "Coupling" and "God, the Devil and Bob." Expect the show to air on Salt Lake City's CW station instead, writes Lisa de Moraes in the Washington Post's TV Column blog. NBC tends to hand them its programming when it gets bumped by KSL, she explains.
Watch a sneak peek of "The Playboy Club:"
Calling all HuffPost superfans!
Sign up for membership to become a founding member and help shape HuffPost's next chapter