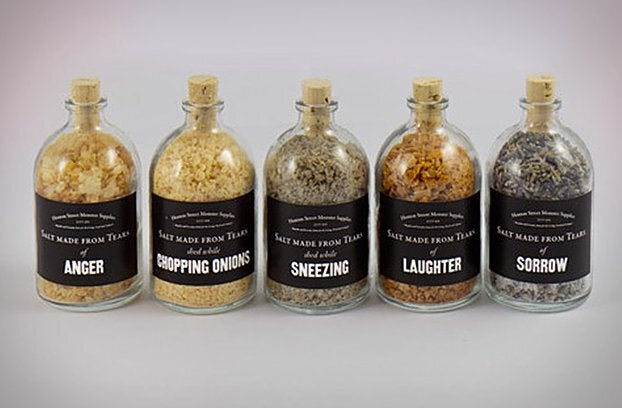 According to the Monster Supplies website, the product "combines centuries-old craft with the freshest human tears which are gently boiled, released into shallow crystallisation tanks, then harvested by hand and finally rinsed in brine." The flavors/emotions include:
Salt Made From Tears of Anger
Salt Made From Tears Shed While Chopping Onions
Salt Made From Tears Shed While Sneezing
Salt Made From Tears of Laughter
Salt Made From Tears of Sorrow
Expert tear harvester, also known as Halen Mon, produced the salt along with Studio Weave. If you're curious if the product is actually made from real tears, we'll just provide you with this fact: Halen Mon specializes in sea salt.
The satirical monster supply store -- which makes fake products and sells them for charity -- has many other options available beyond salt. Perhaps a can of A Vague Sense of Unease or Cubed Earwax is more up your alley.
Related