Five years ago, my hometown of Margaretville in Upstate New York was flooded. Record rain from Hurricane Irene and Tropical Storm Lee resulted in severe damage in the Delaware River and Schoharie Creek basins and throughout the Catskill Mountains. Our small main street was inundated with five feet of water. Plastic-wrapped hay bales looked like marshmallows in a torrent of hot chocolate.
Our only grocery store was destroyed.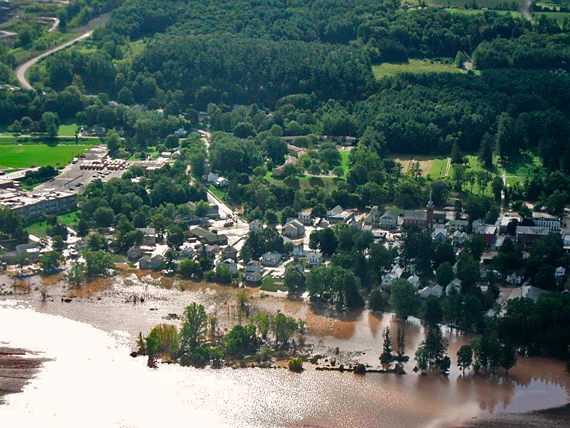 As a region that was already struggling economically, this was particularly devastating.
The community responded by creating, Schoharie Area Long Term (SALT) disaster recovery coalition, formed just down the road where my friend's fifth generation farm was flooded. SALT is comprised of government agencies, businesses, faith-based organizations, and other nonprofit community organizations. Their role is to provide resources for healing and recovery.
Enter AmeriCorps VISTA (Volunteers in Service to America). With the help of a team of 5 AmeriCorps VISTA members, SALT has been able to expand their capacity to conduct needs assessments, develop partnerships, and increase communications. One of the key tenants of AmeriCorps VISTA is working with community members to address local issues around poverty.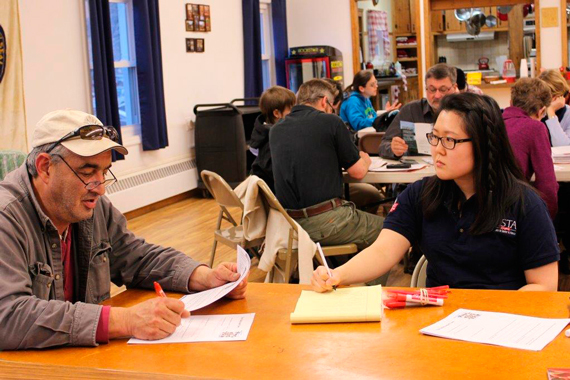 For example, AmeriCorps VISTA member, Jin Kim, works with local business owner Floyd Guernsey of Guernsey's Nursery to figure out the potential opportunities and challenges of a 38-mile multi-use trail in Schoharie County, NY. Their efforts are helping to bring vitality back to an area impacted by natural disasters.
The NY Governor's Office of Storm Recovery is working on this and many other issues, and is also a partner with Resilience AmeriCorps VISTA.
As our world changes, AmeriCorps VISTA does what it can to address our nation's current needs.
Last year, the White House and the Corporation for National and Community Service (CNCS) announced the creation of the first-ever Resilience AmeriCorps VISTA. With help from The Rockefeller Foundation, several federal partners including the Department of Energy, the Environmental Protection Agency, and the National Oceanic and Atmospheric Administration, along with programmatic support from Cities of Service, the two-year pilot program is designed to embed AmeriCorps VISTA members in ten communities across the country to increase civic engagement and community resilience in low-income areas. The goal is to help those communities and their more vulnerable members to develop plans for becoming more resilient to any number of shocks and stresses, including better preparations for extreme weather events.
One of the communities hosting Resilience AmeriCorps VISTA members from the first cohort is Phoenix, Arizona.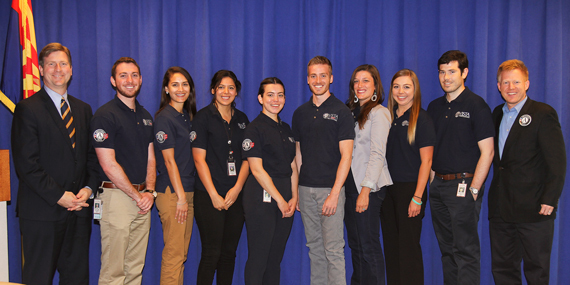 Just yesterday, I had the opportunity to meet with Phoenix Mayor Greg Stanton and a group of amazing AmeriCorps VISTA members, serving the sixth-largest city in the country. Here are just two examples of environmental service projects in Phoenix.
FDR's great-grandson Nick Roosevelt is continuing his family's long tradition of public service as a Resilience AmeriCorps VISTA helping schools prepare for high heat and flooding. He and his partner, Olivia, are helping the local Boys and Girls Club and YMCA plan and plant a community garden.
Love Your Block is another high-impact service strategy instigated by Mayor Stanton that engages community members in revitalizing their neighborhoods one block at a time. Helen and Haley are AmeriCorps VISTAs working with local residents and recruiting new leaders, as well as ensuring that the city is prepared to serve the homeless when the already high temperatures reach deadly levels.
In 1970, one of the many major accomplishments that came out of creating Earth Day to focus on the environment was the passage of the Clean Water Act. Almost 50 years later, while we surprisingly may still be struggling to achieve clean water in all American communities, AmeriCorps VISTA is there.
Just this week, CNCS announced up to 40 AmeriCorps VISTA Summer Associates will be serving in Flint, Michigan through the Boys & Girls Club of Greater Flint, Crim Fitness Foundation, Food Bank of Eastern Michigan, and Catholic Charities. These AmeriCorps members, most of whom will be local residents, will provide education information related to water safety and lead exposure, as well as support summer food programs.
REAL LIFE. REAL NEWS. REAL VOICES.
Help us tell more of the stories that matter from voices that too often remain unheard.