The National Forest Service announced Thursday that it would be reconsidering its plan to remove a herd of free-roaming horses from Arizona's Tonto National Forest, but the animals aren't totally in the clear just yet.
The horses in question, known as the "Salt River horses," are a herd beloved to Arizona locals and visitors to the area. Officials estimate there are between 65 and 100 horses in the herd, said Tonto National Forest Service spokeswoman Carrie Templin.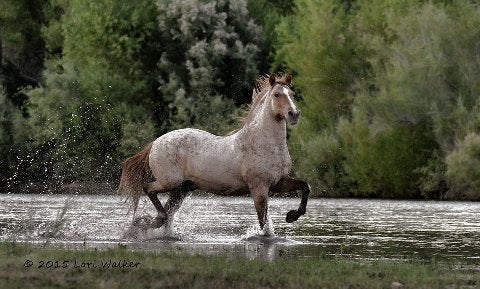 "They are a beloved part of Arizona, and are an iconic tourist attraction, drawing people from all over the U.S. and beyond, to see and photograph them in their very unusual way of living," Elaine Nash, director of Fleet of Angels, a nonprofit dedicated to helping at-risk horses, told The Huffington Post in an email.
The Forest Service, however, sees the animals as a nuisance. Horses straying onto the highway have caused car accidents, Templin said. Officials also fear that close contact between horses and humans in recreation areas could lead to trouble, though Templin noted she was not aware of any such incidents occurring.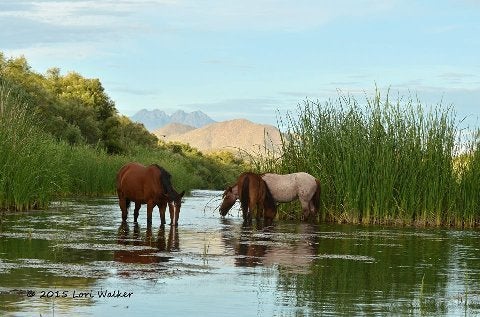 The Forest Service announced on July 31 it would be "removing" any horses within the bounds of the National Forest, beginning August 7. The horses would then be publicly auctioned off, sold privately or "disposed of," the posting said. The announcement caused an uproar among locals, animal advocacy groups and even Arizona Gov. Doug Ducey, who tweeted that the would do everything in his power to save the herd.
The backlash was enough to make the Forest Service announce it would open up the discussion of potential alternatives to the round-up. A Thursday statement from Neil Bosworth of the U.S. Forest Service said:
We appreciate the local community's feedback and we've decided to take another look at the proposed gathering of stray horses on the Tonto National Forest. The Forest Service will continue to engage with the local community, state and federal officials to explore potential alternatives for meeting our obligations for both land stewardship and public safety.
A crucial point of contention is whether the free-roaming horses qualify as true "wild" horses. The 1971 Wild Horse and Burro Act required the federal government to set aside designated territories for herds of wild horses and burros to roam. Templin says that the Salt River horses were not around in 1971, and thus no territory was set aside for them and they are not officially considered protected wild horses. Instead, they are considered to be stray livestock.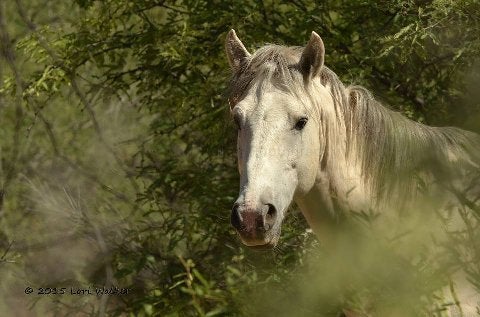 Nash and Simone Netherlands, president of the Salt River Wild Horse Management Group, both say that multiple eyewitnesses and archived newspaper articles confirm the horses were indeed in the area prior to 1971. They believe that the Forest Service made an error at the time, and that now the horses may be paying the price.
Nash noted that this herd has adapted to a semi-aquatic lifestyle and would have a hard time transitioning to life elsewhere.
"[They] live in and on the Salt River and have adapted their habits to their river-centered environment, including using behaviors like putting their heads under water to graze the rich river grasses growing there -- like moose do," she said. "They swim very well, and teach their foals to swim when they're only days old."
Three years ago, the "river horses" gained national attention when one of the stallions was photographed rescuing a filly from drowning:
Netherlands said she's seen what happens to horses rounded up by the federal government, as the Bureau of Land Management regularly rounds up some horses from the wild in order to curb overpopulation.
"We document these holding pens," Netherlands said. "These are broken horses. They stand there with their heads hanging out, without energy. They've left their family and their freedom."
Additionally, horses sold at public auction risk being bought up by "kill buyers" who transport them over the Mexican border, where they can be legally slaughtered for human consumption.
Netherlands also fears the Forest Service will use the same method as the Bureau of Land Management to round the horses up -- chasing them by helicopter into "trap pens," a method that can leave horses fatally injured as they flee.
Templin said that since the Forest Service has not yet hired a contractor to remove the horses, she could not say what method it would potentially use. She said she can't speculate on what the ultimate fate of the horses will be, but noted that groups have come forward with offers to give the horses sanctuary or assist in managing them in their current location.
Popular in the Community