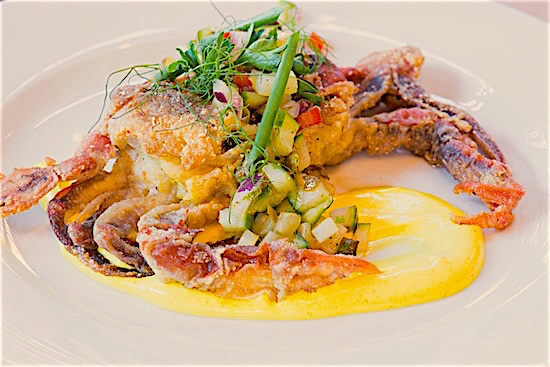 I had not given much thought to visiting Saltaire in the New York City suburb of Port Chester until I read that the owners are the Barnes family, which also runs the excellent seafood restaurant in Queens called London Lennie's. I figured that if Leslie and Elizabeth Barnes are carrying on a 57-year-old legacy of first-rate seafood and hospitality at their new place, I should definitely check it out. I did and found it even better than its antecedent.
Largely my opinion is based upon the exceptional quality of seafood the Barnes family has always purchased, all on full display at Saltaire, so that the simplest of dishes are no-brainers as options from a large menu. You simply can't go wrong. But it is in the prepared dishes that I think Saltaire exceeds London Lennie's, and chef Cedric Lamouille, formerly at Bistro V in nearby Greenwich, Connecticut, is to be complimented for training a brigade of cooks and a fine pastry chef who are turning out some of the finest seafood on the East Coast.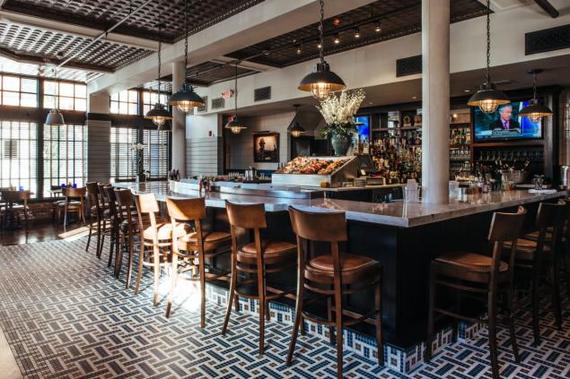 For years this had been a cavernous steakhouse, originally a granary, and the Barneses have pretty much kept everything intact while sprucing up the bar and dining room and improving the lighting with beautiful chandeliers. Maritime artwork, maps, charts and paraphernalia evoke the restaurant's name (Long Island Sound is just blocks away). The waitstaff is fleet-footed and well informed, and the noise level is quite acceptable for such a big room.
The wine list is still growing, with wines available by the glass or carafe, all with reasonable mark-ups on the bottles (most under $70), and an impressive bar list of spirits, with eight beers on tap and as many signature cocktails ($11-$13).
The four-page menu begins with a wide selection from the raw bar, which on any given night offers a dozen oyster varieties, and towers of seafood ($45 to $135), as well as ceviches ($14) and poke ($13). Every kitchen does fried calamari, but few as carefully as at Saltaire, with an orange-poppyseed dipping sauce with pickled chilies and basil ($15). The grilled Mediterranean octopus ($16), accompanied by edamame and hummus, with black garlic aïoli and crunchy toasted almonds, shows that every dish here is not just a copy of those everywhere else.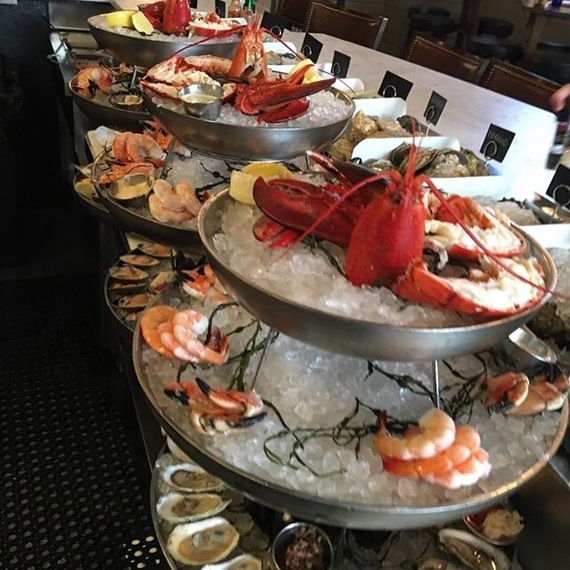 I recall that the crab cake at London Lennie's was crab and nothing but crab, but, though Saltaire's ($16) is good, it seems to have more breading than the original. There are then soups and salads and four mussel offerings ($18). Since it was near the end of the soft-shell crab season, I couldn't resist ordering them with roasted fingerling potatoes, sautéed broccoli rabe and a sweet beurre blanc sweetened with pomegranate ($31). They may have been the best soft shells I've had all season, and the New Bedford sea scallops with shaved Brussels sprouts, mushroom ragoût and the unexpected pleasure of Parmesan cheese and truffle emulsion ($35) was equally delicious. I commend as well the chef's way with wild striped bass with a beet risotto that was not only beautiful but perfectly rendered in texture and flavor ($32). I also sampled a dish from the "Top of the Catch" section, which included a fresh-as-the-sea Florida red snapper with a tomato velouté ($32).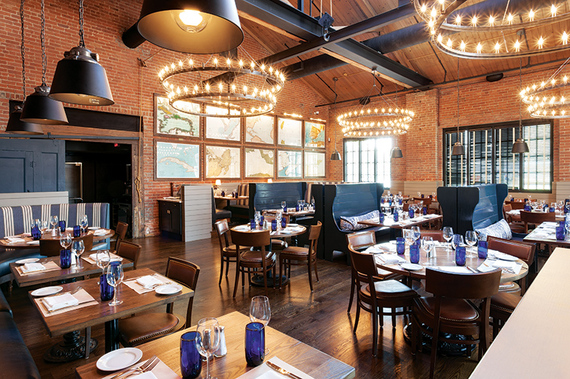 Most of the time in seafood restaurants of this stripe and size, the kitchen takes the easy route to please with cliché desserts, but at Saltaire a great deal of care has been put into an item called "Almond Joy," composed of a bittersweet chocolate crémeux with toasted almonds, strawberry and coconut sorbet that for once really tasted like coconut ($10). Cheesecake ($11) is very good, scented with orange blossom, topped with poached apricots and apricot glaze, with an almond lace cookie, the kind of dessert you expect to find in very high-end restaurants.
It is to damn Saltaire with faint praise to say it is merely a first-rate seafood house, for while it resembles others in its genre, it is really in its own league, one where you start with the best ingredients, treat them imaginatively but simply, and carry the commitment to excellence straight through dessert. Saltaire is the kind of place that changes the game.
Open for lunch Mon.-Fri.; dinner nightly. Parking is difficult in the area, but there is usually plenty of space two blocks away at the movie theater.
SALTAIRE OYSTER BAR
AND FISH HOUSE
55 Abendroth Avenue
Port Chester, NY
914-939-2425
saltaireoysterbar.com
Support HuffPost
A No-B.S. Guide To Life
Related
Popular in the Community