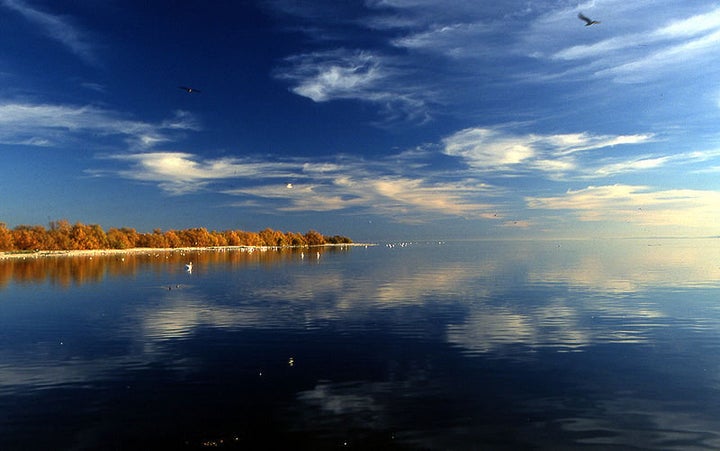 It was an accident that turned into an oasis in the southern California desert, but before long the Salton Sea may be gone for good. And its demise might also pose health and environmental risks for residents and wildlife.
In March, the San Diego Union-Tribune reported a decision by California's state Supreme Court to uphold a 2003 water transfer deal that could spell doom for the troubled lake, the state's largest. According to the Union-Tribune, several parties have challenged the deal, citing the potential negative effects on the region's environment.
Scroll Down For Images Of The Salton Sea
The SDCWA plan would reduce statewide dependence on the Colorado River as an aquifer, but since "the only water the Sea receives is agricultural run-off from nearby farms," according to KQED, the diversion could drain the Salton Sea in a matter of years.
In fact, according to the California Audobon Society, this is already happening.
Halla Razak, Colorado River Program Director for the SDCWA disputes the notion that the QSA plan will lead to a dry lakebed. In a phone interview with The Huffington Post, Razak said that that the QSA "fully mitigates" any water diverted from the Salton Sea by the Imperial Irrigation District.
According to Razak, this is accomplished through a system of voluntary fallowing, in which area farmers are offered money by the Imperial Irrigation District -- approximately $125 an acre -- to leave their fields fallow and have their irrigation shut off for a set amount of time. The money comes out of the yearly amount paid to the District by the SDCWA for water.
"Some of the water that is conserved [in this manner] goes to San Diego, and some of it goes to the [Salton] Sea," Razak said.
Yet, since the Irrigation District must solicit contracts from farmers, there's no hard guarantee that water would be conserved. If for some reason the district's offer were not lucrative enough, farmers could decide to proceed with planting.
Created by a 1905 flood that spilled into the area, the Salton Sea rose to prominence as a resort town in the 1950s -- "a waterpark playground in the desert," according to a report by the BBC. But increasing salinity from agricultural irrigation soon shattered the illusion. Sport fish died, money pulled out, and abandoned resorts, now ruins, line the edge of the lake.
But despite its salinity, the lake has become an important pit stop for migrating birds. If the Salton Sea dries up, those flocks will lose one of the few waterways in southern California on their migration route, and may even become extinct, compounding the effects of recent die-offs of bird species like white pelicans and other waterbirds.
LOOK: Images From The Salton Sea, California's Vanishing Oasis
Calling all HuffPost superfans!
Sign up for membership to become a founding member and help shape HuffPost's next chapter
BEFORE YOU GO