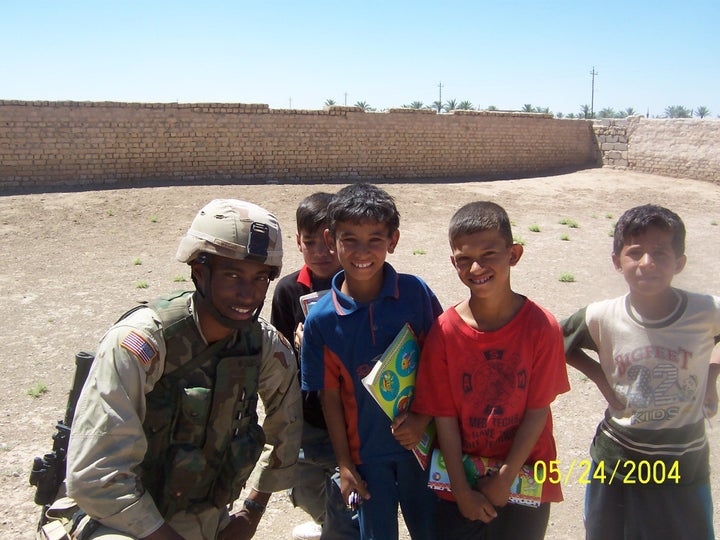 In honor of Veterans Day, Huffington Post Impact and Causecast present Salute To Service, a week-long series honoring the remarkable men and women of America's armed forces. Each day, a war veteran will share a personal essay about victories and struggles during war and in its aftermath, as well as nonprofit projects to support at home.
In the summer of 1999, I left my hometown in northern California for West Point to begin my career in the Army. I didn't think much of the possibility of going to war. The military had just finished drawing down from its Cold War height, and serious conflict seemed unlikely.
9/11, of course, would change everything.
When I graduated from West Point four years later, the world was an entirely different place. Fighting in war on two fronts, we were combating an elusive enemy in Afghanistan and beginning to experience unprecedented challenges in Iraq -- the country where I would spend the better part of my early twenties.
When I was deployed to Iraq in 2004, I had only a few goals. I wanted to work as hard as I could to take care of my soldiers and be the best officer that I could be. I wanted to make sure we never did anything to an Iraqi that we would be ashamed to talk about when we returned. And, most importantly, I wanted to make sure every one of my soldiers made it home to their families alive.
Over the next three years I was deployed for almost two of them. Over the course of two deployments, I led 81 of the best soldiers our country has to offer on more than 500 missions in some of Iraq's most dangerous areas.
Thanks to a lot of grace and a little luck, all 81 of my soldiers made it home alive -- an achievement I don't think I'll ever be able to surpass.
What I didn't know before leaving for those deployments, however, were the battles my soldiers would have to fight when they returned home.
Back in the states, many of them, myself included, felt out of place and disconnected even among family and friends. A lot of them had very difficult times finding jobs when they left the military. Some of them saw their marriages fall apart. Others struggled with Post-Traumatic Stress Disorder.
For me, the healing process didn't really begin until I started serving again -- this time in my community. Since my return from combat, I had the privilege to mentor low-income kids through the college admissions process, organize disaster relief trips to New Orleans and Haiti, and even to bicycle across the country from North Carolina to California to raise money and build houses for Habitat for Humanity.
Each of these experiences helped me recapture the same deeply satisfying feeling of contributing to something greater than myself like I had when serving in the military. I think it's recreating that key element that makes volunteer service such a powerful experience for our veterans.
Last year, Civic Enterprises released a report that showed the positive impact that volunteer service had in my life was something that was being experienced by veterans all across the country.
The study showed that veterans who volunteered after returning to civilian life reported they were 20 percent more likely to experience positive transitions. Further, veterans with families who volunteered reported being 26 percent more likely to experience smooth transitions back into family life. In both cases, veteran volunteers had higher success rates of finding employment outside of the military.
So, this Veterans Day, I'll be serving with Mission Serve, a nationwide initiative launched last year with support from First Lady Michelle Obama and Dr. Jill Biden. Mission Serve connects civilian and military communities through service and volunteerism, and leverages our veterans and military families as civic assets. This Veterans Day, Mission Serve is working with partners to coordinate 25 civilian-military service projects around the country.
In that spirit, I want to encourage both veterans and civilians alike to re-imagine volunteer service. For veterans, serving in your community -- be it mentoring kids or revitalizing a community green space -- is an amazing opportunity to re-capture some of the pride you experienced when serving in uniform. For civilians, I hope that in addition to sending care packages or encouraging letters overseas, you will seek opportunities to serve alongside members of the military community right here at home.
In each case, we'll strengthen our communities with the shared spirit of service to country which we celebrate each and every Veterans Day.
Related
Popular in the Community