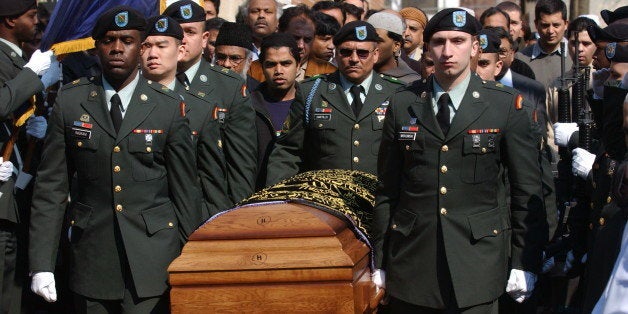 The so-called "Islamic extremism" spreading across the Middle East has given new life to American patriotism. A YouGov poll from 2013 shows that 44 percent of American citizens question the loyalty that Muslims have to the U.S. The poll showed that older Americans and those who vote Republican are more likely to view Muslims as "less patriotic" than other religious groups.
Despite the prevailing stereotypes of Muslim Americans, Islam has contributed a great deal to the U.S. In fact, Muslims have played an integral part in defending the homeland and fighting for the American government's geopolitical interests. The history of Muslim Americans serving in the U.S. military challenges the widespread skepticism that Americans have for those who follow Islam. Muslims are asked by Prophet Muhammad to "love your country as [patriotism] is part of Islam." The Qur'an (4:60) calls on Muslims to be obedient to their governments: "O you who believe, obey God and the Prophet and obey those in authority from among you." As I discuss in this piece, Muslims have heeded the Prophet's call for allegiance and shown love for America.
Muslims served in the U.S. military under the command of General George Washington, who was Commander in Chief of the Continental Army during the American War for Independence. Rosters of soldiers serving in Washington's Army lists names like Bampett Muhammad, who fought for the Virginia Line between the years 1775 and 1783. Another one of Washington's soldiers, Yusuf Ben Ali, was a North African Arab who worked as an aide to General Thomas Sumter of South Carolina. Peter Buckminster, who fought in Boston, is perhaps Washington's most distinguished Muslim American soldier. Buckminster fired the gun that killed British Major General John Pitcairn at the Battle of Bunker Hill. Years after this famous battle, Peter changed his last name to "Salaam," the Arabic word meaning "peace." Peter Salaam later reenlisted in the Continental Army to serve in the Battle of Saratoga and the Battle of Stony Point. If Washington had a problem with Muslims serving in his Army, he would not have allowed Muhammad, Ali and Salaam to represent and serve non-Muslim Americans. By giving these Muslims the honor of serving America, Washington made it clear that a person did not have to be of a certain religion or have a particular ethnic background to be an American patriot.
According to Precious Rasheeda Muhammad, an independent scholar, Muslims played historic roles during the Civil War, a turning point in American history. Muhammad's research "lays to rest the false notion that Muslims made no contributions to our nation's development." Nicholas Said, a Muslim American soldier born in Africa, served in the Union Army and became a political and civic activist after the Civil War. Rasheeda notes that Said "had an intellect so profound that an 1867 Nation article described him as worthy of at least the position of vice president of the United States." A Muslim American soldier like Said was following the Qur'an, which calls on Muslims to defend their communities and respect the law. If he were alive today, Said would challenge those critics who see Islam and American values as incompatible.
As they had done during the Civil War, Muslim Americans fought and died in World War II and Vietnam. Over 15,000 Arab Americans, some of whom were Muslim, fought for the U.S. in North Africa, Europe and Asia during the second World War. Historian Edward E. Curtis states that at least twelve Muslim Americans sacrificed their lives during the Vietnam War. Curtis adds that these Muslim soldiers "held military grades from private first class to sergeant." These facts highlight that Muslims have been involved in the preeminent patriotic struggles of America in the 18th, 19th, and 20th centuries.
The number of enlisted Muslim Americans in the U.S. military has increased substantially since these previous wars. According to Department of Defense figures, more than 3,500 Muslims fought in Afghanistan and Iraq. Some of the highest ranked members of the U.S. military have commented that Muslims are a vital component of the American armed forces because of their linguistic skills and cultural understanding of Muslims living around the world.
In 2009, I visited Arlington National Cemetery to pay respect to Muslim American soldiers who died in Afghanistan and Iraq. One of the tombstones I stood over was that of Captain Humayun Saqib Muazzam Khan, a Muslim American of Pakistani descent. Near the grave of Captain Khan is the tombstone of Ayman Abdelrahman Taha, a Muslim American soldier of Arab background. Both soldiers were given the Purple Heart, a prestigious military decoration awarded by the President of the U.S. to soldiers who have been wounded in battle. The Muslim Americans who have served in the U.S. military are an important reminder that Americans are not bound by religion, but by values that extend beyond their ethnic and racial backgrounds.
It should not be forgotten that Muslim soldiers have given their lives to protect America. If more people knew about the history of Muslims who have served in the U.S. military, perhaps non-Muslim Americans would have more respect and appreciation for Islam and their fellow Muslim citizens. Non-Muslims in the U.S. who continue to spread Islamophobia are dishonoring soldiers who have fought and died for their country. Nothing could be more unpatriotic than that.
The time is ripe to educate people on the patriotism of Muslim Americans. Let us hope that America moves beyond the question of whether a Muslim can be a loyal citizen. The facts speak for themselves. Muslims have been -- and continue to be -- true American patriots.
Related
Popular in the Community