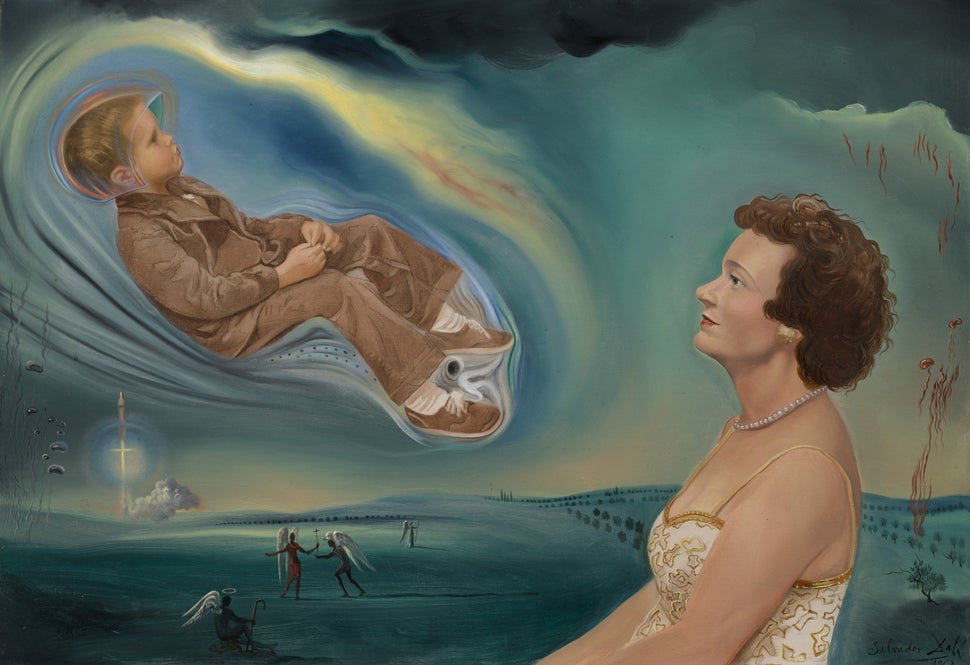 Salvador Dalí, the Surrealist painter known for his melting clocks, is one of the world's most recognizable artists. Though he died in 1989 at the age 84, there is currently no lack of Dalí replicas hanging in dorm rooms across the U.S. or Dalí originals adorning mega-galleries and museums around the globe. From the iconic "The Persistence of Memory" to the mouthful that is "Dream Caused by the Flight of a Bee Around a Pomegranate a Second Before Awakening," even a casual Dalí fan can recall a piece of the painter's legacy.
So, imagine if Dalí -- the seismic personality that he is -- painted something as prosaic as your family portrait?
It turns out that, in his lifetime, Dalí completed numerous portrait commissions beginning in the 1940s and throughout the 1970s, capturing the faces of some of North America's elite. One such commission involved a small Maryland family, comprised of Montgomery M. Green, his wife Ann and their children. 
Mr. Green, a respected farmer and avid patron of the arts, had admired Dalí's work from afar for some time. Though he had no direct relationship with the artist, Green courageously reached out to Dalí's gallerist in New York with hopes of securing an introduction. "It was a very bold move,"Julian Dawes, vice president in Sotheby's Impressionist & Modern Art Department, explained to The Huffington Post via email. 
The bold move paid off. Dalí welcomed the Greens into his home in Cadaqués, Spain, in 1962, and after a series of preparatory photographs (taken by Dalí's personal photographer, Robert Descharnes) and several preliminary drawings, the painter completed the three-foot wide "Portrait de Madame Ann W. Green et de son fils Jonathan" in 1963.
Inspired by the family's vacation home, located in Cape Canaveral, Florida, otherwise known as "Space Coast," the resulting family portrait features the faces of Ann and her youngest son Jonathan, surrounded by wildly cosmic imagery and some of the more Surreal iconography we've come to associate with Dalí. Jonathan appears dressed in his father's corduroy suit, equipped with what Sotheby's describes in its catalog as an "embryonic helmet." As he floats before Ann amidst the launch of a rocket, the image of mother and child evokes the relationship of Madonna and child.
"Angels were a recurring motif for Dalí, and he incorporates them here likely at the request of the Greens who had/have deep Christian faith," Dawes added, referencing the angelic figures positioned in the mid-ground of the family portrait. "The two liquids on either side of the canvas are blood and water, both illustrated in a seemingly zero gravity state. The precise meaning of this symbolism is not known, though there are many fascinating possible interpretations involving space travel, family, etc."
The family, Dawes noted, was "completely amazed by the outcome, and it instantly became a cherished treasure." The Greens not only preserved the painting -- which is set to hit Sotheby's auction block on Nov. 6 courtesy of the family -- but they also kept footage of their trip to Dalí's home, rare film that shows the dark-haired Spaniard gesturing emphatically at the camera, surrounded by his rapt listeners.
Check out a clip from the home video, and read a recollection of the famous Green-Dalí encounter from John Rodgers Meigs Green, son and elder brother of the two figures depicted in the portrait, below.
"Dalí and my father were both sparkling conversationalists who shared some eccentricities and some values. Both men liked to claim remembering their own births, and during their visits with each other in Spain and New York, they touched on the artistic themes of time, space, dreams, birth, motherhood, and love.

 

"In late 1963 as I tagged along with my father on a business trip to New York, I had the privilege of meeting Salvador Dalí myself at an opening of his work at a gallery in midtown Manhattan. My father and I were there when the artist strode into the gallery surrounded by a flock of aficionados. Dalí was wearing a black suit and carried a black walking stick. My father and Dalí immediately approached each other, and I was introduced and coaxed to get his autograph on my copy of the show's catalogue, which I still have to this day over half a century later.

 

"Among other pleasantries after their greeting, my father informed Dalí that we had witnessed a night launch of a missile after the painting was created, and that by some atmospheric phenomenon, there had been a halo around the glowing missile's flame as it ascended into the night sky, much like Dalí had depicted in our painting. Rolling his eyes wide and twirling his waxed mustache the artist replied: 'What Dalí paints happens.' Both men delighted in this statement of fact that doubled as a universal declaration." -John Green
PHOTO GALLERY
Salvador Dali
REAL LIFE. REAL NEWS. REAL VOICES.
Help us tell more of the stories that matter from voices that too often remain unheard.