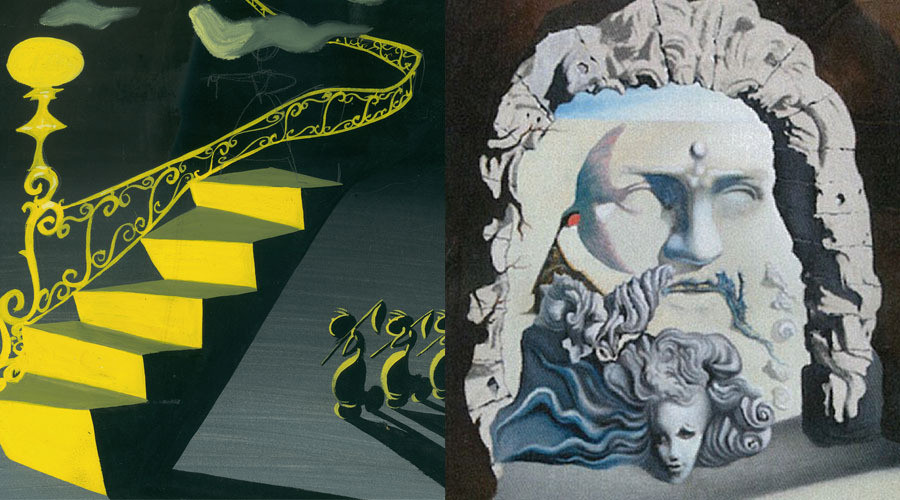 Can you tell which is which?
One was a cartoonist, animator and filmmaker, responsible for choreographing the imaginations of countless growing children with his beloved characters; the other was an eccentric Surrealist, responsible for some of the most haunting and hallucinatory images ever to be imprinted onto the collective subconscious. One had a soft spot for anthropomorphized mice and stuttering ducks; the other for melting clocks and voracious ants. One said, "If you can dream it, you can do it," and the other: "I don't do drugs. I am drugs."
Yup, we're talking Walt Disney and Salvador Dalí, two wildly creative visionaries with entirely different visions -- one that likely appealed to your earliest fantastical adventures of the mind, and the other to your college drug experimentation phase. An exhibition entitled "Disney and Dalí: Architects of the Imagination," will delve into the relationship between Walt and Salvador, two artists who challenged the rigid boundaries once separating dreams from waking life.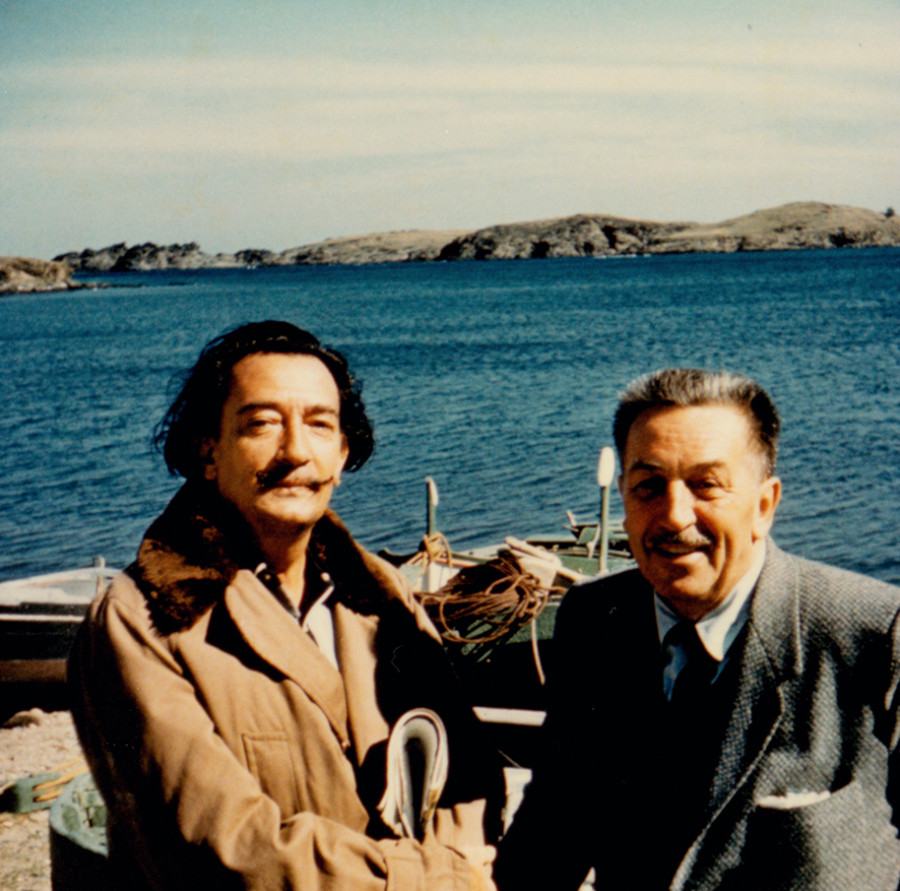 Salvador Dalí and Walt Disney by the beach in Spain, 1957. Photograph Collection Walt Disney Family Foundation, © Disney.
Disney was born in 1901 in Chicago, Dalí three years later in Catalonia. They both began drawing at a young age; Dalí holding his first public exhibition of charcoal drawings at 14 years old, Disney creating cartoons for printed advertisements. Over time, their childhood imaginations blossomed into mines of inspiration, and their cherubic faces went on to play home to some pretty impressive mustaches.
The two artists became drawn to each other after collaborating on an animated short titled "Destino," which began in 1945, though it wasn't released until 2003. The six-minute short follows Chronos, the serpentine-shaped god who is time personified, on his hapless pursuit of a mortal woman. The delirious ride features no dialogue, and an appropriately eerie soundtrack by Mexican songwriter Armando Dominguez. The artists' little-known lovechild is half "Fantasia," half "The Persistence of Memory," as nightmarish images made from animation, live dancers and special effects flow in and out of frame.
After their initial collaboration, the two formed a mutual admiration and a strong friendship. The dreamy exhibition, guest-curated by filmmaker Ted Nicolaou, features original paintings, story sketches, conceptual artwork, correspondences, archival film, photographs, and audio from the unlikely creative comrades, thus illuminating one of the most innovation-filled bromances of all time.
Whether you prefer nostalgic, critter-filled tales with reliably happy endings or avant-garde renderings of giant masturbating blobs, you'll find something to inspire your inner imagineer (or latent Surrealist) in this rare and fruitful relationship.
"Disney and Dalí: Architects of the Imagination," will be on view from July 10, 2015, through Jan. 3, 2016 at the Walt Disney Family Museum in San Francisco, and from late January through June 2016 at the Dalí Museum in St. Petersburg, Florida.
Related
Popular in the Community