Don't let the boho chic moustache fool you; Salvador Dali can still rake in considerable earnings from beyond the grave. The Surrealist master with an imagination as wild as that facial hair is known primarily for his meticulously rendered paintings, so we were surprised to see how well his sculpture of a bronze horse faired on the chopping block today.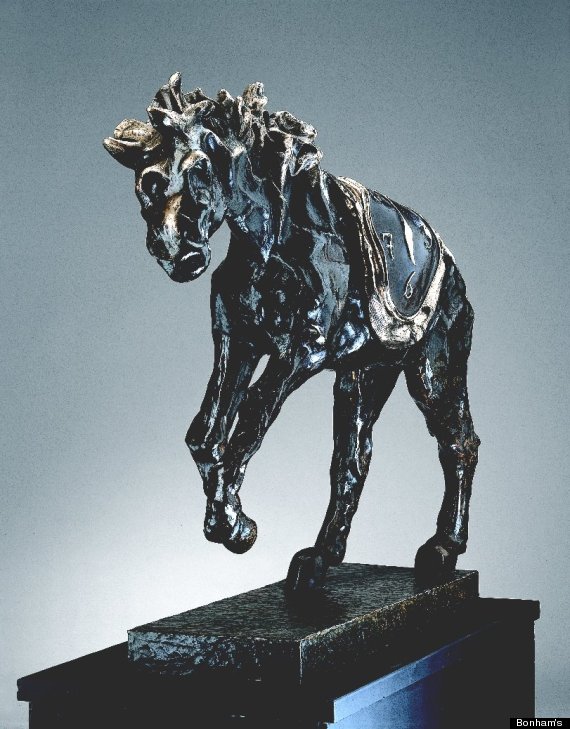 The piece, "Le Cheval à la Montre Molle," sold for $454,000 at Bonhams. (Considering you can purchase a real horse for the bargain price of $5,000, we suggest you consider this when deciding if Dali's horse is right for you.) The piece, which is one of eight cast by the Perseo Foundry, translates Dali's detailed dream visions into three dimensions with an expressive horse that looks as if it just galloped off a canvas into real life. The creature, sculpted in 1980, wears a melted clock instead of a saddle, reminiscent of those lounging around in "The Persistence of Memory."
Constantly aware of the burden of time, Dali depicts the clock as literally weighing down on the wild beast as it rears in fruitless rebellion. According to Bonhams, Dali was originally inspired to create a melting clock after observing a fine wedge of Camembert melt. Dali recounts "meditating on the philosophic problems of the 'supersoft' which the cheese presented to my mind" in Descharnes & G. Neret's biography of the artist. The relationships between movement and time, life and death, reappear throughout Dali's work, and this is certainly reflected in this statue.
This sculpture, part of the Gotham Collection, is one of the later works by the iconic artist who died in 1989. Considering the piece's traditional Dali thematics and unusual medium, we would expect it to make Dali collectors drool. Yet this year Dali's reputation in the auction house has been hot and cold. While his prices skyrocketed in 2011, his "Oasis" painting failed to sell in February 2012 at Sotheby's London. Morgan Long, director of art investment at the London-based Fine Art Fund, told Bloomberg: "There's been a backlash against the prices paid for Dali in 2011. Artists have their seasons, and he's no longer quite the man of the moment."
REAL LIFE. REAL NEWS. REAL VOICES.
Help us tell more of the stories that matter from voices that too often remain unheard.