Bethany Loberg is second author of this article. Bethany is Human Rights Advocacy Co-ordinator for SHARE-El Salvador.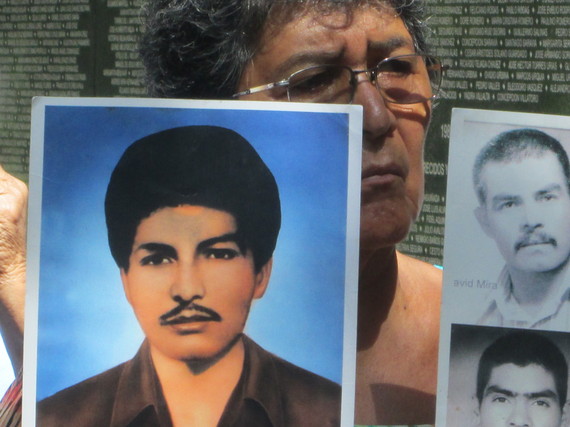 All photos courtesy of Claire Moll, SHARE-El Salvador, Communications Coordinator. All photos are from a demonstration by the Relatives of the Disappeared, San Salvador, August, 2014.
1980 was a tragic year for Sofia Hernandez and her family. Government security forces and right wing death squads were terrorizing the rural population of El Salvador. By March, Sofia's family had fled their home in the countryside in hopes of finding safety. Two months later, Sofia's brother was disappeared. By the summer's end she was a widow. Her husband of 15 years, Juan, was murdered. Sofia's daughter Norma, another brother, a nephew, and a cousin had also joined the swelling numbers of the disappeared.
Sofia Hernandez, like so many other relatives of the disappeared, searched for loved ones in military garrisons, prisons, hospitals, morgues, and even in garbage dumps, where bodies appeared daily. Most often they searched in vain. Decades later, many are still left with unanswered questions. Where is my son, my daughter, my mother, my father, my brother, my sister? Donde estan? Donde?
Due to the climate of fear, Sofia and countless others were forced to suffer their grief in silence:
I don't know anything about where my daughter met her end. They captured people and didn't say anything. At the time we couldn't even cry, we didn't have anyone to share this pain with because you never knew who you were talking to. You couldn't say "my brother disappeared and it hurts", you couldn´t ask for a hug. The impotency of not being able to do anything, not even to come close was infuriating. Nobody could come forward to say "this is my brother, this is my husband." Having to stay quiet provokes deep pain. At least now we can scream to the four winds, my brother was disappeared and I feel this need to fight to know where the disappeared are, for there to be a space for us to speak about our loved ones.
Wounds That Have Not Yet Healed
Literally thousands of Salvadoran families suffered the disappearance of a loved one during the late 1970s and the decade of the 1980s. Toñita Cabrera, another mother who lost a son to the death squads shared her experience:
I carry a pain since the year 1980, because on this date, August 30th, a Saturday, my son was captured, and to this day he remains disappeared. I carry this pain, a wound that does not heal, that will not close, that continues to bleed.
This is the problem. Without finding out what happened to their relatives, and without proper public acknowledgment of their suffering, these families cannot heal. The experts in this area, the International Committee of the Red Cross (ICRC), also warn that without this healing an entire society can be destabilized:
The impact of disappearance upon close relatives - isolation, impoverishment, despair - can reach beyond families to affect entire communities. If not addressed and resolved, it will threaten reconciliation and social stability even after a conflict has ended.
Just how pervasive is the problem of unresolved suffering in the families of the disappeared in El Salvador?
More than eight thousand Salvadorans were disappeared during the government repression in the 1970s and 1980s. To fully appreciate the enormity of the suffering, multiply by 50, since the Salvadoran population is 50 times smaller than that of the US. A comparable tragedy in the US would have resulted in close to half a million disappeared.
To be "disappeared" meant to be kidnapped, tortured, raped (in the case of women), and then murdered, and often disfigured. The perpetrators left no official records, essentially erasing the existence of their victims. Government security forces and their allies in right-wing death squads used forced disappearance as a tactic to instill fear. They particularly targeted those calling for change in the country's economic and political structures. This included labor leaders, members of peasant cooperatives, participants in base Christian communities, community health workers, and student activists. Ultimately, the repression became so widespread that people were disappeared just for carrying a Bible, or a notebook from the national university.
In order to better understand the suffering of the families of the disappeared, and to help in their healing, it's important to bear witness to their experiences and to share them with others. Sofia Hernandez shared the horrifying experience of learning the fate of her disappeared cousin and in participating in the exhumation:
She was imprisoned for fifteen days. The woman who was a witness said all the soldiers raped her. They punctured her eyes. They stuck a red handkerchief in her mouth and cut her open like you cut open a chicken. When we exhumed her body, we found the red cloth in her mouth.
Given the pervasiveness of the suffering and the extreme brutality of the attacks, one wonders if healing is even possible. The ICRC has published a manual on how to heal from such terrifying experiences.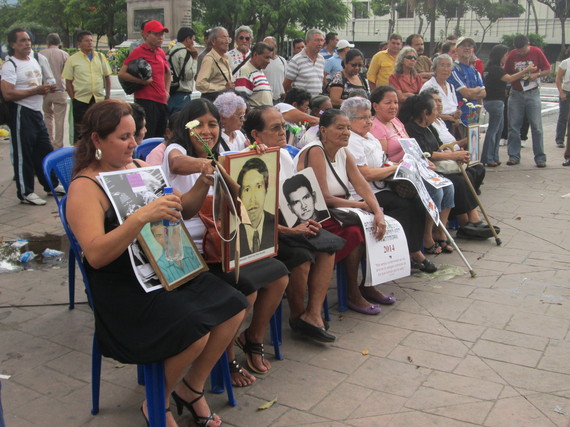 Optimizing Healing After Suffering Terrible Trauma
The ICRC specializes in helping families of the disappeared cope with the tragedy. Marianne Pecassou, leads the efforts carried out by the ICRC on behalf of the disappeared and their families. She explains:
When people disappear, there are two kinds of victims: the individuals who have gone missing and their families, torn between despair and hope, living with uncertainty and pain, waiting for news, sometimes for decades.
The families have two main needs. The first is to find out what has happened to their disappeared relative if at all possible. The second is to be able to appropriately honor their memory. This often requires public recognition of their plight.
They struggle against forgetting. Commemorative ceremonies offer them public acknowledgement of their suffering, give them a voice and bring them out of isolation.
Healing the Wounds in El Salvador
The kind of public acknowledgment that the ICRC recommends has not yet occurred in El Salvador. As part of the Peace Accords that ended the 12 year Salvadoran Civil War, the UN created a Truth Commission charged with investigating human rights violations. In March of 1993, the commission published its report. It documented the government's systematic policy of perpetuating human rights abuses. The report brought the victims great hope that the truth would finally be known and acknowledged. Five days later, the Salvadoran Legislative Assembly passed a General Amnesty Law pardoning all violations and even prohibiting investigations.
The government's policy has been to "forgive and forget" without any acknowledgement of wrongdoing. While this may work well for the perpetrators, it is a great impediment to the healing of the victims. Those who have suffered have needed to create their own healing rituals. Communities all across the country hold commemorations throughout the year to restore dignity to their disappeared and massacred loved ones.
The relatives of the disappeared have one demand in particular that they feel will help heal their wounds. They are requesting official recognition of August 30 as a National Day of the Victims of Forced Disappearance. August 30 is the day the United Nations has designated as the International Day of the Detained and Disappeared.
Sofia Hernandez explained the importance of official recognition of August 30th:
We are not asking for things that are out of this world. We want them to recognize that they tortured us, they violated us, mistreated us in every possible way. They took my husband, my siblings, my nephews, and my cousin. It´s enraging. I pray to God it does not happen to anyone else, and that they give us a National Day of the Victims of Forced Disappearance.
The US bears a special responsibility for the disappearances in El Salvador. During the years of the worst repression, US President Ronald Reagan was sending the government of El Salvador $1 million a day in military aid. Most of the Salvadoran military leaders who committed human rights violations, including disappearances, were trained at the US Army School of the Americas, now renamed the Western Hemispheric Institute for Security Cooperation.
The international solidarity movement has played a significant role in encouraging a peaceful and just solution to El Salvador's problems for more than 30 years. One of the organizations that has been working to promote economic sustainability, justice, and human rights in El Salvador since 1981 is SHARE-El Salvador.
It is not our role to enter into communities, identify problems, and define and finance solutions. Instead, it is the people and communities living the cycles of injustice and oppression that need to lead the long-term efforts for structural change. Our role is to support the empowerment of and to walk in solidarity with these communities, organizations and individuals. This is called mutual accompaniment.
In El Salvador, SHARE organizers have been doing just that, walking in solidarity with the relatives of the disappeared. We have a chance to support the empowerment of the relatives and to help them heal their wounds. Here is how we can help:
Join the March 2015 delegation to El Salvador commemorating the 30th anniversary of Archbishop Oscar Romero´s martyrdom and calling for "Justice for the Disappeared;"
Support the work of the relatives of the disappeared;
Join SHARE´s Memory and Justice Committee;
Pass this article on to others.
For information, contact Jose Artiga at jose@share-elsalvador.org.
____________ Author's note: Quotes from Sofia Hernandez and the details of her experiences are from personal interviews done by Bethany Loberg in San Salvador on August 16th, 2014.
The quote from Toñita Cabrera is from a webinar facilitated by Bethany Loberg in San Salvador, August 30, 2014 and can be found at 33:24 -35:25
Calling all HuffPost superfans!
Sign up for membership to become a founding member and help shape HuffPost's next chapter