Very early in his move to Thailand he tried to befriend a stray dog who bit his hand and he had to go to hospital for a series of rabies shots that were very painful. Soon after he developed an infection and had to go back to hospital for more shots and possibly the loss of his hand. Me: Josh please come home! Josh: Don't worry so much. I'll be fine. This was a common thread of communication between us.
After lunch we arrive back at the house Josh rented for A, the baby and himself. It is a small 2 story 3 bed room house. He had his music room on the first floor in one of the bedrooms chock full of his hundreds of records, his turn table and all manner of recording stuff. We are told that A does not feel well so she would not be seeing us, however we could "see" the baby. Another move on A's part to make things as difficult as possible, I assume. The events of the past few days caught up with me and I lost it. I charged up the stairs and into the room she shared with Josh. I ignored her moans in the darkened room, flipped on the light and went to the closet where I saw about 10 just laundered white shirts. I scooped them up and grabbed two glass ashtrays with all his silver rings, his Gucci cologne, and looked in the other rooms on the way downstairs. So many things that belonged to Josh, so much of what was my sons life. How many times can you say heartbreaking? I put the things in Tarns car and sat on a chair outside, my heart pounding. This cannot be my grandson, this is not my baby's baby.......this is hell.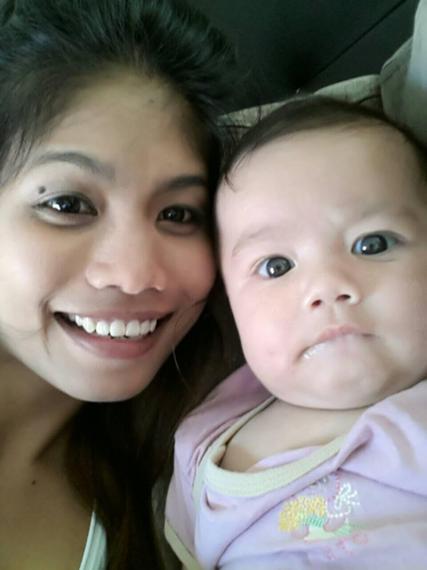 Mommy and Christian While I am sitting outside listening to Tarn and Ant speaking in Thai to A's sister, I noticed a trash bin, full to over flowing. All of Josh's photos, mementos from home, sandals, shoes, more clothes, records, books, were piled in the bin ready to be thrown out. So this sad pathetic little waif who just lost the love of her life a mere 4 days before was already cleaning house. My God! While contemplating this, out runs A ignoring me as she hops on Josh's Vespa and disappears down the road. While sitting there, Ant comes out with the baby and asks me to hold him, while the others are busy in the house. As she hands him to me his little thumb latches on to my silver beaded bracelet and the bracelet snaps and the beads scatter to the ground. Look what you have done little baby. Look what you have done.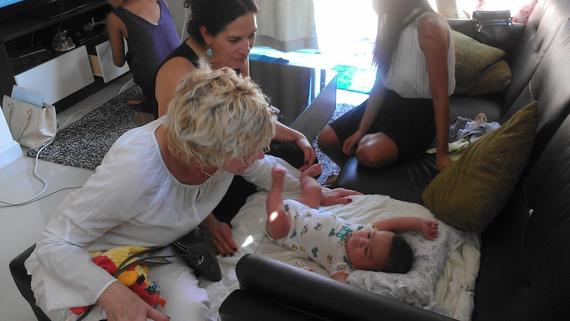 Mia and Nat spent the better part of the day, evening and the next day taking as much from the house as they could. We hired a van and when the van filled up we haired a truck and when the truck filled up, we called a shipping company and placed all of Joshua's records, recording equipment, turntables on a freighter to be sent home. It was all we could salvage of Joshes huge record collection, all his musical equipment, everything that wasn't sold or given away. His Breitling watch, gone. All his expensive sunglasses, gone. All the pics of Josh and Tarn, gone. His computers, all gone. He was also working on a native fabric handbag collection that he put a lot of money into.
The House of Lagerfeld had expressed interest, but those sample bags were all gone as well. What Mia, Nat, Tarn and Ant were able to collect were what was left of Josh's belongings and what I salvaged from the trash bin was put on a freighter and sent to Long Beach where it would arrive 3 months later. I carried his white shirts and his modeling portfolio, an album of family pictures he kept, in my luggage.
While Mia, Nat, Tarn and Ant were collecting what they could from the house, I went back to the hotel. Late in the afternoon I wandered down to my perch by the pool and found myself disgusted by this huge fat man being 'groomed' by 2 Thai 'bar girls'. I asked Josh about the rampant sex and drug scene and Josh said while there, it was no different than anywhere else. If you were looking for it, it was easily accessible, but if you weren't it could be ignored. After 13 years in Thailand, where books have been written about the tactics bar girls use to ensnare wealthy foreigners, it was hard for me to understand how Josh had let this girl get pregnant. He had lived there for close to 15 years and never worried about any of the trappings that so many men went to Thailand looking for. He had a steady girlfriend for 7 years and had been tested for SDTs. Tarn told me she never had a reason to worry about Josh. And from what I learned from some of his past girlfriends, Josh was a one woman kind of guy. He had the occasional stalker girls who would wait for him after he left the club at night, but most of the time he would go home and record well into the morning hours. Julie the manager at Diamond Beach Club, where Josh last worked before he was killed, said he would arrive early for his set, take a swim in the ocean, shower, have something to eat and climb high into the DJ booth and play his music, until it was time to leave. He mostly left alone.
To be continued.....
Calling all HuffPost superfans!
Sign up for membership to become a founding member and help shape HuffPost's next chapter